There's something about Apple (NASDAQ:AAPL) you should know. There's no denying that Apple is one of the greatest corporate success stories in the history of capitalism. The company not only emerged from near bankruptcy to see great prosperity, but it held the title of world's largest company by market capitalization for about a year until it was dethroned by Exxon Mobil (NYSE:XOM):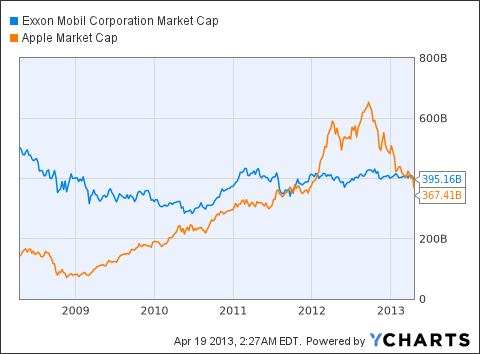 XOM Market Cap data by YCharts
However, there's something about Apple that isn't particularly widely discussed in the investment community that the technological community has known for quite some time. Ready for it? Here it goes:
Apple isn't as innovative as you think it is, but it's okay!
See, everybody is waiting for the "next big thing" or some huge revolutionary product, but I think that quite frankly, you're not going to see it. What was the iPod? It was just an MP3 player. The iPhone? A handheld computer...PDAs, anybody? Or how about the iPad? Just a bigger PDA. See, these concepts and ideas existed long before Apple was anything more than a $10 stock, but they weren't properly executed. Apple's genius is that it introduces technology at the right time, when the rest of the ecosystem is there.
Take the iPad or iPhone, for example. Without modem technologies becoming more advanced, and without semiconductor manufacturing processes becoming more advanced to enable lower power, high performance chips, they wouldn't exist. Sure, people tried to do "tablets" and "PDAs" in the past, and there was just something not quite right about them. The iPhone and iPad, on the other hand, were thin, light, and powerful enough to really catch the world on fire.
That's really it; Apple does things correctly before anybody else does, but it is not pulling ideas out of thin air. So, what does that say about the future?
The Next Big Thing?
The next big thing from Apple - should it ever arrive - will be a concept that today people find silly or impractical but given sufficient technological advancement elsewhere (or, given Apple's cash hoard, it could probably develop everything that didn't exist from scratch at this point) becomes viable. Who knows what that could be?
However, I believe that at this point, the industries that Apple helped to create are now getting pretty crowded, and I further believe that without a "brand new" idea, the gross margin pressures that the firm has faced over the last several quarters, coupled with further margin compression that could happen will continue to negatively pressure the stock price.
Conclusion - Time To Buy Apple?
So, is it time to buy Apple? Who knows. If you're a day/swing trader, then there's probably a good bounce or two in the name, but you'll probably have to be skillful and gutsy to play it in the midst of a fierce downtrend. But for everyone else? Quite frankly, I'd be really careful. Apple is a great company, but it is destined to be a lousy stock for the foreseeable future. There's just nothing that "gets better" about the story here. Margins won't come back as it is, market share continues to decline, mix continues to shift towards older generation products (further hurting margins), and management seems particularly keen on hoarding the majority of its free-cash-flow and its cash reserves.
There are very likely many better investments out there. I know that for quite a while "Seeking Alpha" became "Seeking Apple", but investing isn't supposed to be easy or for the masses, and that's ultimately why so many people were left holding the bag. This was the "sure thing", the "no brainer", the "miracle growth and value" story that ultimately turned out to be a value trap. Many of the pros are likely long-gone from this name (or have been shorting it), but there are some stubborn retail investors still holding out, believing that they are smarter than the market about the world's largest and most popular tech company.
If you want to make money investing, you have to search for underappreciated and misunderstood opportunities with a clear, if difficult, path to a greater share price. Buying Apple against the herd is just too easy of a strategy, and the house - which has plenty of brains - sees right through "easy".
Good luck!
Disclosure: I have no positions in any stocks mentioned, and no plans to initiate any positions within the next 72 hours. I wrote this article myself, and it expresses my own opinions. I am not receiving compensation for it (other than from Seeking Alpha). I have no business relationship with any company whose stock is mentioned in this article.