RNF announced on April 18, 2013 that it had completed a $320 million debt offering of 6.5% second lien senior notes due in 2021. This fully finances the estimated costs of its announced expansion and maintenance projects. It said that this was expected to increase cash available for distribution to unit holders beginning in 2014. It reaffirmed its distribution guidance for FY2013 of $2.60; and it then told how much extra cash would be available for distribution in each year due to the notes offering monies. The per unit increases are expected to be: $0.18 in FY2014, $0.28 in FY2015, $0.60 in FY2016, and $0.69 in FY2017. The stock rose sharply on this news. However, with the West Fertilizer plant explosion, RNF may well rise considerably further. Technically and fundamentally, it is due for a rebound.
On April 17, 2013, there was a huge explosion at the West Fertilizer plant in West, Texas (20 miles north of Waco, Texas). The explosion killed and injured many people and it decimated the nitrogenous fertilizer producing plant there along with everything in a four block area. I hate to be a ghoul, but this is actually positive news for Rentech Nitrogen Partners LP (NYSE:RNF), which is also a nitrogenous fertilizer producer. It has one of its two nitrogenous fertilizer producing plants located in Pasadena, Texas (near Houston). RNF's Pasadena plant is approximately a three hour truck drive to West, Texas (near Waco, Texas). There is also train service; and RNF's Pasadena plant can load directly onto railcars.
West Fertilizer is or was a small business; but it had 54,000 pounds of anhydrous ammonia on hand according to an emergency planning report. West Fertilizer was still a significant nitrogenous fertilizer supplier in Texas. Its production will have to be replaced by other fertilizer manufacturers for the near term at least. It is unclear how much if any of this business RNF's Pasadena, Texas plant will get, but even the prospect of lower local supply of nitrogenous fertilizers due to this explosion should push prices up a bit. This means RNF should benefit. Possibly, it will benefit a lot.
Rentech Nitrogen Partners LP is a nitrogen fertilizer company. It was spun off from Rentech (NYSEMKT:RTK) in November 2011. It owns and operates two fertilizer production facilities. One is in East Dubuque, Illinois and the other is in Pasadena, Texas -- a recent purchase. The East Dubuque plant is in the heart of the Mid Corn Belt region, which is the largest market in the US for nitrogen fertilizers. The East Dubuque plant's two major products are ammonia and UAN (a solution of urea and ammonium nitrate).
RNF services primarily Illinois, Iowa, and Wisconsin. Its core market is within a 200-mile radius of its facility. Most of its customers arrange transport by truck. This means RNF does not have to maintain a huge shipping fleet, nor does it have to incur huge storage costs. Further, RNF gets to charge a premium because its products are readily accessible in a short period of time. This is important to many customers, who often want their products on the spur of the moment due to weather conditions. RNF's premiums are logically much the same as those of a local lumber yard. If you are trying to complete a weekend project, it won't bother you too much to pay a few dollars more to get your lumber quickly locally. The chart below shows RNF's close proximity to its many customers in the Corn Belt.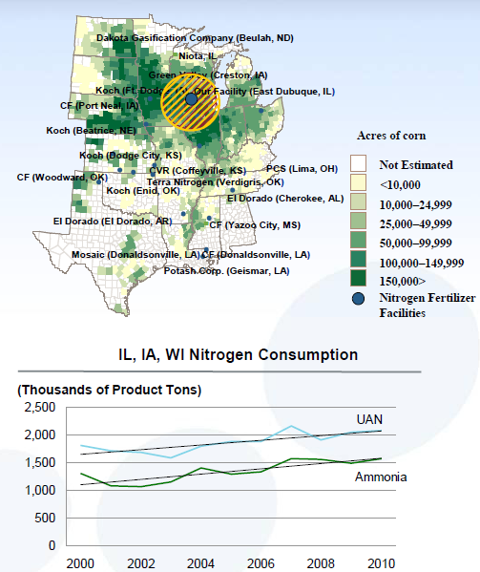 The chart at the bottom shows that RNF's East Dubuque plant business has been growing steadily. RNF sees no reason to believe this will not continue. RNF also plans to grow further by both acquisitions (such as the Pasadena, Texas plant) and by organic growth.
Most competitors have to ship their products by train. They ship them by train to a destination nearer to a farm. Then they have to ship them by truck to their final destination (or the customers arrange this part). This process can take several days compared to RNF's several hours to final delivery. The costs for this extra transportation can average $80-$120/ton more for ammonia and $35-$50/ton more for UAN. This is on top of the time costs. These are significant costs. This same logic will hold true for that part of West Fertilizer's business that RNF's Pasadena plant can pick up.
From a business standpoint, RNF has been performing well. It grew its EBITDA from $88.6 million in FY2011 to $124 million in FY2012. Gross margins were up from 43% to 50% in FY2012 from FY2011 despite the slight negative of the lower margins of the newly acquired Pasadena, Texas plant. Most of the growth was due to lower natural gas prices in 2012. Looking forward, natural gas prices are not likely to be as low as in FY2012, but they are still historically low. This should benefit RNF in FY2013 and beyond. Plus, RNF recently completed an increase in urea production capacity by 15% or 21,900 tons annually. This extra urea is expected to be used for DEF production. The demand for this is growing.
The following organic growth projects are expected to be completed in Q4 2013:
RNF is increasing ammonia production capacity by 23% or 70,000 tons annually. This will bring total ammonia production capacity to 370,000 tons.
RNF is increasing on-site ammonia storage capacity by 20,000 tons. This will bring the total on-site ammonia storage capacity to 60,000 tons.
RNF is increasing ammonia loading capacity by 50%.
RNF also has an ammonia debottlenecking project for its Pasadena, Texas plant. It plans to begin work on this in 2013. The project will increase Ammonium Sulfate capacity by 20$ from 1,750 tpd to 2,100 tpd. The additional production is expected to contribute to distributions in 2H 2014.
The acquisition of Agrifos' fertilizer production facility in Pasadena, Texas in late 2012 is expected to add approximately $25 million to EBITDA in 2013, before one time integration costs. This is expected to be accretive to per unit cash distributions beginning in 2013. The charts below depict both the revenue and the profit split for RNF's various products.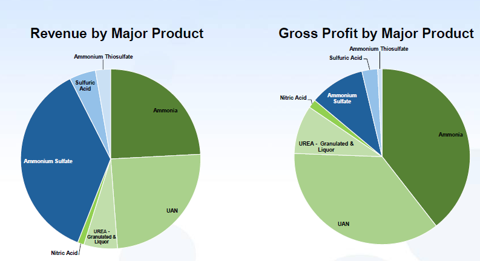 Clearly, the East Dubuque plant's UAN and Ammonia products are RNF's major profit generators, but the profits from the Pasadena, Texas plant are still considerable.
The two year chart of RNF provides some technical direction for this trade.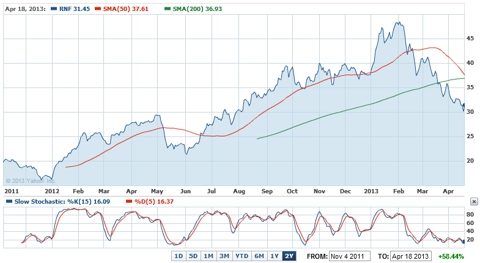 The slow stochastic sub chart shows that RNF is still oversold, even after the nice blip up on the financing news. The main chart shows that RNF may have just bounced off a level of strong support at approximately $30/share. It has a quite reasonable P/E of 11.33 and FPE of 9.50 for a company that is expected to grow EPS by 12.0% per year for the next five years (average analysts' estimate). It also pays an 8.3% annual dividend based on its FY2013 distribution guidance of $2.60. This is quite good. The business looks stable. The explosion at the West Fertilizer plant (a competing company) should help sales and margins. This last one probably is not factored into the stock price. Plus, the stock should have been about to rally in any case.
The main argument against buying in strongly now is the weak world economic data lately. The Chinese Q1 2013 GDP growth missed at 7.7% versus an expected 8.0%. The US March 2013 NonFarm Payrolls number was missed badly at 88,000 versus an expected 192,000. Plus, the Household Survey showed 496,000 workers left the workforce. These factors and many others make a US slowdown/recession more likely. With both the EU and the US in trouble, the emerging markets would also slow down. This would likely slow grain demand and hence, fertilizer demand. For this reason it is a good idea to average into RNF over the course of 2013 (and possibly into 2014). That way you will get an average good price for it. If it falls further, it is likely to rebound quickly to current levels. Other countries do not have the cheap natural gas that the US has. They can't make nitrogenous fertilizers as cheaply. Their demand for food (grains) will also continue to grow over time. RNF should experience long term secular growth. With its 8.3% dividend, this makes it a good buy even in a tough economic environment. RNF will require a K-1 form at tax time.
If you just want to trade this stock, now may be a good time to get in for the short term. It could even turn out to be a good time to get in for the long term. However, for a long term investment strategy, averaging in is probably the better strategy.
NOTE: Some of the above fundamental fiscal data is from Yahoo Finance.
Good Luck Trading.
Disclosure: I have no positions in any stocks mentioned, but may initiate a long position in RNF over the next 72 hours. I wrote this article myself, and it expresses my own opinions. I am not receiving compensation for it (other than from Seeking Alpha). I have no business relationship with any company whose stock is mentioned in this article.