CAE Inc. (CGT) is expected to report strong fourth-quarter results next week despite a weakening aerospace market, according to UBS analyst Fadi Chamoun.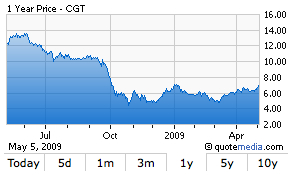 CAE, the leading manufacturer of full-flight simulators, is expected to report an 1.7% earnings growth, or 19 cents a share, for the final quarter of the year when it reports on May 14, Mr. Chamoun said. The gains are expected to be made on the back of a robust military segment, which topped a record C$1.09-billion in sales last year, and "healthy' deliveries in the civil segment, he said.
Mr. Chamoun added that he expected its free cash flows to be "particularly strong" at C$92-million after a reversal of earlier investments in working capital.
He increased his price target to C$8.25 a share, from C$7 previously, but warned of a challenging year ahead and maintained his "neutral" rating.
He said:
The outlook for [the current fiscal year] can be characterized as mixed with the strength in military revenues (UBSe +13% y/y) and EBIT margin (UBSe 15-16%) partially offsetting weakness in aerospace.
UBS is forecasting deliveries of 23 full-flight simulators this year compared to 35 last year, and utilization rates in civil training to decline after traffic for both commercial and business aviation continues to soften.