Following the energy companies through their earnings for a number of years now, it as become apparent to me that while it is extremely difficult to predict earnings going into the future, nobody even does a mediocre job at this for a number of energy companies.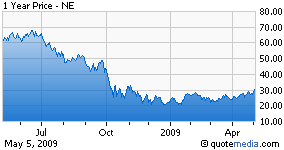 This is very understandable for small capitalization companies as well as refiners and exploration and production companies because their mid-quarter transparency is not very high for the most part. This shouldn't be true of many of the major integrated companies, and it definitely is not true for companies such as Noble Corp. (NYSE:NE), one of the three largest deepwater drilling companies. The actions of analysts before and after the earnings release and conference call continue to confuse me, especially when you consider that Noble's revenues come from what is in most cases fixed contracts which they update at least once every forty-five days for their shareholders.
Noble released earnings after the closing bell on April 22nd, 13 days ago. The consensus across twenty-two analysts that cover the stock was that Noble would report earnings of $1.46 when they in fact reported earnings of $1.58, not including a $0.04 charge-off due to the disposal of an old rig. This 11% earnings surprise was preceded by surprises of 8.2%, 7.5%, and -1.5% over the last three quarters. What is more surprising is that even after the earnings beat and management commenting that their guidance was in line if not better than expected, analysts adjusted their estimates down on the stock.
Seven days ago, before analysts made their adjustments, analysts had Noble earning $6.21 in fiscal year 2009 and $5.59 in fiscal year 2010. Today's estimates are $6.32 for fiscal year 2009 and $5.49 for fiscal year 2010. Basically the net effect was after Noble beat by $0.16 excluding extra-ordinary items analysts only raised their full year guidance by $0.11, which equates to the analysts lowering their guidance on the final three quarters of fiscal year 2009 by a combined $0.05. This was followed up by knocking $0.10 off of their average fiscal year 2010 guidance.
In the analysts' defense, the wide range of estimates throws off the averages and makes the collective body look much worse than it probably actually is over time. The 2009 estimates range from $5.59 to $6.95 while the 2010 estimates range from a staggeringly low $3.96 all the way up to $7.77 (With thirty-two and thirty-seven analysts respectively making these predictions). After what I saw in the conference call and from the financial statements, I'm inclined to believe that the analysts making these predictions probably should not be paid to do so. Digging into the numbers provides a ton of evidence against lowering Noble's full year guidance for 2009.
Operating revenues were up 4.03% from Q1 2008, a period in which the price of crude oil averaged $100 to $120 as opposed to the $35 to $55 that crude averaged in Q1 2009. This to me screams that Noble's revenues are not as highly correlated to a high crude prices as people originally thought. I understand that many of the company's contracts were set in place previous to the quarter beginning and oil tanking, but over 45% of Noble's drilling revenue comes from jackup rigs that have contracts that reset often, in many cases during the course of one year or less. During Q1 2009, 97.35% of revenues came from contract drilling services as opposed to 92.62% of revenue during Q1 2008. I believe these earnings are cleaner than they were in the previous quarter because they include less revenue from what I consider to be more extraneous sources that may not be part of continuing operating activities going into the future.
Noble increased their profit margin from 44.60% in Q1 2008 to 46.23% in Q1 2009, and that does not include the more than $12 million dollars that was spend on the disposal of the rig. Noble decreased their debt as a percentage of total capitalization from 14.9% in Q4 2008 to 11.7% in Q1 2009. The only negative in the financial statements to be found was the average rig utilization rate, which dropped from 94% in Q1 2008 to 86% in Q1 2009. This, however, was countered by a startling 18.65% increase in average contract dayrate from Q1 2008 to Q1 2009 moving the average from $163,000 per day per rig to $194,000 per day per rig.
On top of all this, the company completed their move from the Cayman Islands to Switzerland in order to lower their tax rate while repurchasing roughly 1.7 million shares at and average cost of $25.28, roughly 20% below the current share price. Noble's current share repurchase program has 16.6 million shares remaining. The big kicker to all of this is that Noble currently has a $10.6 billion dollar backlog and this number should be expected to grow over the long run.
My best guess at why analysts are shaky on Noble would be their exposure to Mexico. Mexico is obviously in horrible shape financially, and their contracts come from PEMEX, the Mexican Government-owned oil company. I don't believe Mexico is in a position where default is even a possibility after receiving a $47 billion dollar line of credit from the IMF which Mexico stated it did not intend to use. On top of that, if the events of 1982 are any lesson for investors it should be expected that the United States won't let Mexico default. This risk aside, the only huge risk for Noble is that of oil prices remaining extremely depressed below their current values.
Too many factors play into crude oil pricing to predict the future, but with the loose fiscal and monetary policy of the United States my gut feeling would be that the dollar will probably move downwards over time sending oil higher, regardless of changes in supply and demand. Even with these two risks, I'll spend my money long Noble until someone can convince me of more glaring problems that are not based on speculation.
- Charles W. Petredis
Disclosure: The Fund the author is associated with, the author, and author's family are all long NE.