Most investors rely upon Price/Earnings (PE) ratios to determine if a stock price is expensive or not. Typically, this approach works well. Academic studies have shown that stocks trading at low PEs will outperform their high-PE brethren over long periods of time. Knowing this, I often screen for low-PE stocks as a way of generating new research ideas for my weekly newsletter EPIC Insights.
Although this approach is intuitive, things are not always what they seem. At times, low-PE stocks trade at such levels for a reason. As an example, consider economically sensitive stocks. When the economy is strong, these companies make large profits. However, the stock market is more concerned with the future than how business is today. Knowing the business cycle will peak and then decline, share prices remain static or decline even though current profits are soaring. Low PEs become even lower as stock prices shrink while profits race higher.
As an example, consider Arkansas Best (ABFS), a trucking company. When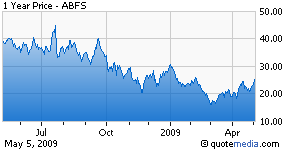 consumers are spending and its business is strong, ABFS's earnings move higher. During the recent cycle, earnings peaked at $4.06 per share in 2005 and are forecast to fall to $0.24 in the current year. Those who bought the shares at a 9 PE in 2005 show 35% losses while those scared by the current 97 PE are missing an opportunity.
Throughout business cycles, ABFS management has remained focused and disciplined. Debt remains low, turnover ratios are impressive, and capital is well allocated. Currently the shares trade at a discount to book value and offer a 2.6% dividend yield. Assuming the company never betters its 2005 earnings per share of $4.06 and cannot top the 2007 level of $2.26 until 2012, the shares are worth $34 on an earnings yield basis.
Knowing that PEs for cyclical companies are counterintuitive, I rely upon book value and earnings yield as a better proxy of value. On both accords, ABFS passes my valuation criteria. I believe this recession will end in the near future and ABFS should be a major beneficiary. Unless you are convinced the economy is simply resting before heading lower, purchasing shares at the current price makes a great trade. I recommend a position in ABFS as this week's fundamental trade.