On Thursday Rentech Nitrogen Partners (NYSE:RNF) released the details on their refinancing:
Rentech Nitrogen Partners, L.P. (RNF), which manufactures and sells nitrogen fertilizer products including ammonia, urea ammonium nitrate solution (NYSE:UAN) and ammonium sulfate, today announced that the recently completed offering of $320 million principal amount of 6.5% second lien senior secured notes due 2021, fully finances the estimated costs of its announced expansion and major maintenance projects, and is expected to increase cash available for distribution to unit holders beginning in 2014.
The company reports that:
A portion of the proceeds from the offering were used to repay all of the principal outstanding on the Partnership's 2012 credit facilities and related interest rate swaps, or approximately $206.2 million in the aggregate. The retired credit facilities required significant principal amortization payments beginning this year, whereas the newly issued notes require no amortization payments until the full principal amount is due in 2021. Rentech Nitrogen expects no net impact on its previously provided guidance for cash distributions of $2.60 per unit in 2013, but expects that the lower debt service required by the notes would increase cash available for distribution by approximately $1.75 per unit cumulatively in the period 2014 through 2017, not including the payment at final maturity on the retired credit facilities.
The company also provided a cash flow analysis from which we will derive the value to shareholders: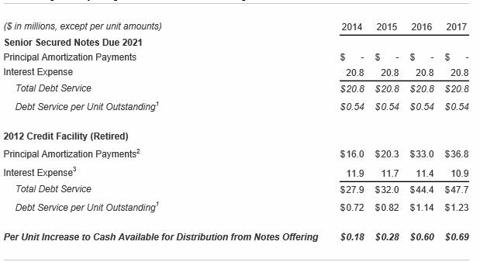 Discounting those cash flows back using the AAA, Baa, High Yield, RNF bond issuance rate of 6.5% and equity returns we can define a range of possible values: Note: I deliberately did not include the 10 yr Treasury due to the actions of the Federal Reserve distorting that rate.

Because those cash savings are guaranteed (ceteris paribus), and are the result of an easily quantified refinancing, I will use the AAA bond yield as the appropriate discount rate. If these cash flows were uncertain, I would use a higher discount rate. Note: This is an analysis of the change in financial situation, not the value of the firm as a whole. As the graphic demonstrates, the markets put a RNF bond yield at 6.5% and Moody's gives it a B1 Rating. To value the bond you would use a discount rate of 6.5%.
Using that analysis, the $1.75 in cash flows generated from the refinancing is worth $1.52 today to RNF. Being worth $1.52 to RNF however does not mean it is worth $1.52 to investors that will have to pay taxes on those planned distributions.
The best way to analyze the value to shareholders is to analyze the value of RNF to shareholders. Rentech (NYSEMKT:RTK) holds 61% ownership in RNF. RTK has a capitalization of 440 million, RNF has a capitalization of 1.22 billion. 61% of 1.22 billion is 744 million, or 304 million more than the capitalization of RTK. That means that $1 to RNF is worth 440/744 = 0.59, or approximately $0.60 on the $1.00 to RTK. That analysis assumes a zero value for RTK assets outside the RNF holdings.
RTK owns about 23.6 million shares of RNF so the present values of the RNF distribution would be 23.6 x $1.52 = $35.86 million. RTK has approximately 220 million shares outstanding, so that represents about $0.16/share. $0.16 x 0.6 = $0.10/share of RTK.
Currently RNF is trading at $31.24 up $1.28, and RTK is trading at $1.95, up $0.10. From the above analysis it looks like RTK has fully discounted the improvement in cash flows, and RNF may still have a bit more to go $1.52 - $1.28 = $0.24, but that is within 1% of my estimated improvement in PPS.
In conclusion, it looks like the markets were pretty efficient and adjusted the price of RTK and RNF to the new cash flows by approximately the appropriate amount. I would not expect much more upside as a result of the refinancing. That however does not mean that RTK and RNF can not go higher. RTK has an upcoming conference call, and with so much cash, I would not be surprised if they announce a stock repurchase or similar program. Natural gas prices are also hitting multi-year highs. That has been extremely harmful to both RNF's and RTK's stock price, but the high prices are likely to encourage new supplies. I would not be surprised to see natural gas prices start to ease off as we roll out of winter and into spring.
Disclaimer: This article is not an investment recommendation. Any analysis presented in this article is illustrative in nature, is based on an incomplete set of information and has limitations to its accuracy, and is not meant to be relied upon for investment decisions. Please consult a qualified investment advisor. The information upon which this material is based was obtained from sources believed to be reliable, but has not been independently verified. Therefore, the author cannot guarantee its accuracy. Any opinions or estimates constitute the author's best judgment as of the date of publication, and are subject to change without notice.
Disclosure: I am long RTK. I wrote this article myself, and it expresses my own opinions. I am not receiving compensation for it (other than from Seeking Alpha). I have no business relationship with any company whose stock is mentioned in this article.