In mid-February, when Apple (NASDAQ:AAPL) was trading around $460, I wrote that if the stock hadn't moved up quickly, the next stop would have been $400. Now that $400 has indeed been reached (and broken to the downside), where do we stand? In this article I'm going to provide both a fundamental and a technical analysis, while focusing on next week's earnings release, to better understand what is better to do now: abandon ship or double down on the stock?
The "Tim Cook Issue"
Recently I've been quite skeptical of Apple, especially of the way Tim Cook and the other executives have been handling the stock downfall and the threats coming from Google's (NASDAQ:GOOG) Android and, especially, from Samsung (OTC:SSNLF). This latter, in fact, hasn't stood still for a second in its quest to psychologically trump Apple, while the Cupertino company hasn't fired back significantly yet.
Moreover, while stock was plummeting 40%, Apple's leadership has been totally mute, without providing even the smallest help to prevent this relentless downfall. No matter how much or how many times they've been asked for a better employment of the massive cash reserves the company sits on, no announcement of a new dividend, of a new buyback program or of a major acquisition has been made.
The problem with all this is that the ones that are paying for the stock downfall are not the hedge funds or the speculators: professional investors are nimble enough to jump in and out taking advantage of the stock volatility - there's actually a good chance that the majority of the professional investors (traders, fund-managers) have made quite a lot from Apple's downfall. No, the ones that are paying are the retail investors, those who believed in the company, those who stayed the course even when the stock cratered more than $200. Now more than ever Tim Cook has to give the world a strong signal that Apple is still king of the hill in innovation terms to get the stock back on track.
The fundamental side
Even though the market doesn't seem to care a bit, Apple's fundamentals have steadily improved even during the last 16 months. Making a quick comparison between fundamentals today and back in 2011 (as you can see from the chart below, highlighted in red):
- EPS sits at $44.10 compared to $27.68
- Revenues amount to $156b compared to $108b
- Cash and equivalents have reached $150b compared to ~$100b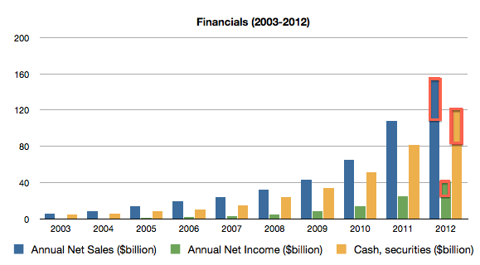 Now, let's also compare Apple's fundamentals to some of its peers (I'll throw in also Exxon (NYSE:XOM), the world's most valuable company - again, since today):
The results are quite astonishing:

Apple is 2x cheaper than Microsoft (NASDAQ:MSFT), and 4x cheaper than Google
ex-cash, Apple has a market cap worth half of Exxon's (but has the same EPS), and worth roughly the same of Google's (but has 4x the EPS)
At this ridiculously cheap valuation, therefore, what the market is implying is that Apple's net income is (at least) going to shrink back to 2011 levels that is (roughly) a 50% haircut. As I previously outlined in some of my articles, this scenario is highly improbable; in fact, the general consensus among analysts is that Apple's net income is poised to grow, albeit slightly, not to shrink.
Let's say, though, that the market is right: Apple's net income is going to shrink back to 2011 levels due to... whatever. Even in that case, however, there is a fundamental flaw to Apple's current valuation, which dwells in the company's cash and equivalents (see chart for reference): even with half of the current income, Apple's cash will reach $210b by 2015. I'll repeat it: $200 billion in cash. That's ginormous: with that amount of money, Tim Cook could take a plane to Atlanta, drive downtown, buy the whole Coca-Cola Company (NYSE:KO) in cash and still have $20 billion left (that's forgetting about taxes that still have to be paid, but it gives you the idea).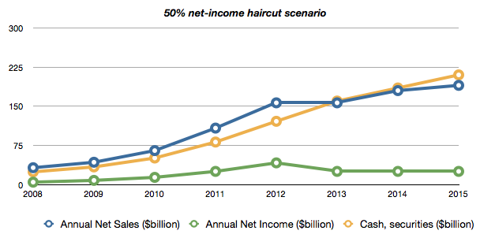 The technical take
To say it bluntly, Apple's technicals are just awful. The stock has traded below the four major daily SMAs (Simple Moving Averages) since November. Since then, almost everything that a technical analyst doesn't want to see has happened, such as numerous death crosses (one of the most feared technical-pattern; circled in yellow in the charts below). Moreover, the stock has been moving in a descending canal (blue lines) since its September peak. Good news is that it broke it today - bad news, though, is that it broke it to the downside.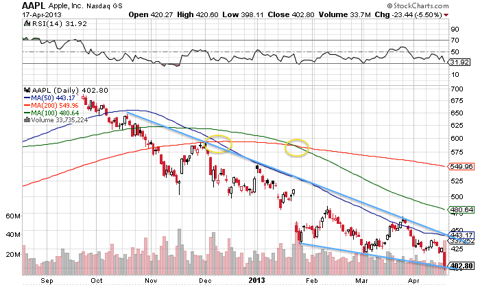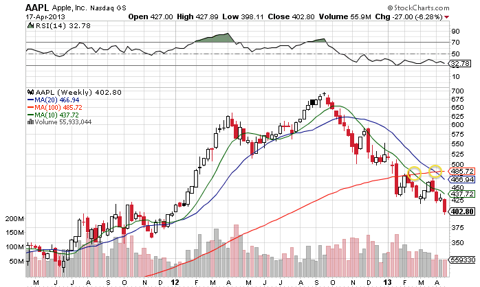 Most recently, the stock had found support on its weekly 150-day SMA and tried to reignite a small rally, just to bump against its weekly 15-day SMA around March 15 (yellow arrows in the chart below). It then dip below its weekly 150-day SMA just yesterday. Now the only strong support that can help the stock find a bottom is its 200-day weekly SMA (circled in yellow), which currently stands around $370.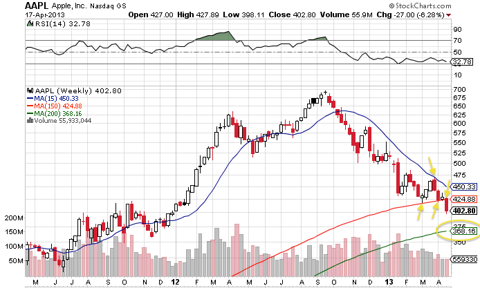 Tuesday's earnings release: what to watch
Next week's earnings release is crucial: for the first time in ten years, Apple is expected to post a contraction in EPS, due to margin contraction. Indeed, Philip Elmer-Dewitt wrote a nice piece today underlining how the reported GM% may be the key for the stock to bounce:
Whether the stock bounces from the 16-month low it hit Wednesday or sinks even lower may depend less on iPhone or iPad sales than on its guidance for the June quarter and what it reports about a relatively obscure ratio closely watched by analysts: the company's gross margin, or GM%.
Gross margin is the best indicator of how efficiently a company turns its revenues into profit. And, in fact, margin contraction is the main argument bears are (and have been for quite a lot) bringing up, to justify Apple's beaten valuation. A better than expected GM (especially the guided one for Q3) not only would mean better than expected EPS, but would also give a strong signal to all those who are using it to declare Apple doomed.
Moreover, Tuesday's announcement will give us a better chance to understand the new method with which the guidance has been given since January. If Apple is indeed not sandbagging its estimates anymore, the guidance given by the company will be tremendously relevant from now on.
Closing thoughts
The market is clearly giving Apple a ridiculously low valuation: with a sub-9 P/E, and a 5 P/E ex-cash, it is tough to find a cheaper stock in the whole S&P 500. Moreover, Apple's $150 billion in cash currently represents 40% of the whole market cap and, if taken out, leaves the whole company with a valuation lower than Google's (a company which makes 4x less money). Furthermore, as analyzed during the article, even if Apple's EPS was to halve itself, the company would still reach $200 billion in cash by 2015, a sum roughly equal to IBM's (NYSE:IBM) market cap.
On the technical side, though, now that the $400 level has been broken, the stock seems inevitably poised to test its 200-day weekly SMA, which currently stands at $370. If indeed the stock tests that level and bounces to the upside, that would signal a bottom which investors should use to create a new position or to build on an existing one.
So, to return to the opening question, is now the time to abandon the ship or to double down on Apple? Right now, neither of them. At current levels, I'm a buyer: the valuation has gotten just too low. Buying before the earnings release, though, might prove extremely risky: the stock is now clearly in the hands of speculators, who won't think twice before sending the shares even lower if the company misses its own estimates. At the same time, selling the stock now, at a 450-day low, when the stock has one of the lowest valuations of the whole S&P 500 and has as healthy fundamentals as they can get, seems totally foolish.
I'm recommending a wait-and-see approach before the earnings: Tuesday evening, after having digested the numbers, look at what I outlined in the previous section and make your move. In any case, if the stock gets punished Wednesday it will be too irresistible an occasion to pass.
Disclosure: I am long KO, AAPL. I wrote this article myself, and it expresses my own opinions. I am not receiving compensation for it (other than from Seeking Alpha). I have no business relationship with any company whose stock is mentioned in this article.