Abstract: From Warren Buffet to Sir John Templeton, the concept of value investing -- finding equities that represent bargains -- has been around for decades. But could this idea be used to group stocks according to country? A recent Thomson Reuters StarMine study suggests that the value approach may help identify nations that are attractive for investment. Check out these back-tested results. Buying the "cheapest" countries would have generated average annual returns of more than 21%.
Consider: it's often acknowledged that value stocks outperform growth stocks over the long term, but it's not always an easy investing model to follow. Companies that represent bargains may be underpriced for a reason -- poor management or rough competition. They might look like the most dented, rusty picks on a used-car lot and it's way easier to ignore them than to find reasons to buy them.
However, one StarMine study used a different research approach -- Intrinsic Valuation (IV) -- which incorporates a Dividend Discount Model. The StarMine Quantitative Research team asked: "Can individual company-level valuations be aggregated to the country level?"
Lower values but higher annual returns
First, using the IV model, the "fair" or intrinsic value was calculated for each stock within a country. Then, all values were aggregated and compared to the aggregate actual market price. On that basis, "cheaper" countries have a lower price-to-intrinsic-value (P/IV) ratio (conversely, the cheaper countries also have a higher intrinsic-value-to-price (IV/P) ratio, as both are discussed below).
The methodology used is as follows: For each month end, select countries with at least 50 companies that have StarMine IV scores. This was typically about 40 to 50 countries. Rank the countries by aggregate IV/P, and group into quintiles. Calculate the market-cap weighted return for each country. Finally, calculate the average return of countries within each quintile, and also the average aggregate IV/P.
The table below plots the P/IV ratio of the most undervalued countries on the vertical axis and how it changes over time. At the beginning of the study period, the most undervalued countries were priced by the market at less than one-half the calculated value. But over time, they move closer to fair value - from roughly 0.4 to 0.6 over the next 60 months (or from trading at a 60% discount to a 40% discount to what they were actually worth - by this theoretical measure). This is reversion to the mean in action.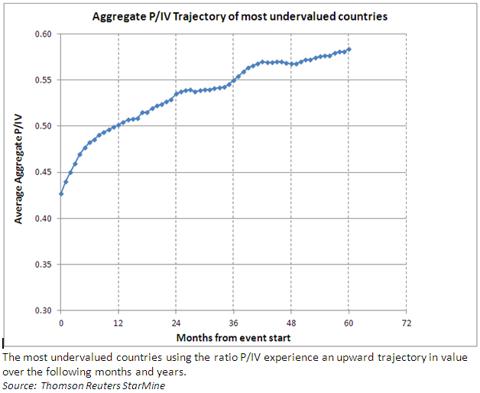 Part of the cause of this reversion is driven by an increase in "P" with prices moving higher. That translates to profits for investors. Using the methodology in the Appendix below, the cheapest 20% of countries generated average annual returns of more than 21%, while the most expensive 20% lagged far behind at 3%.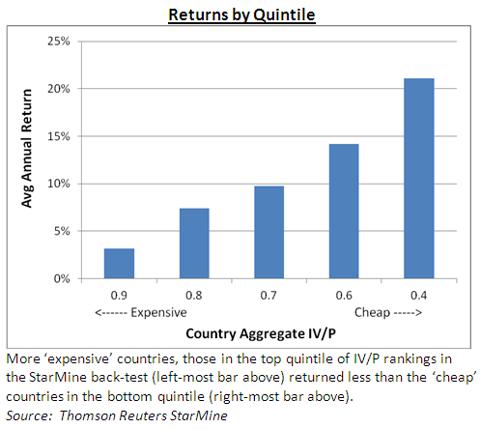 By this measure, which were the five most undervalued countries in each of the last five years? Off the beaten path is a bit of an understatement. However, while legendary investor and author Jim Rogers rode a motorcycle 65,000 miles through 52 countries to discover bargains, it may be a bit more comfortable to use this research.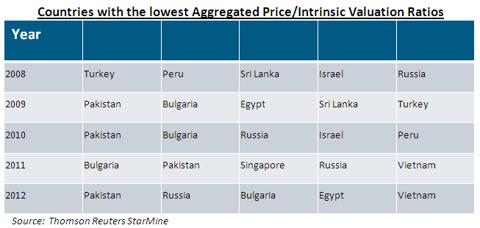 Here are the five cheapest countries today, from lowest to highest aggregate P/IV:
| | |
| --- | --- |
| COUNTRY | P/IV |
| Bulgaria | 0.28 |
| Russia | 0.36 |
| Pakistan | 0.41 |
| Egypt | 0.42 |
| Hong Kong | 0.51 |
Up from the bottom
ETF's that represent some of these companies include the MSCI Russia Capped ETF (NYSEARCA:ERUS), which caps certain market weightings, the thinly-traded Market Vectors Egypt Index ETF (NYSEARCA:EGPT), and the liquid iShares MSCI Hong Kong Index Fund (NYSEARCA:EWH).
"Buy on the sound of cannons, sell on the sound of trumpets" is an old trading adage attributed to the Nathan Rothschild in 1810. For a couple of these countries, that adage could be applied literally. It may also be difficult to participate in equities in some of them. However, when considering macro and a top-down approach to country selection, this study suggests that rolling up valuation data from a bottom-up perspective may add value to that process.
Disclosure: I have no positions in any stocks mentioned, and no plans to initiate any positions within the next 72 hours. I wrote this article myself, and it expresses my own opinions. I am not receiving compensation for it. I have no business relationship with any company whose stock is mentioned in this article.