In part 1 I introduced the reader to the business model employed by gold and silver royalty and streaming companies. Unlike mining companies these companies make deals with mining companies whereby they give mining companies an up-front payment in cash or stock in exchange for a royalty or a stream on an agreed upon mine. A royalty agreement entitles the royalty company to a portion of the resources produced by the mine in question, while the mining company operates the mine. A stream entitles the royalty company to the right to purchase resources produced by the mining company at an agreed upon price. In general royalty companies offer investors exposure to the mining industry with lower risk than if they were to purchase mining shares.
There are three major royalty companies that are publicly traded, two of which focus on gold. The first is Franco-Nevada Corporation (NYSE:FNV), which is the largest gold royalty company in the world by market capitalization and by annual revenues. Franco-Nevada currently has a market capitalization of just under $5.5 billion and pays an annual dividend of roughly 2% with payments distributed on a monthly basis. The company appears to be overvalued trading at nearly 14 times 2012 revenues and at nearly 30 times 2012 normalized earnings. However, the valuation isn't stretched considering that: (1) the company has grown its sales at nearly 30% per year since going public in 2007 (I should note here that while the company went public in Canada in 2007, it did not begin trading in the United States until 2011), (2) the company has extremely high profit margins, as is the case for royalty companies as I discuss in part 1, and (3) the company has raised its dividend at a rate exceeding 30% since going public.
As I stated in part 1 the royalty companies have outperformed the mining companies, and as the following chart of Franco-Nevada shares in terms of the HUI Gold Bugs Index illustrates, Franco-Nevada is no exception (although it went public in late 2007 so there is not as much data for Franco-Nevada as there is for the other royalty companies).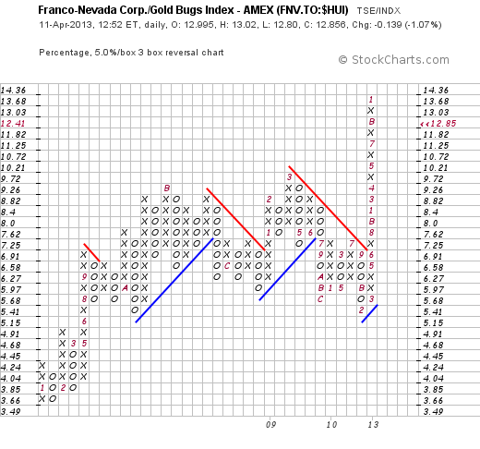 (* I should note that I am giving data for the price of Franco-Nevada Corporation in Canada as the shares went public in Canada four years before going public in the United States. When viewing this chart investors should keep in mind the variations in the exchange rate between the Canadian Dollar and the U. S. Dollar. Although recently these two currencies have been relatively stable with respect to one another, in 2008 the Canadian Dollar fell sharply in terms of the U. S. Dollar.)
Investors who gravitate towards companies with strong managements will particularly like Franco-Nevada in the gold royalty industry. The company is managed by Pierre Lassonde, who has had an acclaimed career in the mining industry: he co-founded Franco-Nevada (the "old" Franco-Nevada) in 1983, he was the president of Newmont Mining (NYSE:NEM) from 2002-2006, and he currently sits on the board of New Gold Inc. (NYSEMKT:NGD) which is a rapidly growing gold mining company with four mines in production. His success was recognized earlier this year as he was inducted in to the Canadian Mining Hall of Fame.
Lassonde's strategy is akin to an investor using a small portion of his or her capital to purchase deep out of the money call options: it is very simple and conservative, yet it can yield and has yielded enormous profits. Essentially he maintains a high working-capital position (which today is roughly $900 million, or $1.4 billion including the company's $500 million credit line) and he makes small expenditures in royalty or streaming agreements with potentially enormous upside. Given the company's already high EBIDA (nearly $350 million in 2012) it is able to absorb small losses for projects that do not work out. The few that are successful provide high returns on invested capital, and once in a while these investments yield astronomical results. Two examples of such investments include:
The Gold Strike project, which started as a $3 million investment that has yielded over $700 million in royalty payments to date (and the mine has more than 10 years left of production).
The Detour project which began as a roughly $2 million loan and now Franco-Nevada has a claim on 2% of an estimated 23 million ounces in measured and indicated gold resources.
Of course these are just a couple of examples, and the strategy cannot be judged unless it is viewed in the aggregate. Such an analysis proves that it works: in addition to growing its sales and profits (which were predominantly from pre-existing royalty and streaming agreements), Franco-Nevada has more than doubled its total gold reserves since the company's 2007 IPO. In 2007 the company had royalty and streaming agreements on mines with an estimated 90+ million ounces of gold resources. As of 2012 this number has increased to over 250 million ounces. Furthermore, on a per-share basis (the company's share count has increased since its shares began trading publicly) the company has roughly doubled its gold ounces. Given that the price of gold has essentially doubled since the company's IPO, it is clear that Franco-Nevada has done a phenomenal job of creating value while maintaining a conservative balance sheet and employing capital prudently.
Franco-Nevada has a wide array of assets, although these assets are primarily (over 80%) located in North America.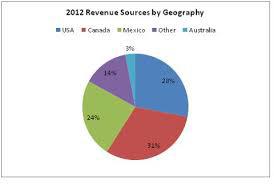 The fact that most of the company's assets are located in North America is a benefit to shareholders, as North American mines are regarded as safe among mining investors: mines located in North America are less likely to experience labor strikes and nationalization.
In total the company has 46 producing assets, which provides it with a valuable diversification that protects it from the devastating financial impact of mine shutdowns--a risk that mining companies of a similar size are exposed to as I indicate in part 1.
Unfortunately with Franco-Nevada this diversification is somewhat illusory given that the company receives nearly a fourth of its total revenues from its stream agreement with Coeur d'Alene (NYSE:CDE) on its Palmarejo mine in Mexico (Franco-Nevada pays Coeur d'Alene $400 per ounce increasing at 1% per year). This highly concentrated position is the company's one glaring red flag, but other than the company's high exposure to the Palmarejo mine it is well diversified. I should also note that this $100+ million annual revenue stream is the result of Franco-Nevada's mere one time $80 million payment to Coeur d'Alene, and so despite the red flag I point out this was overall an excellent deal for Franco-Nevada.
In addition to its exposure to 46 producing mines, the company has exposure to 28 mines that it believes will be in production within five years. Furthermore it has an extensive exploration pipeline with exposure to 137 mineral projects. As I suggest above Franco-Nevada has made small investments in these projects, and many of them will likely be failures. However as the Gold Strike and Detour projects demonstrate, it only takes a few successful royalty/streaming investments for the company to more than recoup the losses it will likely take on the vast majority of its investments.
In all Franco-Nevada is primarily a gold company, with nearly 75% of its sales coming from gold, although it does have some exposure to other metals and to oil and gas (the company has exposure to nearly 300 oil and gas properties, yet this exposure does not contribute more than 10% to the company's overall revenue and profits). It further has some exposure to platinum and palladium given its NSR (Net Smelter Return) royalty agreement with Stillwater Mining (NYSE:SWC) on the company's Stillwater Complex in Montana, which gives Franco-Nevada the right to 5% of all of the metal that is refined from the Stillwater Complex.
Conclusion
Franco-Nevada is an extremely well run company that is growing rapidly, although a lot of this growth has been due to rising gold prices. The shares should provide investors with decent leverage to the price of gold and a stable, yet small monthly dividend. The key to the company's future outperformance relative to the price of gold and to gold mining companies is whether or not it will invest in any more exploration projects that will turn into huge mines. Given Pierre Lassonde's experience in the industry and the large number of investments that the company makes (it has made 21 of these in just the past two years) I think that there is an excellent chance that this will happen.
Disclosure: I have no positions in any stocks mentioned, but may initiate a long position in FNV over the next 72 hours. I wrote this article myself, and it expresses my own opinions. I am not receiving compensation for it (other than from Seeking Alpha). I have no business relationship with any company whose stock is mentioned in this article.