For many investors, USD/MXN means SP500 (more exactly 1/SP500). The chart below compares the monthly returns of both pairs and seems to support this view.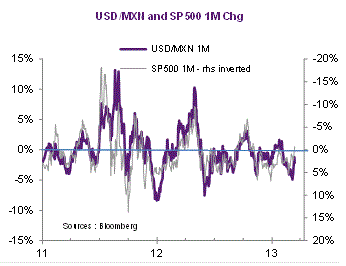 There is no straightforward rationale behind this close relationship, but it can be illustrated by the huge net positive portfolio inflows that have been recorded in Mexico since 2009.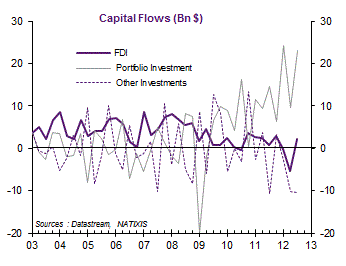 Interestingly enough, and contrary to some of its LatAm counterparts such as the BRL, the USD/MXN may follow the SP 500, but any appreciation of the Mexican currency against USD comes along with an underperformance of the MexBol.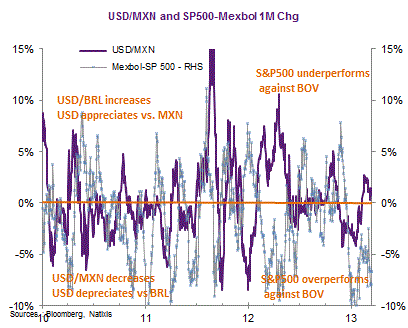 The MXN does not provide the traditional double carry (appreciation + capital gains) that characterizes EM pairs.
Yet, the USD/MXN shows a significant disconnect with monetary policy. This is exactly what the chart below suggests: based on the 3‑month/1-year OIS curve spread between the U.S. and Mexico, the currency is clearly overvalued.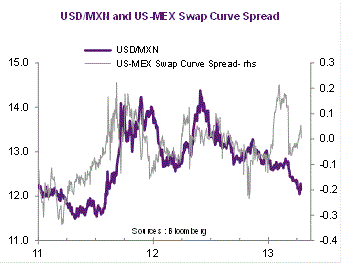 The disconnect emerged in early 2013. Even though a lasting status quo is expected on both sides of the Sonoran desert, the USD/MXN remains close to 10% below its fair value.
The recent weakness of stocks, if it continues, may drive the USD/MXN higher. If the USD/MXN rally continues, Banxico will have to cut rates to preserve Mexican competitiveness. I would watch carefully the 12 level for the pair as a potential trigger.
Disclosure: I have no positions in any stocks mentioned, and no plans to initiate any positions within the next 72 hours. I wrote this article myself, and it expresses my own opinions. I am not receiving compensation for it (other than from Seeking Alpha). I have no business relationship with any company whose stock is mentioned in this article.