The market (NYSEARCA:SPY) has been on a very strong uptrend in the last 5 months. I believe that we are showing some more signs of distribution. My positions continue to be small, generally holding a few 3d stocks and some leaders but I keep raising my cash position everyday. I expect April to close strong but May and into the Summer, one should be cautious and raising cash.
This article will explain some of my technical and fundamental analysis of some stocks that have recently reported earnings and what to expect in the future.
Recent earnings call
Ebay Inc. (NASDAQ:EBAY) reported earnings last Wednesday. Although profit rose in their last earnings report, guidance was poor for the 2nd quarter. If one looks at a recent chart, one might argue that a double top could be in the making. Now EBAY is one of the strongest stocks in the technology sector and after their earnings miss, I feel that we could see more misses coming in soon in other big companies.
Other companies like Cirrus Logic (NASDAQ:CRUS) have also been cut. CRUS is one of Apple (NASDAQ:AAPL) suppliers and it gave disappointing guidance on Wednesday. AAPL continued its descent and tumbled another 5% to make another 52 week low. CRUS and AAPL has both underperformed the market and their recent action should not come as a surprise since their trend is and has been down for the past 6 months.
I also find companies like Walmart (NYSE:WMT) and Dollar Tree (NASDAQ:DLTR) trading very well. WMT is at 52 week highs and this makes me believe that consumers are trying to be careful with their money and go to cheaper places to buy their stuff.
Technical analysis of the markets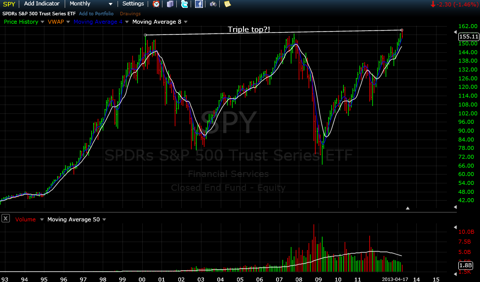 The market has been rising in the last few weeks, However, one can see that volume is diminishing as can be seen on the right of the chart. This is very bearish action as bullish scenarios would indicate that volume should be rising as we make a new high.
These are some of the trendlines that I am keeping an eye on. Keep an eye on them for support levels. Once broken, we can see lower prices.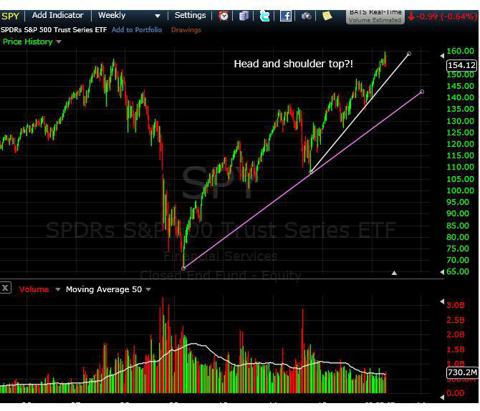 Conclusion
Remember, the trend is your friend until it stops. Look at Tesla Motors (NASDAQ:TSLA) as an example. The shorts keep getting squeezed and the demand for the stock continues higher. Keep an eye on what the trend is telling you, and where the volume is going. Earnings trends usually signify a new move in the making. Keep an eye on earnings by big companies like Google (NASDAQ:GOOG) and Apple coming up soon to give you more information. Remember, most stocks trade at 52 week lows for a simple reason, there is not enough demand for them.
Disclosure: I have no positions in any stocks mentioned, and no plans to initiate any positions within the next 72 hours. I wrote this article myself, and it expresses my own opinions. I am not receiving compensation for it (other than from Seeking Alpha). I have no business relationship with any company whose stock is mentioned in this article.