Today's action in Myriad Genetics (NASDAQ:MYGN) as discussed last night [Myriad Genetics Slight Miss on Revenue, Beats on Earnings] would put it below the 200 day moving average. I rarely like to add to stocks below that level, and with my smallish position, I am going to just cut for now and review at a later date.
Tuesday's action is going to create a poor situation on the chart barring a sharp rebound "soon". I am going to exit at $33.60s, and while I took a loss on this last 0.6% batch of the position, I had some nice trading gains along the way in this name... it is now back to levels seen at the turn of the year, sort of like the stock market except in reverse (it was ramping when the market was suffering and it has been dropping as the market surged).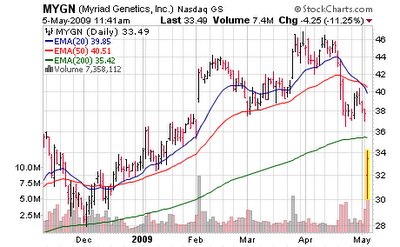 I believe my fortunes shall soon be turning as my contrary indicator, the number of subscription cancellations to the feed for the blog, has surged in the past 3 days (Friday, Monday, Tuesday) to 5. That is more than the previous 3 months combined. I have turned from flamboyant stock genius to idiot in the span of 4 weeks - I assume the the truth lies somewhere in the middle.
With that said, off to find the next $1.25 stock with huge debt load and sagging sales to load up in so I too can make 80% in a week buying merchandise that has already run 40% the previous 2 sessions. All the cool kids are doing it.

Disclosure: No position