Intuitive Surgical, Inc. (NASDAQ:ISRG) designs, manufactures and markets da Vinci Surgical systems and related instruments and accessories, allowing a surgeon to control up to three endoscopic instruments from a remote console while a dual camera provides a 3-D view of the operation. Despite the positive Q1, 2013 earnings, ISRG continues to face turbulence in the short term as the debate for da Vinci Surgical systems continues on, as reported by CNBC and Bloomberg.
Growth Story Continues
For Q1, 2013, ISRG reported net income of $188.9M ($4.56 a share) compared with $143.5M ($3.50 a share) for the same period a year ago. Sales had increased to $611.4M from the year ago result of $495.2M. Both earnings and income were higher than the analysts' expectation of $3.98 a share and sales of $582.6M.
Management's View on da Vinci System
With over 1 million patients who had surgery that used a da Vinci system, the management is confident that those who invest their time in a serious review of the clinical literature on da Vinci will find ample evidence and the benefit it provides to the medical community.
Q1 Performance
The company had strong growth in general surgery but slower growth in gynecology, which resulted in an 18% procedure growth over 2012. General surgery growth was led by Single-Site Cholecystectomy and colorectal procedures. Although Gynecologic procedures are typically slow in the first quarter, benign Hysterectomy faced slower than expected growth in Q1. Nonetheless, the growth continues for urology procedures, which was aided by the stabilizing of prostatectomy procedures in the United States.
Overall, 164 da Vinci systems were sold in Q1, 2013, as compared to 140 in Q1, 2012. Total revenue was up 23% over the last year. Instruments and accessories revenue increased to $261M, up 26% over Q1 of 2012. Total recurring revenue grew to $356M (comprising 58% of total revenue), which was up 23% from 2012.
Share Repurchase
With the upcoming new share repurchase program, ISRG had repurchased $146M worth of our shares in the quarter.
Margin Impact
Gross margin for Q1, 2013 was 71%, which was lower than 71.9% during both the first and fourth quarters of 2012. The lower Q1 gross margin resulted primarily from the impact of the medical device excise tax partially offset by the favorable impact of higher system ASPs in higher service margin.
Improving Cash Flow
ISRG ended Q1 with cash and investment of $3.1B, up $196M compared to December 31, 2012. The increase was driven by $258M of cash flows from operation and about $89M from the exercise of stock options; however, cash flows were offset by $146M in stock buybacks and $17M of capital and IP purchases. In Q1, the company had bought back 299,000 shares at an average price of $487 per share.
Analysts' Calls and Estimates
Analysts currently have a mean target price of $607.93 for ISRG, suggesting 23.22% upside potential. Analysts, on average, are estimating an EPS of $17.53 with revenue of $2.56B for 2013, which is 17.60% higher than 2012. For 2014, analysts are projecting an EPS of $20.46 with revenue of $2.95B, which is 15.20% higher than 2013.
Fundamentally, ISRG's key stats will be compared to its peers in the industry of medical instruments & supplies, including Baxter International Inc. (NYSE:BAX) and Covidien PLC (COV), to see where it stands.
| | | | | |
| --- | --- | --- | --- | --- |
| | Intuitive Surgical | Baxter International | Covidien PLC | Industry Average |
| Cap Size | $19.80B | $37.61B | $31.15B | N/A |
| Revenue Growth (3-Year Average) | 27.5 | 4.2 | 4.9 | 6.3 |
| Operating Margin, %, ttm | 40.3% | 19.9% | 20.3% | 15.9% |
| Net Margin, %, ttm | 30.1% | 16.4% | 15.8% | 11.6% |
| ROE | 21.1 | 34.4 | 18.1 | 13.4 |
| Debt/Equity | 0.0 | 0.8 | 0.4 | 0.4 |
| P/E | 31.7 | 16.8 | 16.8 | 25.6 |
| Forward P/E | 23.2 | 12.8 | 12.8 | 14.3 (S&P 500's average) |
Source: Morningstar
ISRG has higher revenue growth and margins comparing to BAX and COV, as well as the industry average. ISRG also has a solid balance sheet with zero total debt. ISRG's high valuation is also justified with its stronger growth.
Technically, the MACD (12, 26, 9) indicator continues to show a bullish trend, but the MACD difference continues to converge. The momentum indicator, RSI (14), is declining and indicating a slightly bearish momentum at 43.52. ISRG is currently trading below its 50-day MA of $522.62 and 200-day MA of $520.14. The next support is $444.91, the S1 pivot point, followed by $398.64, the S2 pivot point, as seen from the chart below.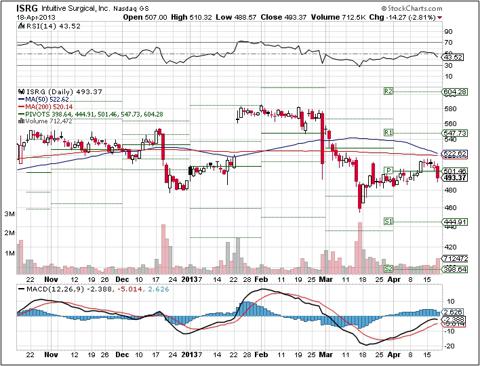 Source: StockCharts.com
How to Invest
While the debate continues on for da Vinci system, more short-term volatility is expected for ISRG. However, ISRG remains fundamentally solid with solid profit, steady growth, supported with a solid balance sheet and an aggressive buyback plan. For bullish investors, a credit put options spread of July 20, 2013 $420/$435 put can be reviewed, which will allow investors to gain some upside credit premium or to acquire ISRG at a price below $435 upon option expiration. Investors can also review the following ETF to gain exposures to ISRG:
Dow Jones U.S. Medical Devices Index Fund (NYSEARCA:IHI), 6.95% weighting
Note: Investors and traders are recommended to do their own due diligence and research before making any trading/investing decisions. The author has no intention to defend da Vinci Surgical System, and the investment review is mainly based on valuation and technical analysis.
Disclosure: I have no positions in any stocks mentioned, but may initiate a long position in ISRG over the next 72 hours. I wrote this article myself, and it expresses my own opinions. I am not receiving compensation for it (other than from Seeking Alpha). I have no business relationship with any company whose stock is mentioned in this article.