In the midst of the steep and painful correction that the Energy sector has been through in the course of the past several days, one spot continues to shine bright and "green:" Nymex natural gas. In fact, the EIA storage data release yesterday morning and the instantaneous natural gas rally seem to have helped to turn around what was initially shaping up as yet another ugly day for Energy stocks (natural gas could not salvage Apple, though).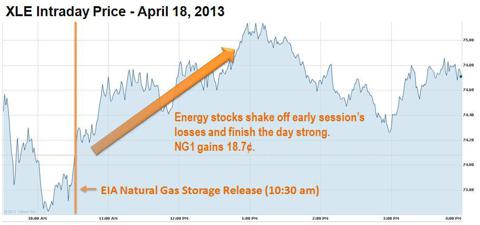 (Stock price chart: Yahoo Finance)
The cumulative move in natural gas prices has been significant since my previous detailed note two weeks ago. The May contract has gained 38¢ since March 28. A fresh look at the commodity's current fundamentals and trading dynamics seems warranted.
What does the futures curve tell us?
The move has been predominantly in the front end of the curve, while the back end (2015 and on) has remained little changed. The curve seems to reflect the market's perception of a tightening supply/demand balance going into 2013-2014 winter season, not a change in the consensus on the cost of supply or deliverability.
Importantly, for the first time in a long while, a distinct year-on-year backwardation has developed: 2013 gas is trading at a material premium to 2014.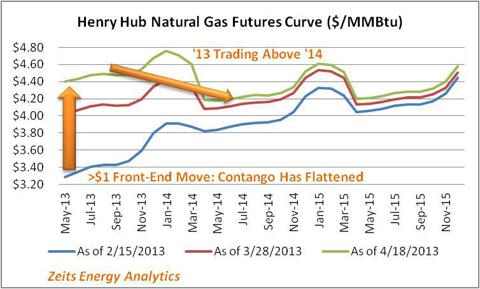 (Source: Zeits Energy Analytics; CME Group)
The structure of the curve suggests that natural gas supply during the next six months holds the key to the understanding of the price dynamics. Backwardation is relatively mild, implying that risk of supply tightness this coming winter is still relatively low and "curable:" there is plenty of time -- nine months -- for the industry to ramp up supply and address any potential shortfall during Q1 2014.
However, customers (gas LDCs, power generators, and major industrial consumers) must pay up for the certainty of supply this winter. The curve suggests that supply adequacy should be fully restored in time for the withdrawal season 2014/2015.
In my opinion, such structure makes perfect economic sense, given the recent statistical data. At the moment, decline in natural gas supply appears very moderate, if any, and the existing price stimulus may already be sufficient to ensure gradual acceleration in gas-directed drilling, which seems necessary to ensure stable, modestly growing supply going forward.
I continue to believe however that risk to natural gas price remains skewed to the upside going into summer: should weather patterns turn warmer than normal, a $4.50-$5.00+ MMBtu range seems almost necessary to induce a quick ramp up in production. However, price spikes above that range will likely be short-lived, given the demonstrated deliverability of supply.
Storage level is "normal"
Last week, the Lower 48 storage finally crossed over into the net injection territory. The inventory count begins from a level that can be considered "normal."
When analyzing storage data, it is important to keep in mind that the frequently used 5-year historic average may not be the most relevant comparison metric to rely upon. The average is skewed by the 2011/2012 abnormally warm winter season (data will also be impacted by the abnormally hot summer last year). If 2012 is excluded and the five years from 2007-2011 are used as the reference period, the 1,704 Bcf in storage at the end of last week would be 111 Bcf above average. It is also important to take into account that gas storage capacity in Lower 48 has increased substantially over the past five years: design capacity has been growing at 70-80 Bcf per year while demonstrated peak capacity has been increasing even faster, at over 100 Bcf per year (see the slide below).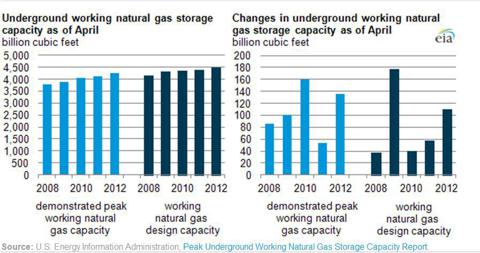 (Source: EIA.)
Notably, salt caverns have been the fastest growing component, effectively increasing deliverability from the national gas storage system beyond what simple year-on-year percentage comparisons might suggest.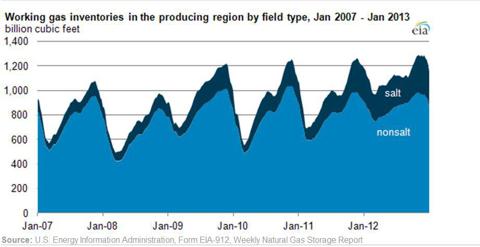 (Source: EIA.)
As a result, headroom to full capacity as of last week was substantially larger than the reference period average at the same time of the year. The mechanics of this phenomenon is well illustrated by the following schematic from a Kinder Morgan's presentation: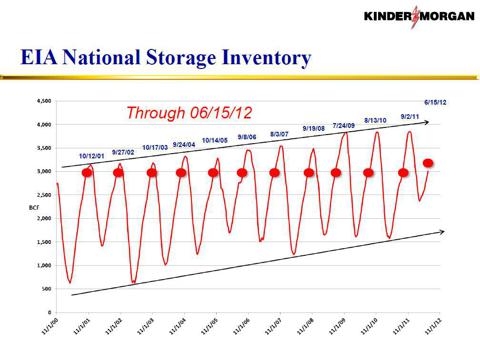 (Source: Kinder Morgan July 2012 Presentation)
In conclusion, while the latest working gas in storage number reads slightly above the "adjusted" historical average, in reality, available injection capacity is 200+ Bcf greater than the reference period average. Deliverability of gas from storage is also higher than during prior periods due to increased salt cavern capacity. The first factor is bullish for natural gas and reduces the risk of downward pressure on price towards the end of the injection season. The second factor moderates upward moves during a cold winter.
Immediate-term fundamentals are favorable
Fundamentally, natural gas is being supported by the confluence of three short-term factors.
The first factor: supply is no longer receiving the boost from reversed production curtailments. This one-time effect was particularly pronounced during Q3-Q4 2012 and should have faded away by now. This dynamic may have already contributed to the tightening supply on a sequential basis.
The effect can be illustrated by a slide from Chesapeake Energy's (NYSE:CHK) presentation (below): the company's shale gas volumes (the red wedge) saw a sharp increase during Q3 2012 despite strong reductions in natural gas drilling that had preceded.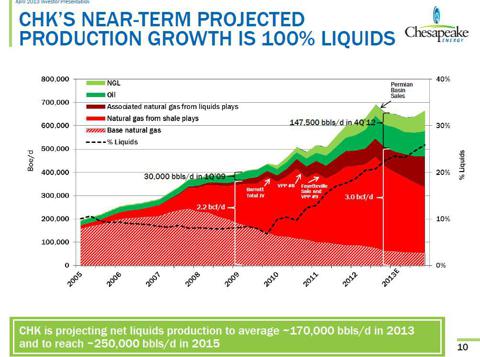 (Source: Chesapeake Energy's April 2013 Investor Presentation)
The reversal of curtailments is also evident in the relatively resilient production from the Haynesville during Q3 2012 (the rig count in the play had bottomed in August-September 2012).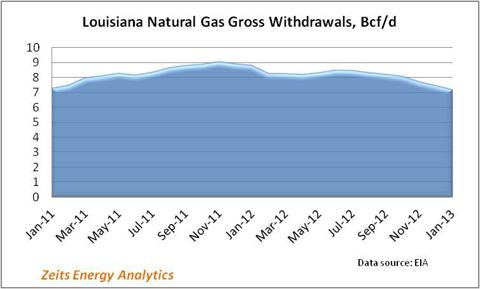 (Source: Zeits Energy Analytics, EIA)
The second factor: well backlogs are wearing off. Wells drilled but not placed in line have been a source of significant "rigless" supply in some dry gas fields such as the Haynesville, Barnett, and Pinedale. Those backlogs should now be slimming down and would need to be replenished through new drilling.
The third factor: the Marcellus infrastructure saw a wave of in-service dates during Q4 2012, leading to rapid growth in volumes. The calendar of takeaway capacity additions in the play has slowed down a bit during the first half of 2013, to pick up again during the second half.
All these factors should be contributing to favorable (bullish) sequential supply comparisons during the first half of this year and may be partially responsible for the recent price rally.
Coal competition will not define gas prices this year
Gas-to-coal switching is often presented as a powerful "natural gas rally killer." The importance of this factor this year may be overstated. As I have written before, a great deal of switching has already occurred during the second half of 2012. While coal will likely gain additional market share from gas, volumes will be nowhere close to the 5 Bcf/d swing that occurred during the second half of 2012.
In the event of a hot summer, coal competition will certainly dilute the upside in natural gas but will unlikely be able to put a lid on the price move. On the other hand, in the event of a cool summer, the support level to natural gas from coal is positioned very low, perhaps in the $3.00-$3.50/MMBtu range, and will only be relevant in the event of accelerating production.
As a result, natural gas is pretty much "on its own." Supply response to the price signal will be the most significant structural factor defining the direction of price.
Price upside is limited
It seems unlikely that natural gas price can be sustained at a substantially higher than current level for a long time. It is debatable if drilling in dry gas shales at $4.00-$4.50/MMBtu is competitive with other opportunities from a return perspective. At $5.00/MMBtu and higher, there is no debate: capital, protected by hedging, will become available, from inside and outside the industry, to scale up production volumes. The higher the price, the greater the incentive to put rigs back to work. Dry gas shales that have recently seen production volumes roll over (Haynesville, Pinedale, Tier I Marcellus, dry-gas Eagle Ford, etc.), have available takeaway capacity and existing pads to drill new wells on. Canadian imports is another significant resource -- that can be delivered via severely underutilized TC mainline -- that needs to be factored into the equation.
As of today, a major price rally from the already achieved levels would appear to be a funds flow-driven event rather than a structural necessity. The industry certainly has time to ramp up natural gas volumes and a super-sized price stimulus appears unjustified and will likely fizzle.
Although oil service capacity is currently available, it may tighten substantially into the second half of the year. Oil services are a major component of natural gas cost and may become a significant upside risk factor to gas prices.
Natural gas is a "tamer" commodity
The market seems to reflect the view that significant natural gas price moves are less likely now than in the past. The progressive decline of implied and realized volatility is a striking manifestation to the fact that natural gas is no longer a 70% vol commodity. The excellent deliverability and predictable, homogeneous costs of supply across many major resource plays are two obvious contributing factors.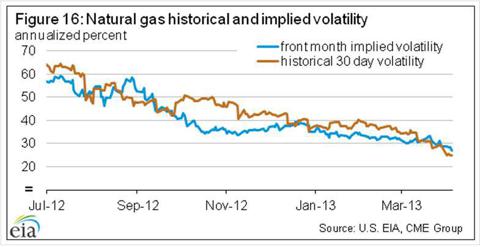 (SOURCE: EIA)
Implications For Natural Gas Stocks
The impact of the recent natural gas rally on gas producer stocks may be to some degree psychological: many operators have already hedged a large portion of their 2013 production volumes and a growing percentage of 2014 volumes. Incremental economics from stronger price environment may represent a relatively small percentage of Enterprise Value. Still, improvement in natural gas price environment is a major positive for the sector and a rally in natural gas producer stocks would not be surprising.
Among E&P operators, the greatest beneficiaries will be companies with significant financial leverage that need to sell assets to reduce debt and fund their operations. Higher gas prices will provide such opportunities, particularly for development-type properties in high quality dry gas shales.
Tightening of oil service capacity -- which may be detectable already this summer -- is another possible consequence of this cyclical upturn in natural gas.
The above discussion is fundamentally relevant for natural gas (NYSEARCA:UNG) and the natural gas producer stocks. My natural gas producer index includes:
Chesapeake Energy
Encana Corporation (NYSE:ECA)
Devon Energy (NYSE:DVN)
Southwestern Energy (NYSE:SWN)
Ultra Petroleum (UPL)
EXCO Resources (NYSE:XCO)
WPX Energy (NYSE:WPX)
Cabot Oil & Gas (NYSE:COG)
Range Resources (NYSE:RRC)
QEP Resources (NYSE:QEP)
Quicksilver Resources (NYSE:KWK)
Forest Oil (NYSE:FST)
Bill Barrett (NYSE:BBG)
Newfield Exploration (NYSE:NFX)
EQT Corporation (NYSE:EQT)
Cimarex Energy (NYSE:XEC)
Disclaimer: This article is not an investment recommendation. Any analysis presented herein is illustrative in nature, limited in scope, based on an incomplete set of information, and has limitations to its accuracy. This article is not meant to be relied upon for investment decisions. Please consult a qualified investment advisor. The information upon which this material is based was obtained from sources believed to be reliable, but has not been independently verified. Therefore, the author cannot guarantee its accuracy. Any opinions or estimates constitute the author's best judgment as of the date of publication, and are subject to change without notice.
Disclosure: I have no positions in any stocks mentioned, and no plans to initiate any positions within the next 72 hours. I wrote this article myself, and it expresses my own opinions. I am not receiving compensation for it (other than from Seeking Alpha). I have no business relationship with any company whose stock is mentioned in this article.