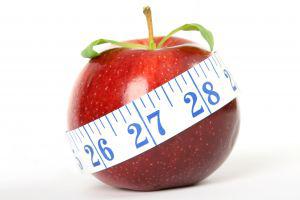 My last analysis of Apple (NASDAQ:AAPL) - Apple: Last Year I Said Sell -- Buy Now? - (March 13) was downbeat. Now, I believe Apple looks like a good buy.
Previously, after analyzing Apple's growth prospects from seven perspectives, I concluded:
I wish I could see a brighter future for Apple. Unfortunately, the company seems like a favorite restaurant under new management. The menu is the same, but it lacks that special something that made it the in place to go.

Tim Cook has said "wait and see" for the new TV product. At this point, that sounds like good advice for potential investors - to wait and see what Apple finally brings out. Is there a truly revolutionary innovation in Apple's future? The best we can say is it's uncertain. Meanwhile, we are seeing the natural erosion of growth rates without new products.

Let's say there is some new product whose innovativeness reminds us of Steve Jobs' heyday. Will the stock skyrocket overnight, leaving us kicking ourselves that we didn't buy now? Perhaps, but not likely. Chances are we can have our cake and eat it too by waiting. When a new product arrives, we probably will have the opportunity to analyze its impact on Apple and then, if we want, buy AAPL at still attractive prices.

The reason? These days AAPL is a stock non grata to many analysts and investors. Previously burnt, analysts are less willing to make high growth estimates until they see the results. Investors, many with oversized, underwater holdings, would be happy to have a chance to lighten up or bail out altogether. Instead of "buy the dip," the catchphrase likely will be "sell the bump."
So what's changed? Basically, the perspective we should adopt in evaluating the "new" Apple. Apple's 45% decline from its $705 high only seven months ago contains two major adjustments:
First, the removal of the over-optimism that drove AAPL dramatically up to that high
Second, the reduction in fundamental valuation reflecting reduced growth forecasts
But, there is another adjustment in the works that converts those negative dynamics into a positive view: The stock is moving away from being a disappointing growth investment and becoming a desirable income one. As a result, AAPL looks to have once again entered "buy" territory. This graph shows that transition…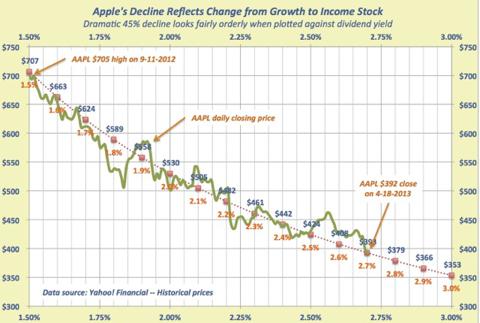 (Stock chart courtesy of StockCharts.com)
Apple: So long, growth stock investors. Welcome, income investors.
As we know, the search for yield continues to drive many investors, and 2013 appears to be the year that stocks take on a bigger role in meeting that goal. Throughout the stock market, issues providing a good dividend yield are viewed kindly, with prices generally being bid up. This income focus tends to underweight (even ignore) growth prospects. Except for Apple, that is. With today's (Thursday, 4/18) drop, AAPL's yield is now 2.7% ($10.60 annual dividend / $392 stock price). However, that attractive yield seemingly had no moderating effect on the stock, with investors and the media focusing on weakened growth factors - the same drivers that have already hammered the stock.
Therefore, it looks like we are at a watershed moment, with Apple's reduced growth factors (the items that caused the previous price drop) now obvious, but the income factors not yet being widely appreciated.
The power of yield analysis to evaluate Apple
With others dismayed by growth, let's take a contrarian look at AAPL. First, a basic comparison with the Dow Jones Industrial Average's 30 stocks. For this analysis, I replaced confused and confusing Hewlett-Packard (NYSE:HPQ) with Apple.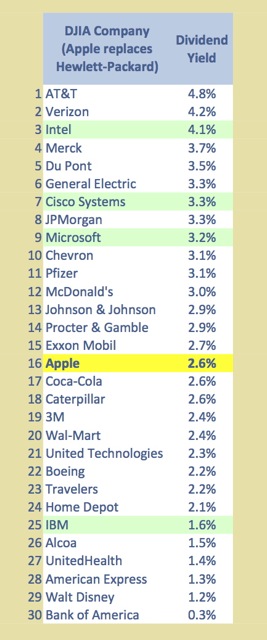 (Data source for all tables: Financial Visualizations - FinViz.com)
Not bad, with Apple in the middle, but perhaps not compelling. (In this table, and the ones below, note especially Apple's comparison with the other computer technology firms: Cisco (NASDAQ:CSCO), IBM (NYSE:IBM), Intel (NASDAQ:INTC) and Microsoft (MSFT).) However, that simple yield comparison ignores important points needed for proper yield analysis.
First, we need to examine a company's financial strength. A stock dividend can be cut or dropped, unlike bond interest payments, so looking at a company's financial leverage helps us analyze financial strength as it relates to the dividend.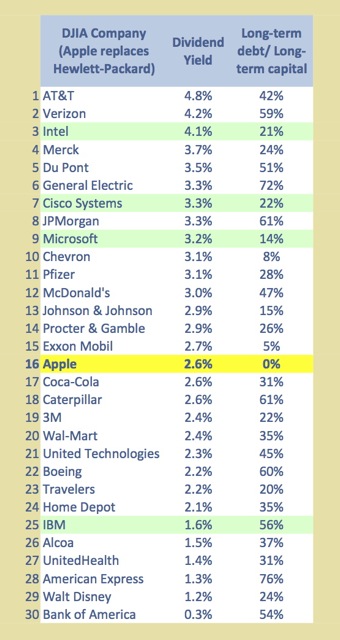 Clearly, Apple's 0% leverage is superior. Add to that the oft-discussed large cash holdings and Apple's future dividend payments seem practically assured.
Next, we need to consider the payout ratio underlying the dividend. As AT&T (NYSE:T) has found out, paying out more than the what's coming in causes investor angst. Even if the payout is less than 100%, anything over 50% is cause for questioning the dividend's security and the prospects for future increases. (Typically, payout ratios vary for three reasons: Stability of earnings, prospects for capital investment, position in current earnings cycle.)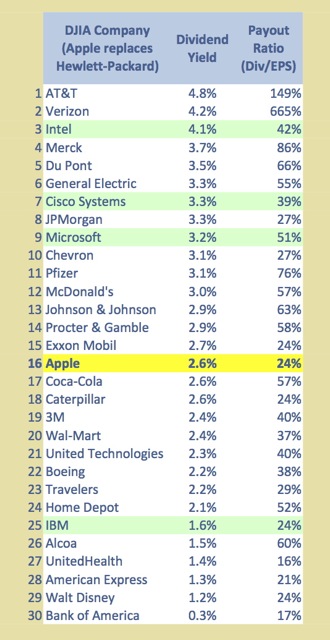 Now, Apple begins to shine. That 2.7% yield, with only a 24% payout ratio, means the current dividend is secure and there is plenty of retention for company growth or simply an increase in future dividends. (You may see Apple's payout ratio reported at 12%. That figure is based on the first two quarterly payments, not the annual rate.)
With the payout ratios in hand, we can now make a more apples-to-apples comparison of stock yield valuations. The table below shows the yield for each DJIA stock calculated using the current price and a dividend based on a 25% payout ratio. Although companies can have reasonable rationales for different payout ratios, using the same payout ratio allows us to better compare the market valuations.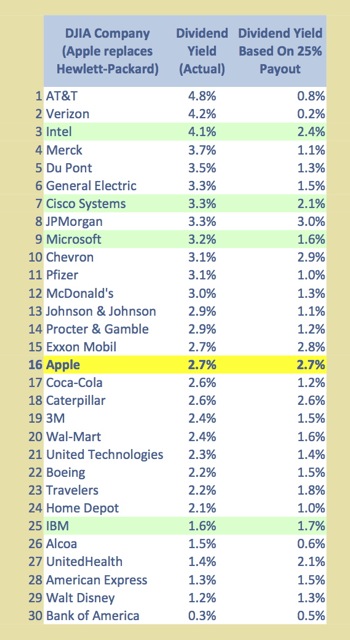 Apple has now risen to the top end. Note that only three DJIA stocks have higher yields than Apple's 2.7%: Exxon (NYSE:XOM) at 2.8%, Chevron (NYSE:CVX) at 2.9% and JPMorgan (NYSE:JPM) at 3.0%. Also note that income favorites like McDonald's (NYSE:MCD), Johnson & Johnson (NYSE:JNJ) and Procter & Gamble (NYSE:PG) have adjusted yields less than one-half because they each pay out so much of their earnings. Finally, note that Microsoft's 3.2% is cut to only 1.6% on an equal payout basis.
For these latter companies, the comparison doesn't mean they are inferior. Rather, it means Apple's price is lower relative to its dividend, making it more attractive on an income basis. And that's what we wanted to determine - whether today's price level offered a desirable opportunity.
But, what about Apple's growth problems?
The seven growth evaluations in my previous article certainly make Apple's outlook look weak. At the heart of much of that analysis is a high level of uncertainty as shown by the wide spread of earnings forecasts. But those growth forecasts are of less importance when the price falls low enough to produce a good dividend yield by itself (similar to a convertible bond price falling to a yield comparable to non-convertible bonds).
In other words, think dividend yield first. Good - check. Then, think about security and potential growth of dividend. Also, good - check. Lastly, think about earnings growth. Also, good. Yes, good - take a look at the now-reduced 5-year earnings growth projection.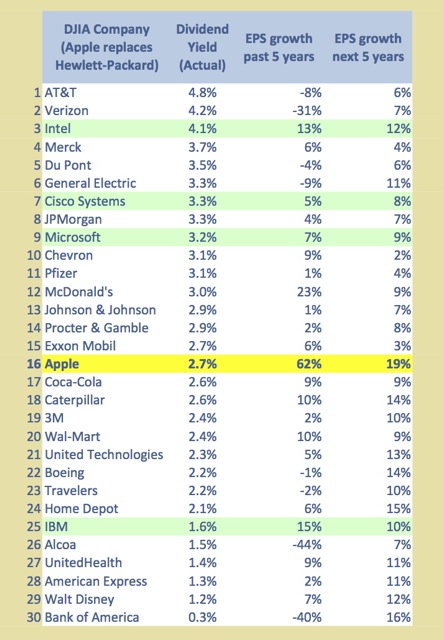 The earnings growth now expected is one-third of the past 5-year rate (19% vs. 62%), and that's why the stock is down. However, now that Apple has moved from the growth sphere to the income world, what's important is how Apple's current income-cum-growth outlook compares to other companies. For example, while we saw that Microsoft's yield based on a similar payout ratio was well less than Apple's (1.6% vs. 2.7%), its projected 5-year growth is only one-half Apple's (9% vs. 19%).
Based on these DJIA comparisons, Apple stands out as an attractive dividend yield stock with a low payout ratio, strong financials and even good growth prospects. That's just the combination that investors look for. What's keeping them from that view currently is the now-defunct view of Apple as the world's best growth company ever.
The bottom line
AAPL looks like it has made the transition from growth stock to income stock relatively "smoothly," albeit with frustration and dismay for shareholders. The current 2.7% yield, when analyzed, compares favorably to other income stocks. Add in Apple's good growth characteristics and AAPL looks attractive.
Thinking of APPL as an income security, we can look at yield levels to determine potential buying points. Currently, at $392, AAPL yields 2.7%. A bit lower, $385, gives a 2.75% yield. A tantalizing level that could serve as a downside barrier is $350. Not only is it a "round" number, it is a previous price barrier and it produces a nice, round yield of 3%.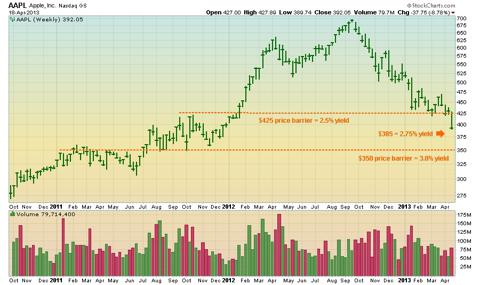 (Stock chart courtesy of StockCharts.com)
Disclosure: Long AAPL. I wrote this article myself, and it expresses my own opinions. I am not receiving compensation for it (other than from Seeking Alpha). I have no business relationship with any company whose stock is mentioned in this article.
Additional disclosure: Positions held: 20% long U.S. stocks; 80% cash reserves