Google (NASDAQ:GOOG) announced its Q1 2013 results on Thursday with earnings beating estimates but revenue underperforming expectations. The share price has risen by 28% over the past 12 months but has slightly traded off from its 52-week high achieved in March. While Google is a solid investment given its healthy financials and near-term price catalysts, I believe potential buyers should wait for a lower price point as the shares are not cheap at the moment. My view is backed by the following reasons:
1. Google stock appears modestly expensive based on the company's financial performance relative to its primary peers in the global online search market. The company's consensus revenue, EBITDA, and EPS growth expectations generally underperform the averages for Baidu (NASDAQ:BIDU) and Yandex (NASDAQ:YNDX). On the profit side, Google's performance is still below par as the firm's various margin and capital return metrics are below the peer averages. In terms of liquidity, Google's free cash flow margin is below the peer benchmark. However, both the firm's current and quick ratios are markedly above par, reflecting a healthy balance sheet condition.

As such, given Google's below-average growth potential and profitability, the stock's fair value should trade at a discount to the peer-average level. Nevertheless, Google's current price multiple at 17.1x is only 3.5% below the average of 17.8x for Baidu and Yandex. After accounting for the 5-year EPS growth estimate, Google's PEG ratio is an even 58% above the peer average, suggesting a somewhat expensive valuation relative to the comps (see chart above).
2. Google's trailing P/E multiple is trading at a 7% premium over its 3-year historical average (see chart below).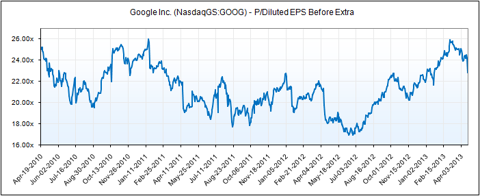 While the current level appears to be supported by the company's growth trajectory as its 2013 quarterly revenue, EBITDA, and EPS growth estimates are fairly consistent with their 3-year averages, the declining capital return and profitability margins over the period are not reflected in the current valuation (see charts below).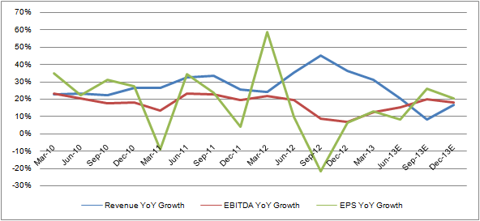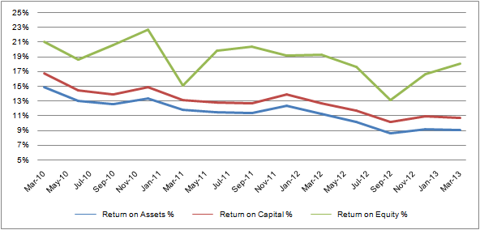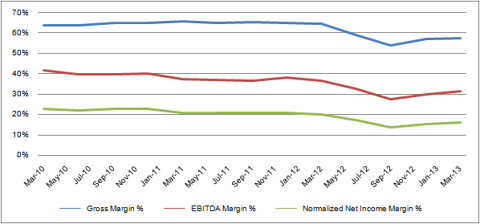 3. Over the past 12 months, both Google's P/E and PEG multiples have expanded by 28% and 40%, respectively (see charts below).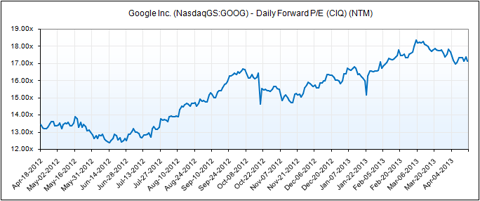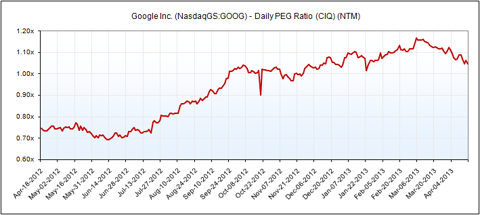 However, the market's consensus revenue, EBITDA, and EPS estimates for fiscal 2013 and 2014 have actually experienced multiple downward revisions over the period and their current levels are notably below the historical levels of six months ago. In addition, analysts' average five-year earnings growth estimate has been lowered from 18.0% to 16.4% since 12 months ago. The mediocre consensus estimate trend implies that the shares have become increasingly expensive without the support from any positive corporate developments that would bring in near-term financial improvement (see charts below).




Why I still like Google at a lower price? There are plenty of near-term price catalysts down the road. According to a Deutsche Bank research note released in April, Ross Sandler pointed out a few catalysts in 2013, which I agree with (sourced from Thomson One, Equity Research):
We see a number of positive catalysts emerging in 2013, including: 1) Enhanced Campaigns which should drive mobile adoption among smaller advertisers, 2) 10x projects - we were impressed by the recent demo of Google Glass, which looks like it could be a meaningful long-term revenue opportunity (a surprise vs. our previous thinking), 3) Google moving over the regulatory hurdle, 4) CPC improvements, which some view as a proxy for mobile search, and 5) improved operating performance at MMI with less-bad financial results.
In terms of trading strategy, I would recommend selling out-of-money put options (with exercise price 5% to 10% below the current share price) to collect an upfront premium or take an opportunity to acquire the shares at a lower valuation.
All charts are created by the author except for the consensus estimate tables, which is sourced from S&P Capital IQ, and all financial data used in the article and the charts is sourced from S&P Capital IQ.
Disclosure: I have no positions in any stocks mentioned, but may initiate a long position in GOOG over the next 72 hours. I wrote this article myself, and it expresses my own opinions. I am not receiving compensation for it (other than from Seeking Alpha). I have no business relationship with any company whose stock is mentioned in this article.