In spite of a precipitous decline in PC sales during the first quarter of calendar year 2013, software giant Microsoft (NASDAQ:MSFT) posted solid third-quarter results. Revenue rose 18% year-over-year to $20.5 billion, falling just shy of consensus estimates. Earnings per share jumped 20% year-over-year to $0.72, easily exceeding consensus expectations.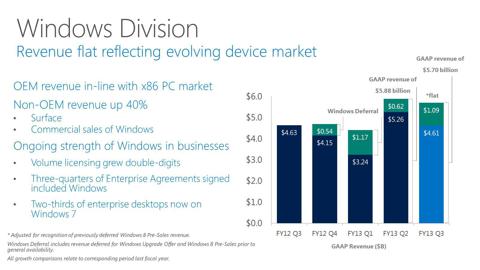 Image source: MSFT Q3FY13 Earnings Presentation
Business was fairly solid across the board, with Windows posting flat revenue in spite of the heavy decline in PC sales. Microsoft cited strength from enterprise agreements as well as the Surface for preventing a sharp decline. We're not sure how well the Surface is selling compared to other devices, but we do not believe its volumes are approaching that of the iPad (NASDAQ:AAPL) or even the Kindle Fire (NASDAQ:AMZN). We do think it provides the enterprise with an attractive, productive mobility device with plenty of room to grow.
Windows 8 adoption doesn't seem to be going quite as planned, as CFO Peter Klein remarked:
"We built Windows 8 with touch and mobility at the center of the experience, which positions us well in this new era. However, the transition is complicated, given the size of our hardware and software ecosystem. We still have an immense amount of work to do, yet we feel good about the foundation we have laid and are optimistic about the long term success of Windows."
Of course, some of this can be attributed to the decline in PC sales, and some blame must be put on the company's OEM partners' lack of execution. With proper form factors on the market, we think Windows 8 adoption could accelerate, even though the outlook for PC sales is lackluster. Klein also added some color on the momentum of the PC market, saying:
"On the PC market, I would look to some of the third parties, IDC and Gartner. They're sort of in the 12-13-14 down range this quarter."
This doesn't bode well for Dell (NASDAQ:DELL) or HP (NYSE:HPQ), in our view.
Results from Servers & Tools were excellent, with revenue increasing 11% compared to the year prior. SQL and Windows Azzure both benefit from the growth of data and demand for the cloud. Unfortunately for Microsoft, the market tends to dismiss this wonderful business and associate the company strictly with the PC. Still, this segment is powerful on its own, and a 20% year-over-year growth rate in multi-year licensing revenues could help ensure a stable long-term future.
In addition to wonderful results from Servers & Tools, Microsoft Business Division's results were strong. Revenue increased 10% to $6.2 billion, and multi-year licensing revenue increased 16%. Office 365 appears to be resonating with the firm's enterprise customers thanks to its reliance on mobility and the cloud. We're huge fans of the new Office pricing model which has transitioned to subscriptions that we believe will result in higher revenue over the course of a product's life. Office 365 is already on a $1 billion annual run-rate.
Entertainment & Devices continues to perform well as an unheralded division of Microsoft. Xbox console sales fell ahead of a likely refresh and saturation, but total revenue for the segment climbed 56% year-over-year to $2.5 billion. Skype usage (and monetization) continues to thrive, while the Xbox Live Network aids in boosting revenue. We believe a new, fully integrated Xbox experience utilizing existing products like Skype and creating partnerships with various applications could be around the corner. We think Xbox could have a long-way ahead of it in terms of monetization, particularly if it develops a robust app store.
Overall, we were pleased with Microsoft's third-quarter results, and we think free cash flow will be terrific for the full year. Operating expense guidance for the full year was reduced to $30.2-$30.5 billion from $30.3-$30.9 billion. Operating expenses will increase at a modest pace of 4%-6%. Regardless, we think Microsoft's shares continue to look relatively inexpensive with strong dividend growth prospects. We're holding on to the shares in the portfolio of our Dividend Growth Newsletter.
Disclosure: I have no positions in any stocks mentioned, and no plans to initiate any positions within the next 72 hours. I wrote this article myself, and it expresses my own opinions. I am not receiving compensation for it (other than from Seeking Alpha). I have no business relationship with any company whose stock is mentioned in this article.