I'm writing this article after this week's big news on a stock that has gained a lot in the past. This stock is Sprint (NYSE:S), a stock I have been long since around July 2012. It gained 14% in one day on news that Dish Network (NASDAQ:DISH) was making a $25.5B bid to snatch it away from Softbank. If the deal were successful, Sprint would get out of the hands of Softbank, which had announced in October that it would pay $20.5B for a 70% stake in Sprint, and right into the hands of Dish Network. Dish Network is a huge pay TV giant and is one of the biggest direct broadcast satellite providers in the U.S.
When I first bought into Sprint, I definitely didn't see much of any of the takeover bids coming. On the other hand, I focused more on its own growth as a company and not on being the target of a takeover bid. First I would like to go into Sprint itself, and then introduce Dish Network and the effects on the company.
Sprint is the third largest U.S. carrier. As of 2012, it serves more than 55.6 million customers. It has been on a continuous growth for the last year now. Just take a look at a chart: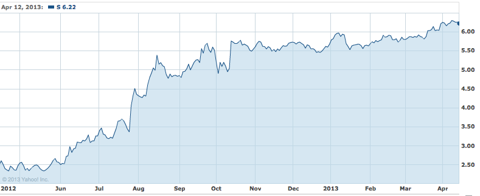 Over the past year, Sprint has risen 147%. The stock really shot up towards the end of August when it reported positive earnings. It did report a loss as it wrote down the value of the Nextel Network. Nextel Network, which was dragging the company back, will be shutting down on June 30, 2013, which I think is news that people seem to have forgotten. This will be a huge plus for Sprint as they can now focus on getting new customers in and reporting better earnings.
From a technical perspective, the stock is on an upward trend too, if you take a look below: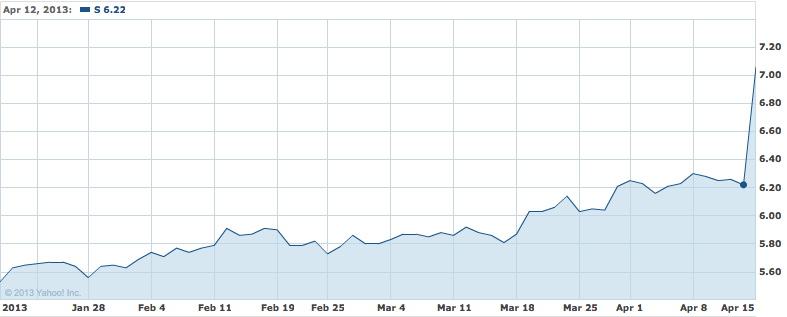 The chart shows the growth over the last 3 months.
During its past earnings, it has been highlighted that Sprint manages to attract new customers to the network. This is very important as this is what we are looking for when investing: whether the company can continue to grow at a sustainable pace. This is one of the positives with smaller companies rather than huge ones like AT&T (NYSE:T): it's easier for them to attract new customers. Below is a graph of AT&T's stock.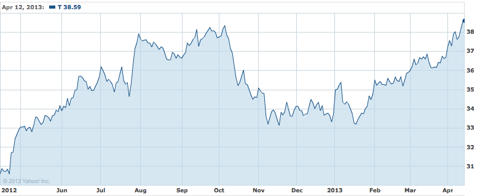 When comparing it to Sprint's performance over the past year, you can clearly see that the growth hasn't been as sustainable, and there was significantly less growth. AT&T grew 26%, while Sprint, as noted earlier, grew 147%. This margin can't be ignored when looking for stocks to invest in the telecom space.
As the technology advances, and the consumer wants more, Sprint has been making advancements there too. Over the last 2 years, Sprint has constantly been making its Network Vision better. It was launched to try to compete with other carriers like AT&T and Verizon Wireless (NYSE:VZ). Network Vision was created as a sort of replacement for the 2G, 3G and 4G networks. The idea was to create a network that could handle all three different networks.
Still don't understand what it does? Well, it is essentially Sprint trying to bring its network up to handle the demands of its subscribers in terms of data usage. As an investor, all you need to know is that this is basically made to attract new customers; it gives Sprint more flexibility to take on different networks, and also gives more to the subscriber. This new Network Vision is also much more compact than the old traditional network used by Sprint. For that reason, Network Vision only takes up a fraction of the old equipment and is also extremely energy efficient. You might not care if it is energy efficient, but you do have to realize that removing the old air-conditioning facilities required for the old equipment will save the company a huge amount of money, thus reducing its operating expenditures. The best part is that as soon as deployment of the Network Vision is complete, Sprint will benefit almost immediately. By doing this and rebuilding its network and developing Network Vision, Sprint will reduce its cost by a significant amount over time.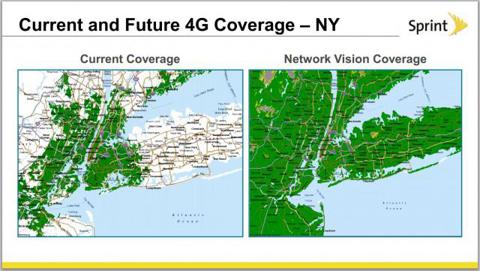 This image shows the current coverage Sprint offers vs. the coverage it will offer once it completely launches Network Vision.
All this chatter about Sprint being acquired raises the question of a possible bidding war. If this were to happen, I think that the stock could easily gain another 40%, seeing its past growth.
Now let's move on to what would happen if Sprint got acquired by Dish. If this were to happen, the phone service would be joined to the TV service. This would mean that instead of the customer getting two different bills, it would be in one. Dish says that a merger between the two companies could roll television, high-speed Internet and cellphone services into a single package that would be faster and more affordable for consumers. This would tremendously increase their growth as well as subscriber base.
Analysts on Monday said that a potential Dish-Sprint merger may pose a greater challenge to AT&T and Verizon, which dominate the wireless industry and charge higher prices for their phone plans. As to whether Sprint would accept, Softbank's plan is to simply infuse more cash to Sprint to try and strengthen the company. But with Dish, 14 million customers would get improved services on their phone, and shareholders would own a collective 32% of the combined company.
In conclusion, like I said earlier, I think Sprint has more room to grow. Even if the bid were to not pass, Sprint on its own has started making different innovations, which will help attract customers as well as cut down on costs. But if the deal with Dish Networks were to pass, it would create a hugely productive company, which would manage to rival the bigger companies, like AT&T and Verizon. I will be selling my shares in the short term, only to buy them back on any weakness the stock shows.
Disclosure: I am long S. I wrote this article myself, and it expresses my own opinions. I am not receiving compensation for it. I have no business relationship with any company whose stock is mentioned in this article.