As an individual investor, I try to evaluate corporate performance and future prospects by boiling down and analyzing several key financial and operational metrics. These may vary by sector, industry and company.
Focusing upon a few important markers can help drown out the din of earnings season editorial journalism, obsession with minutiae, and even outright disinformation. These are the enemies of small investors. Too much background noise can cloud otherwise sound investment decision making.
Intel Corporation (NASDAQ:INTC) released 2013 1Q earnings earlier this week. In January, Seeking Alpha editors published an article to my readers about the key metrics I use to track the business.
These metrics are: margins, ASPs, and dividend growth. A general view of the global economy offers an overarching perspective.
In this article, I'll present these items, offer analysis, then pull it all together into a bottom line summary.
Margins
I take a long view when investing. A quarter or two does not necessarily sway my opinion on a security or the underlying company. Trends build up probabilities.
Here's a table outlining recent Intel margins:

All margins have declined in the linked quarter and year-over-year.
Next, here's a chart with a longer view of Gross Margin for the past five years. I contend Gross Margin is the single most important margin figure when evaluating Intel company performance.
Intel Gross Margins (Five Years)

courtesy of ycharts.com
Gross margins have been falling since the beginning of 2012. The rate decreased sharply over the past two quarters. It now stands at 56 percent. Margins have not fallen below 60 percent since Intel emerged from the 2008-09 financial crisis.
Until margins improve, the business will not improve. The pattern has been set. It's been relatively clear and consistent. The pattern has got to be cracked.
But wait. There's a ray of hope baked into an excerpt from the Intel first quarter conference call. CFO Stacy Smith responded to an analyst's question regarding gross margin:
So as the gross margin improves, we expect that Q1 is the bottom. It's up a bit in Q2, and then a back half that's back into the low 60s...
(emphasis is mine)
The investor must evaluate this prospective information, provided by a high profile corporate exec, in light of the rest of the narrative. We will do so at the end of this article.
ASP (Average Selling Price)
Several years ago, I corresponded with Intel Investor Relations. I asked a representative what operating measure the company believed was the most important to track in order to understand the underlying business. The rep replied it was ASP.
Average Selling Price offers a glimpse into both price and mix of INTC products and their profitability. If ASPs are falling, and revenues are not increasing rapidly, then there's trouble brewing on the horizon. Please find below an excerpt from the Intel earnings release. It's on the very last page of the document. I think it's important.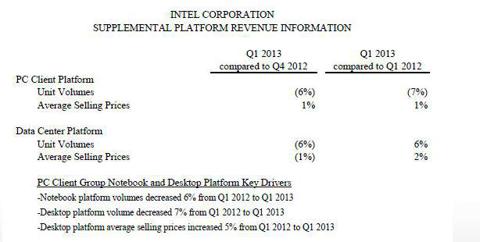 Despite unit volume decreases, the ASPs have remained flat. While this isn't great news, it indicates that the business isn't cratering, either. Fears that Intel is falling into a low-ball price war with competitors has not materialized. ASPs remain at high historic levels for Intel computer chips. Indeed, ASPs have not deteriorated to the level of potato chips.
Dividend Growth
Of late, the Intel board of directors has been a serial dividend raiser. Cash dividends have been increased at a 14 percent per annum rate over the past five years. The stock currently yields over 4 percent.
For me, few actions speak louder than when a board raises the dividend. Directors raise dividends when a company is generating sufficient free cash flow. Dividend increases forecast corporate leadership's confidence in a company's future. Directors are loathe to cut the dividend. Such action typically signals a major deterioration in the business, or an error of judgment. Rarely will a board raise a quarterly dividend, then turn around the next quarter and lower it.
Intel has declared a dividend of 22.5 cents per share for the last four quarters. Since the crash of 2008-09, the board of directors has not gone more than four quarters without raising the payout. Therefore, the last week of July will be an important time to watch the newswires: this is when we should expect Intel to declare the next dividend.
A boost in the payout will be a good sign. A flat dividend or token increase is a yellow flag.
Some forecasting is in order. Shareholder-friendly Intel management offers investors their current year projections for both earnings and cash flow. Using their figures, my model indicates that 2013 free cash flow (operating cash less capex) will be about $4.9 billion. This equates to $0.96 to $1.00 a share contingent upon how aggressively the company buys back shares.
This begs another table found below. It highlights Intel's actual FCF per share for the past three years and this year's forecast:

General Economic Activity
While Intel Corp. is considered a technology stock, I say that its business has evolved. Over the years, it's transformed from a secular growth story into a quasi-cyclical company. Earnings will rise and fall in some relation to the overall economic business cycle. So what's the world look like now?
Without trying to over-analyze the situation, here's my macro overview:
Europe is in recession
Latin America is spotty - Brazil, the largest economy, has problems
China has slowed down - I don't trust all the data, and what data I see indicates reduced growth
North America is improving: slowly. Hardly robust growth.
Japan is just hobbling along. Better than Europe, worse than North America.
This isn't a prescription for a rocketing global business. However, there are some good things going on in the background that could help forward prospects. A number of companies have alluded to this on their conference calls. Intel had a similar take. Here's another excerpt from Stacy Smith on the 1Q conference call:
What gives me confidence in the second half of 2013 really comes down to two things. One, we do expect that the macro environment will improve. That's consistent with what we're seeing from most economists now. That could be a repeat to what we thought last year. I think the world was expecting a stronger macroeconomic second half of '12, but it didn't materialize. So that is my belief right now.
There's hope for better days. Do I believe this because Mr. Smith says so? No. I think it's plausible because a number of senior executives in several businesses have indicated the same.
Other Lesser Stars
I'd be remiss if I did not acknowledge a few other INTC events and happenings that I believe are worth noting, but should not detract the investor first focusing upon the "significant few amongst the less significant many." These include items that have not become "ripe" yet, lack enough data to move from speculative to probabilistic outcomes, or just won't move the needle enough to worry about.
Here's a short list:
short-term mobile handset market share
increased long-term debt
apparent underperformance of recent acquisitions
capex overspend
foundry capacity
share buybacks
The last item may be worthy of a short follow up. In the conference call Q&A session, the topic of share buybacks did come up. Here's the Intel management reply:
As I think you know, we don't share prospectively what we're planning to do with the buyback, just as a matter of policy. What I can share with you is that our priorities are still the priorities that we've been talking about. It's investing in our business first, it's dividends second. And I shared with you the expectation that we want a dividend that's on the order of 40% of free cash flow. And I think that's giving us a pretty good dividend yield today.
What was interesting was the next to last sentence. Intel management has stated before that 40% of free cash flow would generally be directed to the dividend. However, last year the dividend was increased despite FCF not making the hurdle. It would appear that it will not make the hurdle this year, either. Hence, more the reason to mark the calendar for the last week of July.
The Bottom Line
At this juncture, Intel investors should exercise caution. I believe the stock is undervalued. However, that does not mean that it will return to historical valuation soon. The jury is out on most key issues.
Margins, particularly the gross margin, has not found a bottom yet. Management has indicated that 2H 2013 will stem the decline. Sixty percent is the benchmark.
ASPs are stable. Stable is good. For 2013, this measure needs to stay that way for the company to gain momentum. The projected low single-digit revenue increase is unlikely to be enough to overcome a hit to ASPs.
Dividend growth has been strong despite relatively weaker underlying financial performance. The next dividend declaration has important implications. The current payout has been and will likely remain outside the general dividend-to-free cash flow ratio. Pay attention to this announcement.
The global economic situation appears uninspiring. Lukewarm at best. A real recovery, even in some regions, would bolster Intel's prognosis considerably.
Waiting for all these planets to line up will likely exclude new investors from any potential party. By the time all the risks are mopped up, it's too late to buy. However, if the investor has a set of driving metrics to watch, he/she has an increased probability of gaining an edge, or at least not miss the boat. Furthermore, current investors reduce the chance of getting whipsawed by Wall Street and media "noise."
Finally, for those of us with a long view: Intel possesses a sound balance sheet, good management (I'm hoping Stacy Smith gets the CEO role), a solid dividend yield, and the size and scope to drive their industry. I tend to be patient with such equity investments.
Please do you own due diligence before making any investment. All the best in 2013.
Disclosure: I am long INTC. I wrote this article myself, and it expresses my own opinions. I am not receiving compensation for it (other than from Seeking Alpha). I have no business relationship with any company whose stock is mentioned in this article.