I've been contributing articles to Seeking Alpha on Sandstorm Gold (NYSEMKT:SAND) since June of 2011, and over this time frame I've enjoyed watching the success of a local Vancouver company headed by a fellow graduate of the Sauder School of Business at the University of British Columbia. From the Canadian Venture Exchange to a listing on the NYSE, it has been an exciting journey. Unfortunately, the journey has taken a turn for the worse, as SAND's one and only product has plummeted in price.
Looking at SAND's share price versus the gold ETF (NYSEARCA:GLD), it has mirrored the price action.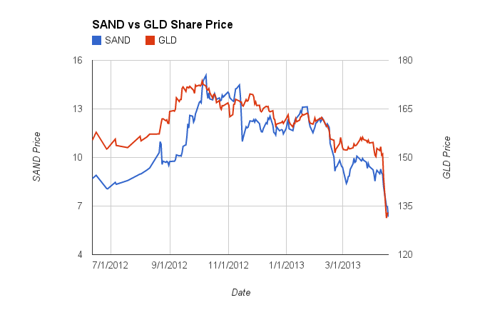 When comparing the two on an index basis, with 100 being equal to the day SAND was listed on the NYSE, SAND has underperformed GLD, with SAND now reading an indexed value of 72.86 versus GLD's 85.52.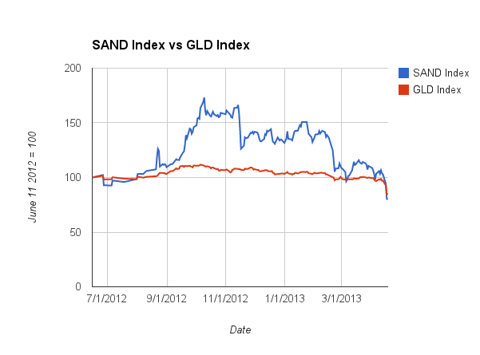 Correlation has been rising between SAND and GLD, indicating that the premium that was previously priced in for SAND based on potential new streaming deals is gone.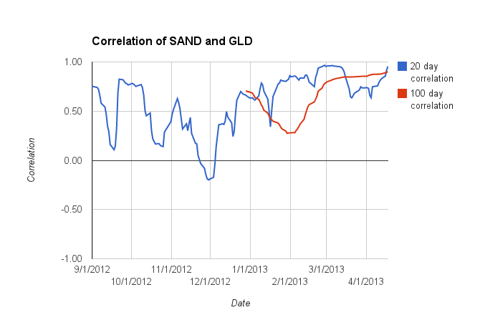 I'm still of the opinion that SAND is run by a first class management team, and that if you are going to own gold, owning SAND is the way to do it. But the bigger question is whether to own gold at all? No matter what Nolan Watson and his team at SAND do, the fate of the company is ultimately tied to the price of gold.
Owning SAND is still better than owning GLD or a mining company
Assuming that you still desire gold to be a part of your portfolio, SAND is still an excellent company to hold and superior to owning a gold miner or GLD.
SAND is superior to owing the GLD ETF because at an average cost per gold ounce of $400, SAND will continue to generate cash. The lower price of gold will correspond to less cash which means a lower stock price for SAND, perhaps for years to come, but that is better than generating no cash in the case of an ETF. There is also the upside potential of new streaming deals being completed, as although gold could be in for hard times, there will still be mining deals to finance. In addition, the worse the gold market gets, the better the terms SAND can negotiate, the better the upside when/if gold prices rise again.
With regards to miners, SAND has performed in the middle of the pack compared to the other publicly traded miners it has streaming deals with: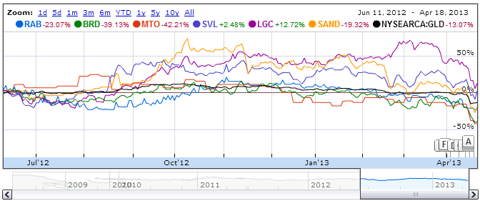 SAND has led some miners while trailing others, so why own SAND instead of one of the miners?
The main reason is diversification, as if one of the mines runs into problems, your investment isn't going to zero. SAND's management is a key buying point as well, as it is unlikely that you have the time or the resources to do the due diligence required to ensure a mine is a solid prospect, whereas the team at SAND is studying mines all day.
With regards to the structure of the business, SAND has even more advantages, as it is impossible for SAND to go out of business as they carry no debt on their balance sheet. Therefore, even if there is a catastrophic plunge in gold prices, they'll be around for the upturn. The same cannot be said for gold miners, as if gold prices go far below cost per ounce prices and they shut down, the machines rust and the capital is rendered worthless. Even if a miner is able to sell their equipment, they will receive pennies on the dollar.
Due to this phenomenon with mining equipment, mines will operate until they spend their last dime, as once a mine shuts down, it isn't reopening anytime soon. Not only does their capital become almost worthless, but in many cases they lose their government permits. The fact that mines will continue to operate at a loss is an advantage for SAND, as they buy at $400 per ounce regardless of how much money the miner is losing.
SAND's portfolio of mines have one common feature that makes them attractive collectively in the current environment, a low cash cost per oz. Below is a table of the cash cost per oz of the mines in production.

Silvercrest Mines reports cash cost in per ounce for silver since that is what they're mining for, and at $8 an ounce, Silvercrest is a long way from shutting down.
The global average cash cost per ounce in the industry is $1200 (the average amount it costs a miner to dig gold from the ground), so these mines will outlast the higher cost producers protecting SAND's cash flows.
This is consistent with what Nolan Watson said in an interview we did together on December 21st, 2012. At the time of this interview, Sandstorm had just completed their first streaming deal in Australia (Mutiny Gold Deflector Project), and I was asking if he saw more potential in that market. He responded that due to the other resource activity in Australia, he didn't think so, as the costs were too high. Specifically:
One of our key focuses at Sandstorm is doing deals with mining companies that have a good gross margin, which means that if your costs are high on average in a country, your gross margin is lower, making it tougher to make decisions to do a deal there.
Although other steaming deals are still coming online making cash cost per oz at this point speculation, a shareholder of SAND can be confident that the cash cost per oz will be among the industry's best, another reason that if you must own gold, own SAND.
SAND versus other streamers
The gold steaming business is a relatively new business, limiting the number of competitors. The most applicable comparables are Franco-Nevada (NYSE:FNV) and Royal Gold (NASDAQ:RGLD), as both stream gold and have similar market caps. Versus these two companies, SAND has vastly outperformed RGLD and has matched Franco-Nevada: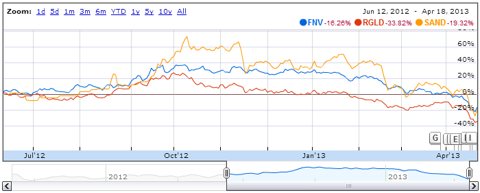 This is especially impressive given the smaller market cap of SAND at 571 million versus 3.5 billion for RGLD and 5 billion for FNV. In addition, from a P/E perspective, SAND if offering a much more compelling value:

Nolan Watson is not a gold bug
Gold provokes emotional responses. It seems that people either see it as practically invaluable (read the comments section of Seeking Alpha articles on the subject) or they believe it is worthless. Although I had met with many other representatives of SAND while covering the stock, my first and only meeting with Nolan was the December 21st interview and I was curious to see where he fell on the spectrum.
Interestingly, I'd put him more on the skeptical side of the spectrum. He had no problem throughout our interview acknowledging the possibility that gold prices could collapse. Below are a few choice excerpts:
On the fact that even though his costs are locked in at $400 per ounce, if a mine shuts down, it doesn't matter what his contract says:
Yes, if a mine shuts down, we're in trouble
On commodities long term cycles:
If we ever see a correction in the cycle, where demand for commodities pull back, what you'll see is commodity prices get crushed and a bunch of mines go out of business. But when demand normalizes again, supply will not come back on. Once you make a decision to shut a mine down, it is shut down for years.
On mining companies in Vancouver:
Right now, here in Vancouver, we have somewhere between 900 to 1,000 publicly traded mining companies. I wouldn't be surprised that, over the next 2 or 3 years, 200 to 300 of those go out of business.
These responses, as well as his demeanor, suggested that although a majority of his net worth was tied to the price of gold, he wasn't part of the "gold is going to $4,000" crowd. In fact, he fully acknowledged that gold prices could come crashing down, and although he was somewhat insulated from this, he wasn't entirely insulated. I suspect it is one of the main reasons he launched Sandstorm Metals and Energy (OTCPK:STTYF), a diversified streamer of commodities that had more practical applications than gold.
My next move
Seeking Alpha is where I start my research because the people writing here have skin in the game. The record of history is clear, the best decisions are made by individuals who participate in the costs and benefits of those decisions. Although SAND went from being one of my best picks to one of my worst, I hope my readers will take some solace in the fact that I made and lost money right beside them.
During my first internship in the capital markets I interned under a gentleman by the name of Elvis Picardo, head of research at Global Securities. I remember emailing him when SAND was featured on Mad Money and he sent the following reply:

That proved to be sage advice, as Elvis essentially picked the top.
When the facts change, I change my mind. There was clearly a case for gold a number of years ago. With QE being tried on a massive scale and the unprecedented intervention by central banks around the world, it was logical and prudent to use gold as a hedge against inflation as well as other risks.
The economic facts have changed, inflation hasn't emerged and central banks are nearing the end of their grand experiment. Although I still consider SAND to be run by a world class management team, if there isn't speculative demand for gold, it cannot maintain $1,500 per ounce prices. Other than speculation, there is no fundamental story with gold. With oil, you have to run cars, with food, you have to eat. Unless you're partaking in an Indian wedding, you don't need gold for anything. And despite all the store of value talk, whenever a natural disaster has struck, I've don't ever recall people resorting to using gold to barter with one another.
Buffett said it best:
When a management team with a reputation for brilliance tackles a business with a reputation for bad economics, it is the reputation of the business that remains intact.
Nolan Watson commented on what a downturn in commodities would look like:
So what happens is people will operate their mines at losses for as long as they can. If they have any cash, they'll operate at a loss. Prices just get obliterated on the downside, because prices have to get so low that it bankrupts entire sections of the industry.
Taking the thoughts of these two great minds together, I see there being much more risk to the downside than the upside in gold, which translates to much more downside than upside in SAND. If this downturn is the real deal, Nolan said himself prices are going to get obliterated. Taking a cue from Buffett, no matter how brilliant Nolan and his team at SAND are, they can't beat bad economics.
Therefore, other than call options that will likely expire worthless in June, I'm walking away from SAND. If anything, I'll wait for a bounce in gold prices and take a short position. It is entirely possible that gold rebounds to $4,000, but anything is possible. Not everything is probable, and I put the probability of $4,000 gold very low, while putting the probability of sub $1,200 gold quiet high.
I do still want to be in business with Nolan and his team, and will be holding my Sandstorm Metals and Energy position.
Disclosure: I am long SAND, OTCPK:STTYF. I wrote this article myself, and it expresses my own opinions. I am not receiving compensation for it (other than from Seeking Alpha). I have no business relationship with any company whose stock is mentioned in this article.
Additional disclosure: I am long SAND via June call options with a strike of 15 and own STTYF.PK stock.