Introduction
When we first wrote about Merge Healthcare (NASDAQ:MRGE), this software turnaround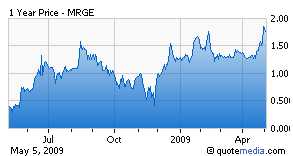 story had reported just one full quarter of results under the new management team and Board watch. Nevertheless, we were attracted to the potential of Merge's imaging software business, and were impressed by the new crew's quick restructuring efforts which paid off in a fast return to positive operating income and free cash flow after many quarters of losses.
Since our last report, Merge has continued to demonstrate solid financial results. Notably, in the final quarter of 2008, the company reported $15.1 million in revenue — a slight year-over-year decline, but nevertheless a sequential improvement over the prior quarter. Operating income jumped to $3.7 million, compared to $1.3 million in the prior quarter and a large loss a year earlier. Cash flow was also strong, as evidenced by the $3.4 million bump in Merge's cash balance.
Importantly, in the company's most recently reported quarter for Q1 of 2009, Merge continued to demonstrate substantial financial improvement. During the first quarter, revenues again increased sequentially, but also showed a 11.5% rise year-over-year, despite the economic downturn. As well, profitability remained solid, with operating income improving to $3.5 million, as compared to a significant $8.4 million loss last year. The company's balance sheet also continued to strengthen, with cash now at about $20 million, up nearly $6 million in just a few quarters.
The new team at Merge has pulled off this impressive financial turnaround by removing a good chunk of costs from the business, including such actions as exiting the teleradiology business, to closing the company's Atlanta office. In addition, the management team has done a great job in retaining the company's credibility with customers during this difficult restructuring, as evidenced by the stable, and growing, top line figures.
Satisfied with the firm's financial stability, we're now more focused on Merge's growth potential. Specifically, we're interested in the impact on Merge's business of the Obama administration's Stimulus Package, which has earmarked about $31 billion for healthcare IT. There's also the growing Chinese market, which has the possibility to eventually surpass the U.S. healthcare market in terms of technology uptake.
To get a better handle on these and other growth initiatives, we recently held a follow-up talk with Justin Dearborn, CEO of Merge Healthcare.
Envoy Global Interview
Envoy Global Research (EGR): Aside from the Obama stimulus plan generating "a tide that lifts all boats," scenario in healthcare IT, is there any direct revenue opportunity here based on Merge's product slate? What sort of technology does the Administration seek to support?
Justin Dearborn (JD): At its heart, the bill intends to incentivize healthcare providers to use IT to gain efficiency and cost savings for the overall healthcare system. Our hospital and imaging center customers have seen concrete savings and efficiencies from using our solutions, and we believe they will be able to participate in the stimulus plan. To that end, we are building a consortium of customers to discuss the mechanisms needed to ensure that imaging solutions are eligible for incentives.
One of the key buzz words you'll hear in the industry today around the stimulus plan, is interoperability. That really speaks to our roots at Merge, as a leader in enabling medical devices to communicate with one another since the inception of digital imaging and the DICOM standard.
Our toolkits provide the basics needed for any software application to be able to move images using the correct "language." We also have platforms like our Cedara C4™ technology that serve as middleware for interoperability of software applications. In addition, we have applications that help with things like web transfer of images — applications that any health IT vendor can integrate into their finished solution.
We like to say that we can "image enable" any solution, which is of great benefit to general health IT vendors of solutions like EMRs [electronic medical records] or HIS's [health information systems]. As EMR providers such as Allscripts clearly stand to benefit directly from the Stimulus package, this is a great target market for our OEM solutions.
EGR: You recently announced a customer win for your new MergeCOM-3™ HL7 toolkit. How does that fit into the Stimulus opportunity?
JD: Again, this is about interoperability. The key thing to note about HL7 is that it goes well beyond imaging, which has been the market addressed by our DICOM toolkits in the past. Whereas DICOM is the language of the image itself, HL7 enables transmission of all the other information that comes along with that image. So this really opens up our access to the broader HIS market. We believe that as EMR's proliferate there will be a growing need for solutions like our HL7 toolkit, and so we remain optimistic about MergeCOM-3™ HL7, and we have seen excellent reception to the product in the marketplace. We already signed our first customer for the technology, and the toolkit is planned for release this quarter.
EGR: Last time we spoke, you mentioned the negative impact of the Deficit Reduction Act (DRA) on your imaging center customers. These providers have been under intense scrutiny, as an identified source of cost inflation in U.S. medical care. Do you think the Stimulus package will relieve some of the regulatory pressure faced by these imaging providers?
JD: Probably not. I think the government will be on constant watch for ways to control healthcare costs. One tool — the "carrot" — is to incentivize providers to adopt cost savings processes, like IT. Another tool — the "stick" — is to limit reimbursement for other processes, and imaging will undergo ongoing scrutiny in this area. A third tool is to limit usage, and all payors are definitely focused on this, employing both Radiology Business Management companies and increased pre-authorization rules. Imaging is an expensive and high-volume area of healthcare delivery, so it will continue to be under the cost microscope.
The good news for us in this is that our customers realize cost savings with our solutions. So that potentially puts them within reach of the Stimulus' carrot. I would also add that we have customers who have not only survived, but thrived, under the DRA. They run efficient growth businesses, and our solutions have been critical to their success. We are confident that we can continue to be a good partner to them despite the ongoing pressure.
EGR: Before we look to potential growth in international markets, can you talk to us about opportunities for your legacy radiology solutions (PACS/RIS) in North America?
JD: Although radiology PACS penetration in the US has been pegged at perhaps 90% for large imaging providers, well over half of small volume sites still do not have PACS. We believe there are thousands of clinical sites, in just the U.S., that still use film. Of course, full-blown PACS systems with all the bells and whistles can be prohibitively expensive. For smaller sites, though, our eFilm Archive serves as a "mini-PACS" of sorts. In addition, our hosted solution is another great option, due to the low up-front cost.
I should note that PACS has moved beyond radiology into cardiology, orthopedics, endoscopy, and other clinical areas. So that's a positive for us.
Aside from imaging center size, there is a lot of variability in penetration by modality, as well. For example, 64-slice CT is virtually 100% digital because it is impossible to read these studies in film. On the other hand, mammography is only about 50% digital.
Then, in addition to those practitioners just now moving to digital, early adopters of PACS are also looking to upgrade or replace their current solutions. So we do think the Stimulus will contribute broadly to digital imaging adoption and upgrades.
However, the combination of general market trepidation, and the complexity and uncertainty surrounding the specific Stimulus implementation, is causing some potential buyers to adopt a wait-and-see attitude. While potential customers understand the need for new technology, many feel that the investment needs to follow as-yet-undefined criteria. Thus, some are delaying their purchase, which is actually working against the intent of the Stimulus Act.
EGR: There is a dearth of information in English about China's recent announcement of a $120 billion-plus medical reform plan. Since you recently just returned from China, perhaps you can give us your take on the Chinese market in general, and the impact of China's new medical reform plan?
JD: The Chinese medical reform plan is similar to what's happening here in the U.S., in that they have earmarked significant capital to stimulate adoption of health IT, but have not provided much detail yet on how it will actually work. However, my impression of China is that health IT may very well follow telecommunications in somewhat leapfrogging the US technology.
On my last trip, I visited a relatively new hospital that was nearly paperless. They had installed a very robust HIS from the onset of operation. We also met with multiple local EMR and HIS providers in China that have very impressive customer references and solutions.
The healthcare market in China is moving fast. As with the current US market, it is an exciting time, but more data and process specifics need to be rolled out by the government. For example, over $700 million (4.8 billion RMB) has been earmarked for the infrastructure of rural healthcare, focused on bringing every village or township with at least one clinic, complete with basic medical equipment. However, it is not clear how these clinics will be financially sustainable. Also, the bill stresses that all levels of government place healthcare as a priority on their party agenda, but it is unclear if that will translate into quantifiable quality standards. While there's clearly some uncertainty, we feel confident that the investment and attention to healthcare in China brings us market opportunity.
EGR: How does the less mature Chinese market affect things like pricing or your marketing strategy? Also, was there a negative effect stemming from the last team's attempted divestiture, and if so, how are you addressing that?
JD: Pricing is certainly more competitive in China and other emerging markets. They will pay for a good solution, but they won't pay as much for it as in developed markets. The potential size of the market goes a good ways toward offsetting the impact of that pricing model. Additionally, we are seeing a trend up on software prices. Granted, this is all relative, as up until recently there was no market for software in China because it was mostly pirated. However, we now see customers both paying for software in general and being willing to pay more for solid, proven and compliant solutions.
We go to market strictly with an indirect model in China, and therefore leverage the market position of these local EMR and HIS providers.
And yes, we do have to work on regaining credibility here, as the prior management's pullout was rather abrupt. For those who haven't followed these developments, we canceled the planned sale of this business soon after we arrived last June. As mentioned before, I've made several visits to China. Our Chairman has just been there for about a week. We are definitely working hard to demonstrate that we are strongly committed to our Chinese partners.
EGR: Can you update us on your acquisition strategy? What kinds of companies are you considering? Are you looking outside the core imaging business?
JD: Acquisitions are one component of our current business strategy. First of all, we have a team in place that is experienced in doing this successfully. Click Commerce completed 9 successful acquisitions in 3 years. In addition, the market is becoming marginally more conducive to M&A. We feel like we have a creative team and a good market, so we have been looking at many options.
Along those lines, we announced on our earnings call that we acquired the assets of eko Systems, a small Virginia-based healthcare information technology solution provider. Their product line, Frontiers, captures clinical and business data for anesthesia and perfusion pre-operatively, during procedures and during the post-operative care period. This gives us a strong entry into the surgery management system market, which is highly underpenetrated. We've begun the integration process already by moving the business unit under Nancy Koenig, president of our Fusion business and part of the Click Commerce team. We expect this acquisition to be accretive quickly if executed well.
Merge is in the enviable position of having its largest shareholder also be its Chairman. Therefore, all acquisition opportunities are intensely scrutinized by our Board to ensure that they are in the best interest of our shareholders. This should be reassuring to investors.
EGR: Justin, thanks again for your time and best of luck.
Envoy Global Conclusion
As mentioned, we are very comfortable with Merge's financial situation today, taking note of both the growing cash position, the expense control, top-line stability, and the return to cash profitability. We're also quite comfortable with the Chairman's role as both the top equity holder and sole creditor.
The next stage for Merge, however, lies beyond the low-hanging fruit of expense reductions. Over a longer investment time frame, say in the next 12-18 months, the key focus for investors should be on the progress Merge makes with new growth initiatives. Whether that comes from Merge's new HL7 toolkit and other Stimulus growth prospects, or expansion in China and other emerging markets, or a smart acquisition, we're pretty indifferent. There appear to be many growth avenues available to Merge, and all remain exciting and significant in size relative to the company's current market value. Management, in a very short time period, has already created significant shareholder value, and so we look forward to tracking their progress as they begin to reignite growth at the company.
Disclosure: Affiliates of Envoy Global Research, and its principals, own shares in MRGE. All ideas, opinions, and/or forecasts, expressed or implied herein, are for informational purposes only and should not be construed as a recommendation to invest, trade, and/or speculate in the markets. Any investments, trades, and/or speculations made in light of the ideas, opinions, and/or forecasts, expressed or implied herein, are committed at your own risk, financial or otherwise.