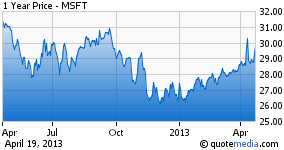 As the earnings season kicks off, the investors are excited about their returns. The latest one in the list is Microsoft Corporation (NASDAQ:MSFT), which reported its third quarter results for 2013 yesterday. Even though, the company's revenue of about $20 billion was slightly under the analyst expectations, it was still up 18% from the same quarter last year. On the other hand, the earnings per share gained around 20% at $0.72, above the analyst expectations of $0.68. Let's discuss the results in detail and find out what should be the next move as an investor.
Xbox: The bet for the future
The most favorable aspect of the company's revenue was its entertainment and devices division, which posted an increase of around 56% on yearly basis to $3.53 billion. Its operating income also saw a u-turn and went up to $342 million recovering from a loss of more than $200 million, a year ago. This was mainly supported by one of its flagship products- Xbox. Despite the fact that Xbox consoles shipments were down in the first nine months of fiscal 2013, it was clearly offset by the Xbox Live revenue growth. Xbox Live saw a growth of 18% in its membership, which currently stands at more than 45 million.
To further capitalize upon its growth in this segment, Microsoft is coming up with new Xbox consoles in May, 2013. Many industry experts are predicting the launch to be in the holiday season of 2013, when Sony Corporation (NYSE:SNE) is launching PlayStation 4 (PS4). To give a tough fight to Sony's PS4, Microsoft is coming with a package of similar features in its latest Xbox. Both the consoles will be powered by AMD hardware and will have connectivity on their respective platforms i.e. Xbox Live and PlayStation Network. Over the years, Sony's console has offered more in terms of power, but has lacked in user friendliness of the games. But this time, the company has followed a very developer centric approach in PlayStation 4 to overcome that weakness. However, I strongly feel that Microsoft will be a clear winner in the battle of consoles. Microsoft with its better software tools and good online infrastructure will have a superior position in the market. I expect Xbox to be the main future contributor to the company's revenue.
Windows 8: More opportunities to capitalize
Another important segment for Microsoft is Windows, which posted around $4.6 billion in revenue which was however almost flat on yearly basis. This revenue is divided between OEM and non-OEM sales. The OEM segment was in-line with the overall market. According to IDC, the global PC shipments fell by around 14% in the first quarter of 2013 and the OEM revenue followed a similar path. On the contrary, non-OEM segment which includes Surface tablets, upgrades and corporate licenses, was up by around 40%.
Microsoft is constantly working towards expanding and improving the overall experience of Windows. The company has recently dropped the price of Windows license to OEM's for small screen devices from $80-$85 to around $30. With this move, Microsoft is targeting at multiple price points, especially the lower ones in the future. The company is aiming at bringing Windows 8 to smaller devices to be more competitive against the lower priced Android devices. As of now, Windows 8 is mostly oriented towards desktops and larger tablets, but the company is ready for a smooth transition from desktops to touch devices. And, the company is looking forward to capitalize on such opportunities with Windows 8.
Another favorable point for Microsoft's future growth is its rewarding partnership with Nokia Corporation (NYSE:NOK). Since their partnership, both the companies are enjoying a shift in their market position as compared to their individual weaknesses. However, although this partnership has been a win-win situation for these companies there still is a long way to go. For Nokia, Windows phones have reached an acceptable level in the industry. Similarly, with the help of Windows, Nokia is trying to come out of its huge losses. Microsoft pays more than $200 million to Nokia for platform support on quarterly basis and on the other hand, Nokia pays royalties to Microsoft for using Windows. In 2013, I expect Nokia to launch around 12 new devices under the Windows 8 platform. This enhanced production and shipments will definitely increase the stream of money flowing between these two companies. I am long on Nokia, read here.
The stock's opportunity
Microsoft's stock has been quite volatile in the last few months with not so impressive returns for the shareholders. The stock is trading 7% down for the last one year. But looking at the company's good results and the future growth prospects, there is a good opportunity for the investors to make an entry. The most attractive factor about Microsoft is its diverse range of products and solutions. I believe Xbox and Windows 8 will be the catalysts for the lagging stock's momentum. The declining PC shipments are surely a concern area, but the other opportunities associated with Windows 8 can offset any weakness. I recommend this stock as a buy at the current level, for a long-term growth.
Disclosure: I have no positions in any stocks mentioned, and no plans to initiate any positions within the next 72 hours. I wrote this article myself, and it expresses my own opinions. I am not receiving compensation for it (other than from Seeking Alpha). I have no business relationship with any company whose stock is mentioned in this article.