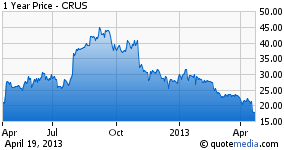 Cirrus Logic (CRUS) announced its preliminary 4th quarter forecasted revenue with an impressive 87% increase year over year at roughly $206 million. However, the estimated revenue fell below Wall Street estimates, causing commotion on the trading floor on the possibility of lower shipments to Apple (AAPL) in the upcoming months. Apple is using microchips manufactured by Cirrus for some of its popular wireless devices. A low revenue forecast by one of its suppliers like Cirrus could also mean that Apple will have lower sales in the next few months.
As a result, Apple's share price fell 5.5% in a single day on April 17 from $426.24 to $402.8 per share. On the following day, the price further dropped by 2.67% to $392.02. This price level is the lowest so far in 52 weeks.
Not only did the revenue forecast of Cirrus cause Apple share price to tumble, it also affected the prices of its peers. Broadcom Corporation (BRCM) also fell by 4%, while Qualcomm (QCOM) fell slightly by 0.92%. The biggest loser among them is obviously Cirrus. Its share price plummeted from $21.41 to $18.05 per share, or a single-day loss of 15.69%.
Back to CRUS financial basics
While Cirrus reported a year-over-year revenue increase, its estimated revenue for the 4th quarter ending March 30 at $206 million is remarkably lower than the previous quarter revenue at $310 million. This is equivalent to a disappointing -33.54% growth from the previous quarter. However, the amount is well within its projected forecast for the quarter at $200 million to $220 million based on its 3rd quarter report.
On the positive side of the coin, the estimates of the latest quarter performance are even better than the revenue performance of the same period the prior year. Cirrus ended the 4th quarter in 2012 with only $110.631 million in revenue. Thus, same quarter year over year growth is a remarkable at 86.20%. In spite of that, the share price plummeted.
What really ignited fears among some investors is the estimated 4th quarter inventory reserve of $23.3 million. A large part of this amount, or 88.84%, is attributed to a significantly reduced forecast of a previously high volume product. The demand slowed down due to a shift in demand to a newer component still manufactured by Cirrus. Due to the huge reserve, the expected gross margin for the quarter may be weakened by as much as 10% to 40%. This will place Cirrus on a bad light in front of the investors. It is understandable that some will panic by selling some shares at losing prices.
Although the above figures are just estimates, the actual data is set to be released on April 25 when the company will report its 4th quarter full fiscal 2013 financials. Apparently, most of the projections will end up close to the actual figures, and the expected disappointing results will cause another round of slump in CRUS share prices.
Share performance and long CRUS outlook
Cirrus has a bearish 2013 performance. Since the start of the year, it has already lost 40.75% from $29.84 to $17.68 per share on April 18. In fact, the start of the downward trend dates back to September 2012 when it peaked at $44.88 on September 6. Its plummeting share prices are largely influenced by Apple, its major client where most of its products are shipped to.
If you compare the stock charts of both companies, you will see a mirror trend. AAPL share prices are also bearish. Its prices started to decline since reaching the peak level on September 2012. Therefore, a rebound of AAPL will also be more likely to cause a bounce for CRUS, and Apple is a behemoth company that can survive the test of time amid growing competition. So, too, will CRUS.
So stay put and hold on. The present issues of Cirrus may have caused panic on the trading floor leading to its prices to tumble, this provide excellent opportunity for wise and long investors to come in. This optimistic outlook is shared by the majority of the analyst firms in Yahoo. Of the 9 analyst firms, 4 voted for strong buy, 2 advised a buy, while the remaining 3 went for a hold. The analysts in Nasdaq has somewhat similar recommendations. Four out of nine recommended a strong buy, 2 voted for buy, and 3 advised a hold.
Summary
Devoid of emotion and fear, the current slump of CRUS is a good sign that now may be just the right time to secure your position in this tech stock with very promising future. But I suggest to hold for awhile until the 4th quarter earnings report is released. There is greater probability that the price will dive further towards the support level, by then the prices will be at a great bargain.
Another cue is to be watchful of AAPL share prices once the latest quarter earnings report is released on April 23. Many are expecting a better performance, and this may trigger a rebound. In this case, don't wait for CRUS to release its earnings. The impact is arguably insignificant compared to the impact of AAPL's quarter performance.
Disclosure: I have no positions in any stocks mentioned, and no plans to initiate any positions within the next 72 hours. I wrote this article myself, and it expresses my own opinions. I am not receiving compensation for it (other than from Seeking Alpha). I have no business relationship with any company whose stock is mentioned in this article.