Analysts continue to like copper miner Inmet Mining Corp. (OTC:IEMMF) — they just think it's getting expensive.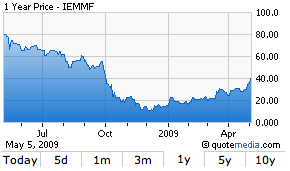 Both John Redstone of Desjardins Securities and Tom Meyer of Raymond James downgraded the stock to "hold" (or "market perform") from "buy" (or "outperform") on Tuesday following a spectacular run-up in the stock price. Inmet bottomed out at C$12.15 a share last December, and is now back in the C$50 range.
Mr. Redstone has a target of C$50.30 a share. That is based on a multiple of eight times his 2010 earnings estimate of C$5.92 a share, using average commodity prices of $3.00/lb copper, $.85/lb zinc, and $850/oz gold.
"We see no reason to increase our valuation at this time," he wrote.
Mr. Meyer, who has a target of C$50.00 a share, noted that Inmet trades at a price-to-net-asset-value multiple of 0.57 times. That is in line with the industry average, but considerably higher than peers such as Quadra Mining Ltd. (OTC:QADMF) (0.29 times), First Quantum Minerals Ltd. (OTCPK:FQVLF) (0.37 times), Equinox Minerals Ltd. (OTC:EQXMF) (0.38 times) and Taseko Mines Ltd. (NYSEMKT:TGB) (0.31 times). He has "strong buy" ratings on each of those companies.