Despite being the largest semiconductor company on the planet by revenue (and certainly by profitability from semiconductor sales), Intel (NASDAQ:INTC), for a few months, became the second largest semiconductor by market capitalization, ceding its crown to Qualcomm (NASDAQ:QCOM):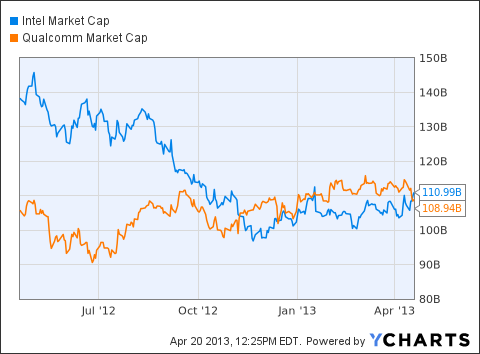 INTC Market Cap data by YCharts
Now, it's too soon to tell whether this will actually last, but I would like to share with you why Qualcomm commanding a higher market capitalization than Intel doesn't really make sense, and why Intel's recent recapture of the highest market capitalization semiconductor is probably a longer term deal.
Intel Still Makes A Lot More Money
Despite the "doom and gloom" surrounding Intel, and all of the brouhaha about the "death of the PC," Intel still rakes in the dough. Intel has been whacked with excess capacity charges, factory startup costs, and even softening demand during a phase of transition. And you know what? Intel still raked in about 55% more net income than Qualcomm has on a trailing twelve month basis.
Now, I realize that Qualcomm's guidance for $3.61 - $3.81 per share in GAAP earnings for the year suggests net income of $6.2B - $6.55B for the year, up from $6.05B from FY2012 (let's not kid ourselves with the "non-GAAP" earnings that excludes share based compensation), but this is still somewhat light compared to Intel's guidance of roughly $9.9B in net income (assuming $54B in sales, 60% gross margin, $18.9B in R&D + SG&A spending, and a 27% tax rate). Further, if all goes to plan during 2013, 2014 should be even better as revenues ramp, gross margins for the full year are not hampered by excess capacity charges plus factory startup costs in Q1/Q2.
Intel's Growth Prospects Seem Brighter
Intel's growth prospects, long term (2-3 years out) are actually more appealing than Qualcomm's, especially given the firms' relative valuations. See, Qualcomm already owns the smartphone modem plus apps processor market today, and it does so primarily due to its first-mover position in LTE. While licensing will continue to grow nicely and profitably, the "explosive" revenue growth from its semiconductor sales will likely cool off as new players take share in modems/apps processors and/or drive ASPs down. Intel, on the other hand, has negligible (but growing) share in the smartphone apps processor market, which gives it nothing to lose and everything to gain.
On top of this, Intel will ride both the potential recovery in enterprise spending in its data-center business as well as the hyper-growth in the cloud infrastructure build out. Intel expects its data-center group to return to double-digit growth for the year, and I fully expect that for the next couple of years, this segment will continue to drive double digit growth.
Finally, Intel has its new custom foundry business in which it will be taking on customers that are willing to pay handsomely for an edge in transistor technology. The Altera (NASDAQ:ALTR) foundry win, coupled with the Cisco (NASDAQ:CSCO) win (it's unannounced but there is strong evidence to suggest that it's a done deal), are excellent starts, and I suspect that this will be a really nice income stream for the company over the long-haul.
Conclusion
Right now, the trade is still likely going to be long Qualcomm. I'll be getting some long exposure to Qualcomm (I'll be publishing my full trade idea soon) ahead of its earnings report, since the company will in all likelihood post great numbers, but longer term Intel is certainly "worth" more. It has the world's best fabs. It makes more money, it owns the PC space, it owns the server space, and it will gain some share in the smartphone/tablet space. Both are great companies, and I think both have long-term upside from here, but I think Intel has more potential at these levels.
Disclosure: I am long INTC. I wrote this article myself, and it expresses my own opinions. I am not receiving compensation for it (other than from Seeking Alpha). I have no business relationship with any company whose stock is mentioned in this article.
Additional disclosure: I will be building long exposure to Qualcomm over the next 72 hours.