After reading the quarterly report for Peabody Energy (BTU), one has to wonder if the coal supercycle is back. A few years back the CEO proclaimed that coal had begun a long-term surge in demand yet the stock began a major slump as new mines and higher costs caused profits to plummet. As US investors remain focused on last year's domestic switch to natural gas from thermal coal, the global demand for coal remains as strong as ever.
One major theme highlights the global demand picture for coal. Where alternative fuel prices are cheap, consumers prefer that source whether natural gas, nuclear, or alternative fuels. In the cases where alternatives don't exist or are no longer deemed appealing, coal demand is set to grow dramatically. The situation in the US is incorrectly framed as a preference for a cleaner alternative to coal, but the scenario might see a dramatic shift as natural gas prices soar in 2013.
Global Demand Surge
Probably not surprising too most, but the demand for coal outside the US is surging. In just about every continent outside of North America, natural gas is substantially more expensive and nuclear power is now deemed hazardous. Hence, coal demand is surging not only in China, India, and other fast growing Asian nations, but also in developed nations such as Germany and Japan.
Some key takeaways from Peabody Energy:
China's coal imports rose 30% through March.
India's coal imports rose 25% in the first quarter allowing it to surpass Japan as the second largest thermal coal importer.
Japan has 3.6 gigawatts of coal-fueled generation forecast to come on line in the second half of the year.
Germany's coal generation soared 16% in the first quarter. The country plans to add 4 gigawatts of coal generation in 2013, the largest increase in over 20 years.
Global seaborne thermal demand is expected to rise approximately 50M tons in 2013 as 75 gigawatts of new coal generation are scheduled to come on line.
Within five years, over 450 gigawatts of new coal generation are projected to come on line, representing 1.4B tons of annual consumption.
The company expects growing steel requirements to drive a 200 million ton increase in global metallurgical coal demand by 2017.
US Switching Back To Coal
Maybe surprising to some people, but the demand in the US for thermal coal grew dramatically in March as the price of natural gas jumped. According to Peabody, coal demand increased 15% over last year while natural gas demand plunged 16%. Again, as coal became the cheaper alternative in several regions, utilities quickly switched back to coal. This further illustrates that some of the coal power plants scheduled to be mothballed in the next few years might not happen as expected. It was easy for government officials to implement such plans as natural gas became a cheaper alternative, but now that coal is returning to be the cheaper fuel, those plans to spend billions of dollars for natural gas plants might suddenly change.
In fact, Peabody Energy expects US generation is on pace to recover up to 75% of lost 2012 demand. The increased electricity generation will grow coal usage by 60 to 80 million tons over 2012 levels.
Q1 2013 Highlights
Peabody provided the below company specific highlights for Q1 2013:
First quarter revenues of $1.75 billion drive Adjusted EBITDA of $280 million.
Diluted Loss Per Share from Continuing Operations totals ($0.05).
Cost containment initiatives benefit earnings and lead to additional $200 million in debt repayment.
The company easily surpassed analyst estimates with the 5 cent loss. The stock initially soared the day after these results, but it quickly dropped back the next day as analysts began chopping earnings for the next couple of years. Analysts forecast the company only earning $0.30 this year and $1.65 next year making the stock relatively expensive in this market based on earnings. Peabody is on pace to generate an adjusted EBITDA of above $1B in 2013 suggesting the stock is extremely cheap and will jump as coal pricing rebounds sending margins higher.
Which Coal Stock To Buy?
With coal stocks at multi-year lows and demand surging in 2013, investors need to decide which stock to own. Peabody is the industry leader and possibly the best positioned company with Australian coal to feed growing Asian demand and well positioned domestic coal in cheap basins to feed the thermal coal rebound.
Alpha Natural Resources (ANR) is the stock to buy for a rebound in metallurgical coal demand especially if the global market increases by 200M tons by 2017. The company is the 3rd largest miner in the world of that coal. Arch Coal (ACI) is a leading thermal coal provider in the US that has seen the stock decline nearly 80% to match the losses of Alpha Natural.
Cloud Peak Energy (NYSE:CLD) provides a pure play on PBR thermal coal. PBR coal provides the cheapest thermal coal alternative and is the most competitive and least resistant to natural gas switching. Conversely the stock has gained 26% providing a limited snapback opportunity with a rebound in coal. Walter Energy (NYSE:WLT) provides a pure play on metallurgical coal. The company has a unique presence in the western part of North America providing the ability to ship the coal to Asia. The stock is down 72% during the time period, but it includes a collapse from a 100%+ gain by early 2011 that has completely turned into a massive loss.
Stock Chart - Coal Miners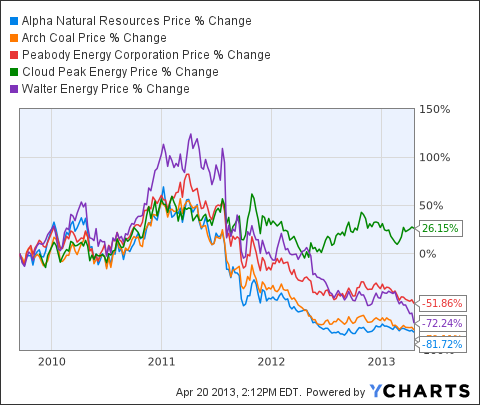 Conclusion
The coal supercycle is alive and well, but now the Peabody CEO isn't out telling the world about it. In addition, leading miners such as Peabody have curtailed investments during this period that will limit new supply even as demand continues to ramp. Investors should scoop up cheap domestic coal stocks depending on their individual risk tolerances and expectations of global demand. Buying the market leader at multi-year lows typically provides significant rewards for investors.
Disclosure: I am long ANR. I wrote this article myself, and it expresses my own opinions. I am not receiving compensation for it (other than from Seeking Alpha). I have no business relationship with any company whose stock is mentioned in this article.
Additional disclosure: The information contained herein is for informational purposes only. Nothing in this article should be taken as a solicitation to purchase or sell securities. Before buying or selling any stock you should do your own research and reach your own conclusion or consult a financial advisor. Investing includes risks, including loss of principal.