I am gradually building up positions in mortgage real estate investment trusts (mREITs). I exited this sector based upon narrowing net interest margins. Fundamentals have changed since the third quarter. I am buying American Capital Agency Corp. (NASDAQ:AGNC) and American Capital Mortgage Investment Corp. (NASDAQ:MTGE). I believe, for now, this sector has enticing and sustainable yields. Gary Kain, President and Chief Investment Officer, is the best mREIT industry navigator. This is my opinion, but the stock data returns supports this view. I am gradually establishing my position to guard against potential decreases in book values per share. American Capital Agency's 15.30% yield provides an enticing dividend yield. This article focuses upon the rationale to buy the mREIT at present levels.
American Capital Agency
December 31st, 2012 Book Value per Share: $31.64
April 19th Closing Stock Price: $31.80
Price to Book: 1.005x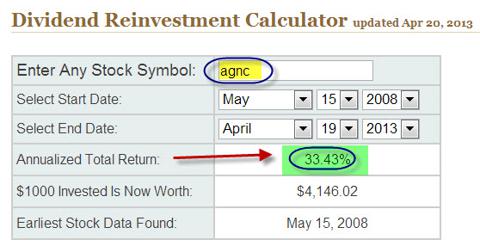 American Capital Mortgage
December 31st, 2012 Book Value per Share: $25.74
April 19th Closing Stock Price: $25.74
Price to Book: 1x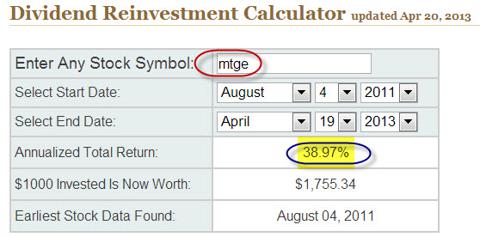 Positive Quantitative Easing 3 Benefits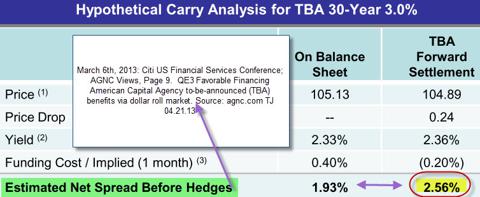 American Capital Agency benefits from an expanding net yield margin. This drops down to the income available to distribute as dividends. The Federal Reserve continues to buy back Government Sponsored Entity (GSE) Mortgage Back Securities (MBS).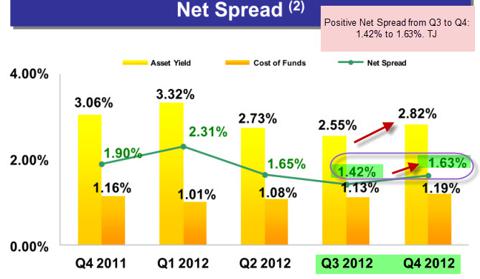 Constant Prepayment Risk (CPR)
Gary Kain continues to focus upon GSE MBS with a low prepayment level. American Capital Agency experienced a stable 10% actual portfolio constant prepayment level for the fourth quarter.
Estimated Undistributed Taxable Income
American Capital Agency has an estimated $2.18 in undistributed taxable income per share. This data is of December 31st, 2012. These funds can be used to maintain a level dividend.
Hedging
Gary Kain's focus is to maintain a stable book value per share. The hedging is done via interest rate swaps; interest rate swaptions; short $11.8 billion in Treasury Securities; and a net long to-be-announced (TBA) mortgage position.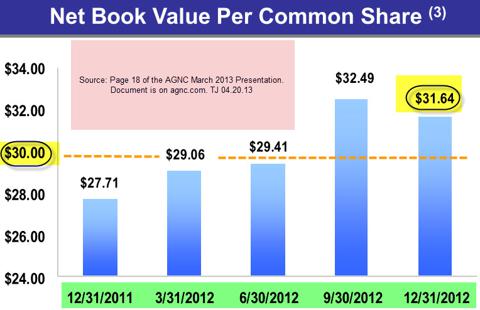 American Capital Mortgage Investment
American Capital Mortgage Investment Corp. was incorporated in Maryland on March 15, 2011, and began operations in August, 2011 after completion of its IPO. American Capital is a real estate investment trust (REIT) which manages, finances and invests in leveraged portfolios of mortgage backed securities (MBS) with a focus on agency, non agency and other mortgage investments.
Difference Between American Capital Mortgage and American Capital Agency
American Capital Mortgage can buy non-agency MBS. This separates American Capital Mortgage from American Capital Agency. American Capital Agency can only buy GSE MBS.
Dividends
American Capital paid its first dividend on August 13, 2011, shortly after it commenced operations on August 9, 2011 and completed its IPO. The mREIT has consistently paid quarterly dividends since.
The company currently pays quarterly dividends of $0.90 per share ($3.60 annualized), with the next dividend payment set for April 26, 2013. With shares trading at about $25.74, American Capital shares offer a healthy dividend yield of 14%. Shares currently trade near the top of their 52-week range of $21.35 - $26.71.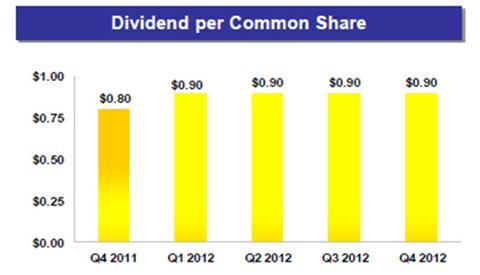 Company
American Capital is externally managed by American Capital Management, LLC, an affiliate of American Capital (NASDAQ:ACAS), a publicly traded global asset manager and private equity firm since 1986. American Capital manages roughly $117 billion in total assets and operates across eight offices in the United States and Europe (as of December 31, 2012).
The company's portfolio has rapidly grown to $7 billion (as on December 31, 2012) from $1.8 billion in December 2011. Agency securities (directly or indirectly backed by the U.S. government) accounted for $6.4 billion (primarily 15 year and 30 year mortgages) and non-agency securities accounted for about $681 million (see chart below).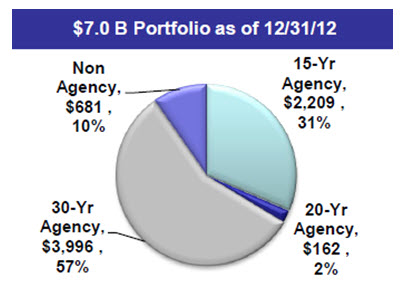 Their agency mortgage portfolio includes residential mortgage pass-through certificates and collateralized mortgage obligations (CMOs) where principal and interest are guaranteed by a U.S. government affiliate (see chart below).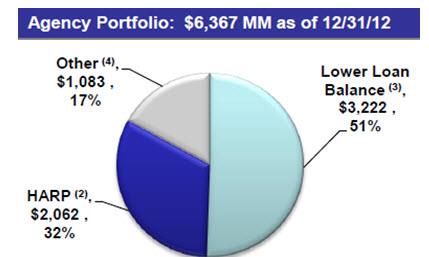 Their non-agency mortgage portfolio includes higher risk RMBS and non prime and prime residential mortgage loans.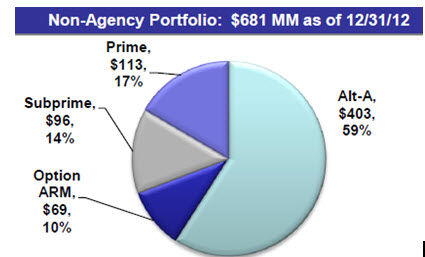 American Capital Mortgage closed the year with a 6.4x leverage multiple. The SEC filings indicate a portfolio with an increasing percentage of non-agency MBS.
Management
American Capital was founded by legendary investor, Malon Wilkus, who has led the company as Chairman and CEO since 1986. He also serves as Chairman and CEO of most American Capital subsidiaries such as American Capital Mortgage Management, American Capital Agency Corp. and American Capital Management. Mr. Wilkus is also the Chairman of European Capital Limited, a European private equity and mezzanine fund, and has served on the board of directors of more than a dozen middle market companies across industries.
Gary Kain serves as American Capital's President. He joined the company in January 2009 and supervises investments. Before joining American Capital, Mr. Kain was responsible all of Freddie Mac's mortgage investment activities.
John R. Erickson serves as Executive Vice President and CFO. Mr. Erickson is also a member of the Board of Directors and additionally serves as EVP and Treasurer of American Capital Mortgage Management, LLC. He joined American Capital in 1998 and has extensive experience with Structured Finance and CFO duties at REITs.
Financials
Fourth Quarter Income Statement
American Capital started operations in August, 2011. For its fourth quarter ended December 31, 2012, the company reported $39.1 million in interest income from agency securities and $10.5 million from non-agency securities, about a 80/20 percentage split, with strong growth in non agency income year over year (yoy). Net interest income was up almost three-fold yoy. The company also reported other gains of $14.2 million from securities and derivatives transactions, up 76% from $8 million.
Total expenses were up 156% to $4.5 million, with increases in management fees and G&A expenses. Quarterly net income almost doubled to $50.4 million but diluted earnings per share fell to $1.40 from $1.72 because of a 3.5-fold increase in shares outstanding.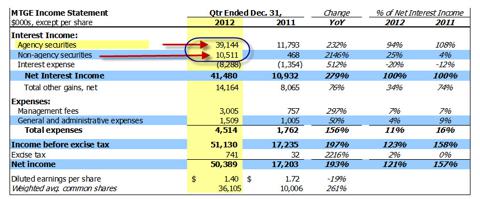 The markets for non-agency MBS continued to improve in Q4 with home prices up approximately 7% in FY 2012 and construction activity at its highest since 2008. As a result of improvements in the underlying collateral (i.e. home prices), market value of legacy RMBS improved and led to gains on portfolio sales. Demand for non-agency MBS continued to improve and delivered higher returns on a more optimistic housing outlook. The agency portfolio appears positive too as banks and GSEs exit the business to manage overall risk.
Balance Sheet
American Capital ended 2012 with $157.3 million in cash and cash equivalents, $6.4 billion in agency securities at fair market value (up from $1.7 billion at the end of 4Q 2011), $681.4 million in non-agency securities (up from $25.6 million for 4Q 2011) and $419 million in repo receivables. The company had $6.2 billion in repo loans and $421 million in borrowed securities. Total stockholders' equity was $925.6 million (roughly 30% below its market capitalization), up from $208.8 million for 4Q 2011.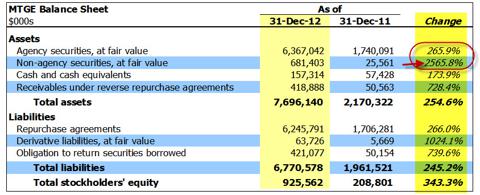 Cash Flow
In 2012, the company generated $118.4 million from operating activities, spent $5 billion on net purchases of MBS securities, US Treasury securities, repurchase agreements and other financial derivatives, and generated $5 billion from equity and debt offerings net of debt repayments and cash distributions to partners.

mREIT Comparison to Blue Chip (Coca-Cola) Valuations
Coca-Cola (NYSE:KO) trades at a 22x price-to-earnings (P/E) multiple. The company should earn $2.20 to $2.40 for 2013. Coca-Cola's dividend yield is 2.6%. Blue chip stocks are trading at expanding (P/E) multiples with historic low dividend levels. Unless the P/E multiple expands, the stocks have limited upside in share appreciation.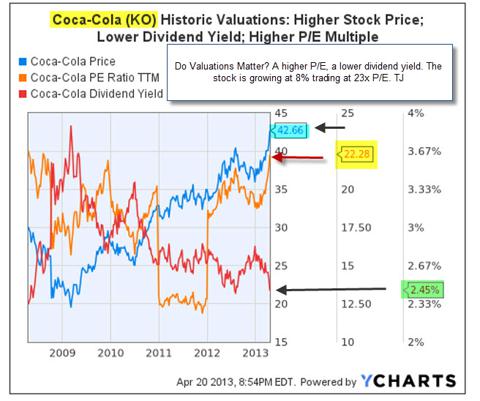 Summary
American Capital Agency and American Capital Mortgage provide a high yield dividend during a time of depressed U.S. Treasury Bond yields. The April 19th 10-Year Treasury Bond yield was 1.73%. Interest rates are trending lower, not higher.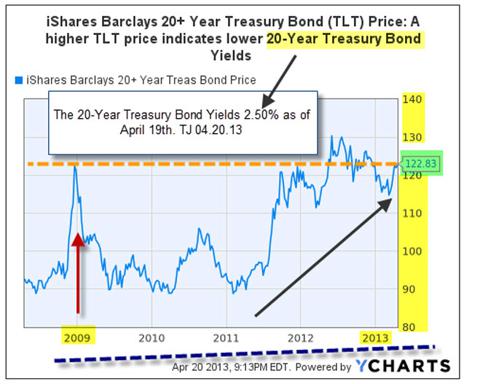 Blue chip stocks are yielding lower rates and unsustainable higher P/E multiples. A growth stock deserves a higher P/E multiple. Typically slow growth stocks warrant a lower P/E multiple. The mREITs hold GSE MBS, and non-agency MBS and are priced upon the net yield margins. The value of GSE MBS holdings increases with a lower Treasury Bond yield. Ideally I want to add mREIT shares at a 10% discount to book value per share.
I am currently accumulating mREITs due to improving MBS market fundamental and quantitative easing (QE3) effects. Gary Kain's expert investment and hedging strategies make American Capital Agency and American Capital Mortgage compelling income holdings.
I believe blue chip equities are overpriced at current valuations. Blue chip P/E multiples are at historically elevated levels. Their dividend yields are at record lows. Their growth rates do not support these valuations. mREITs are attractive dividend alternatives.
Disclosure: I am long ACAS, MTGE, AGNC, KO. I wrote this article myself, and it expresses my own opinions. I am not receiving compensation for it (other than from Seeking Alpha). I have no business relationship with any company whose stock is mentioned in this article.