Delcath Systems (NASDAQ:DCTH) is a combination specialty pharmaceutical/medical device company that is currently producing a unique medical device/drug for both U.S. and global markets. This technology has potential to change how all cancers of the liver are treated in the future, and shows an excellent candidate for investors.
With an upcoming FDA Advisory committee appearance on 5/2/13, there is significant room to ride the run up as well as great potential for long-term profit. Before I get into this ,however, let me introduce its candidate known as the Melblez kit, which utilizes chemosaturation therapy and melphalan.
The Technology: Chemosaturation Therapy
Chemosaturation is a minimally invasive procedure that has been developed by Delcath as an alternative to what is normally a highly invasive open surgical procedure. This functions in 3 stages:
Step 1: Isolation
By using a combination of catheters and small inflatable occlusive balloons inserted through several major blood vessels, Delcath is able to isolate the blood flow from the liver to the heart. This isolation of the liver from the rest of the circulatory system allows a much higher dosage of chemoterapeutic agent, up to 100x that used in traditional intravenous methods, to be delivered to the particular area without having to worry about these agents being dispersed throughout the rest of the body.
Step 2: Saturation
These high concentrated dosages of chemotherapeutic agents are then delivered directly to the liver over a period of 30 minutes, saturating the liver and tumor tissue.
Step 3: Filtration
After the dosage is complete, one of the catheters collects the drug-laden blood as it exits the liver and directs it out of the body. The blood is then passed through an external proprietary filtration system which reduces the concentration of chemotherapeutic agent in the blood before it is returned to the patient's body.
Application and Phase III Trial
This combination of isolating the effective area allowing it to deliver a much higher concentration of chemotherapeutic agent, and then filtering to reduce systemic effects, has a wide potential for cancers of the liver, and Delcath is attempting to breach the U.S. market with an indication for the treatment of patients with unresectable ocular melanoma that is metastatic to the liver.
Most recently, in Phase III trials, this combination of treatment and medication demonstrated positive results when compared to the best alternative care options. The study showed that patients who were treated with this combination experienced significant extension in progression free survival (the length of time during and after treatment during which the cancer does not get worse) of 5.4 months longer than patients treated with the best alternative care options. These positive results bring us to the upcoming FDA Advisory Committee.
Short Term
On Thursday, May 2, 2013, the U.S. Food and Drug Administration's Oncologic Drugs Advisory Committee will review the company's pending New Drug Application for the drug/device combination product with the proposed trade name Melblez Kit for a proposed indication for the treatment of patients with unresectable ocular melanoma that is metastatic to the liver. If the panel votes in favor for approval, Delcath will have a unique position to provide the only treatment for this disease as there are currently no other treatments.
Typically biotech/pharmas see a decent run up to these dates, and it appears that an initial run up has come and gone, giving us an idea of the potential upswing and leaving ample room for another.
As you can see on the above chart, shares rose sharply in the beginning of March from $1.55 to $2.13. Delcath has since seen a reversal bringing it to $1.41.
In my opinion, this recent run up shows us the potential for the coming weeks, and now could be a prime time to purchase following the relatively weak market over the last week. Investors could potentially see gains as high as 35-40% during the run up to the May 2nd advisory committee.
Holding this stock past the FDA advisory committee could be a risky but potentially very profitable move. I see the odds of approval to be around 75%, but with no U.S. approved products at this time, Delcath has a lot riding on this.
If approved, Delcath estimates it has a potential market of $100M and more importantly it will have a foot in the U.S. market, giving it an easy opportunity to expand into many cancers of the liver. With this knowledge, several analysts see a 1 year price target of around $3.60. Still, it should be realized that the potential downside is at least $0.80 or more immediately following the FDA decision.
Long Term
The beauty of this stock in the long run is that even if there is a loss with the FDA in the U.S., there is a significant future outside the U.S. as the device is already making progress globally.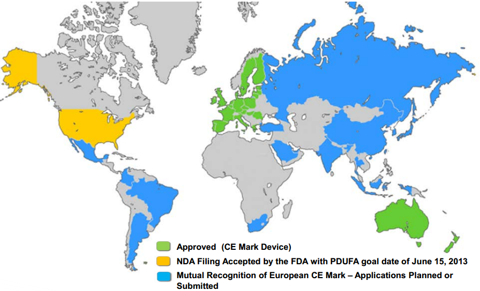 Click to enlarge
Delcath has already obtained CE Mark approval in 2012 for marketing the product in Europe, and is focused on marketing it in Germany, the UK, Italy, Netherlands, France, Spain, and Ireland. It is also working to line up strategic partners for future development in China. Delcath estimates its potential foreign markets at almost $2.2 billion with a large gross margin.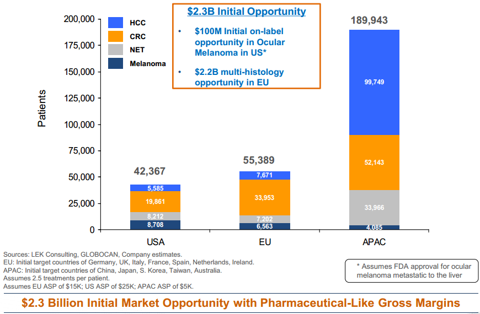 Click to enlarge
Conclusion
I think this is very solid technology in that its isolation of the liver from the rest of the circulatory system, and careful filtration to avoid systemic introduction, allows for a much higher dosage of chemotherapeutic agent than normal. It also shows huge potential for all cancers of the liver.
In the short term, I see an excellent opportunity to ride the run up to the FDA advisory committee, and if all goes well, there will be an even bigger run up to approval. Once approved there is an endless market for cancers of the liver that this technology can be applied to, absorbing potential markets at a rapid rate.
If things do not go well for Delcath, there is a safety net in place for investors with the current plans for global applications that are already showing success. With a plan for a potential $2.2 billion market cap already in place, I would strongly suggest watching this stock even if you choose to not ride the run up.
Disclosure: I have no positions in any stocks mentioned, but may initiate a long position in DCTH over the next 72 hours. I wrote this article myself, and it expresses my own opinions. I am not receiving compensation for it (other than from Seeking Alpha). I have no business relationship with any company whose stock is mentioned in this article.