On April 19, McDonald's (NYSE:MCD) reported its Q1 2013 results. While McDonald's did post higher revenues, it also saw comparable sales and operating income decline. McDonald's is a prototypical dividend-growth stock, with yearly dividend increases and large share buybacks. Due to the weaker than expected earnings, McDonald's fell about 2%, however the stock is still up over 13% YTD. As of this writing, McDonald's offers a $0.77 per share quarterly dividend, and yields about 3.10%.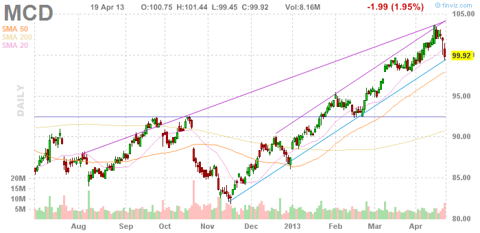 Click to enlarge
During the quarter, McDonald's saw its global comparable sales decreased 1.0% and operating income decrease 1% when compared with the prior year. However, McDonald's did see its revenues increase 1% and earnings per share (EPS) increase 2% to $1.26.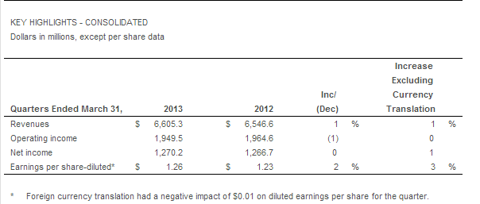 Click to enlarge
In the U.S., comparable sales decreased 1.2% in Q1, and operating income declined 3%. However, despite these results, McDonald's U.S. operations outperformed the competition and was actually able to increase market share.
During the Q1 2013 conference call, McDonald's CEO Don Thompson mentioned McDonald's strengths in the 'Dollar Menu' category and 'Filet-O-Fish' during Lent:
While our comparable sales were negative, we outperformed the competitive set and increased market share. This reflects our ability to continue differentiating our brand despite declines in IEO category. We continue to compliment Dollar Menu value news with a focus on core favorites and innovative new products. In addition to our annual focus on during the Lenten season, we expanded the McBites platform to include Fish McBites.
In addition, McDonald's is looking to jumpstart its U.S. sales by introducing new products. Some of these new products include: 'Premium McWraps', 'Egg White Delights', and 'Blueberry Pomegranate Smoothies'. These new offerings are typically lower calorie and have higher margins. McDonald's anticipates that the new additions should help grow sales and market share during Q2 2013.
In Europe, McDonald's results were dampened by the ongoing economic uncertainty. Q1 comparable sales were down 1.1%, while operating income increased 1%. The best performing market were the U.K. and Russia, offset by Germany. McDonald's plans to build market share by featuring more value offerings across Europe. and expanding the brand's presence through extended operating hours and new restaurant growth.
Some of the new products offered in Europe include: the 'Casse-Croute' sandwich and drink combo, offered in France for €4.50, the €1.00 beef or chicken 'western burgers' offered in Germany, and the 'Cajun Crispy Chicken Sandwich' offered in the U.K.
In Asia Pacific, Middle East, and Africa, McDonald's comparable sales were down 3.3% for the quarter, while operating income increased 2%, primarily due to weakness in Japan and China. McDonald's is looking to increase its market share in the breakfast category, which remains a significant growth opportunity. Breakfast sales in APMEA are only 11% of total sales, while in the U.S. the average is 25%.
In Q1 2013, McDonald's returned $1.1 billion to its shareholders through dividends and share repurchases. After investing in the business, McDonald's aims to return nearly all of its free cash flow to shareholders. Responding to a question about its dividend and share repurchases from Jeff A. Bernstein of Barclays Capital, CFO Peter J. Bensen stated:
Jeff, regarding the use of cash, nothing has changed in our philosophy. So after we invest in the business, we commit to returning all free cash flow to shareholders over time. And the dividend is our first priority and continues to be. And when you look at - going back to my earlier comment, when you talk about our credit metrics, one of the rating agencies looks at that dividend as a fixed commitment.

So as we continue to increase that dividend, that's kind of added to our existing credit on our balance sheet which is one of the things that they limit to our rating in one of the agency's models.
Conclusion
McDonald's has by far the largest moat amongst its fast food peers. McDonald's offers a compelling mix of both dividends and share buybacks. The muted reaction towards the earnings report should be interpreted as a somewhat bullish signal. McDonald's is about as low-risk and high-quality as a stock can be. Blue chip dividend stocks have been the place to be as of late, and McDonald's is no exception.
Disclosure: I am long MCD. I wrote this article myself, and it expresses my own opinions. I am not receiving compensation for it (other than from Seeking Alpha). I have no business relationship with any company whose stock is mentioned in this article.
Disclaimer: The opinions in this article are for informational purposes only and should not be construed as a recommendation to buy or sell the stocks mentioned. Please do your own due diligence before making any investment decision.