By Jon Ruff
It's been a volatile week for gold prices, which tumbled by the most in 30 years. Although gold is still not obviously undervalued, we think the recent market moves make stock prices of gold miners look attractive when compared with prices of the precious metal.
On Monday, gold posted its largest one-day price drop since 1983. The decline actually began on Friday, April 12, as fears of central bank gold sales in Cyprus and Europe added to concerns that the Fed might withdraw US monetary stimulus sooner than expected. Central bank gold purchases and money printing underlie much of the doubling in price since the global financial crisis (GFC), so a threat to either is cause for concern.
When Asian markets opened on Monday morning, gold prices continued to decline and appear to have triggered stops and margin calls, which accelerated and broadened the sell-off to other commodities. This contagion continued, driven by weak Chinese and US economic numbers. By Monday's New York close, the S&P 500 had sold off over 2% on the day and gold was down by more than 13% in two days to $1,348 (display).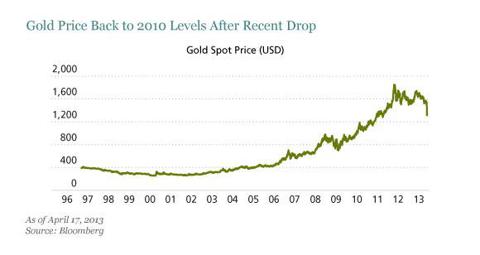 Is there an opportunity here for investors? In our view, falling prices have not necessarily created a directional opportunity in gold, but they may have created relative value opportunities. Sentiment towards gold was plumbing post-crisis lows before Friday's sell-off began, so a contrarian long position would have been disastrous going into the weekend and could prove so again, given that valuations remain high.
One way to value gold is to compare the price with marginal production costs. On this metric, gold could fall to $1,000 or below before hitting cash production costs at higher-cost mines, according to our research. Like copper, where expected medium-term demand exceeds available supply, prices must exceed production costs to incentivize miners to find and develop new reserves, as we explained in a recent blog post.
However, unlike copper, future gold demand is highly uncertain. This uncertainty makes the gold price premium to marginal cost very vulnerable to changes in sentiment. In other words, if the market decides that investment demand will flatten or turn negative (e.g., should outflows from gold exchange-traded funds accelerate), then new mines won't be needed and prices could crash to-or even through-marginal costs.
Yet the recent gold price moves may have opened up relative value opportunities. In particular, we think that gold mining stocks are especially attractive at current gold prices. The chart below shows the relative price of gold mining stocks versus gold prices, during the GFC and at all other times. By this simple metric, gold mining stocks trade today at more attractive levels today versus the gold price than at any other time (outside the GFC) since at least 1995, when reliable gold stock index data began.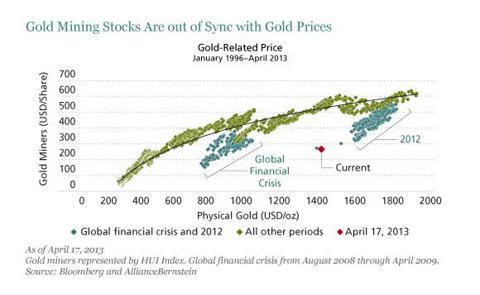 Gold miners face enormous challenges that a collapsing gold price only aggravates. These include the escalating costs of production, expansion, exploration and development. In addition, these companies have been undisciplined stewards of capital over the past decade, often choosing to build projects or do deals rather than return cash to shareholders. And some have huge debt burdens that become more difficult to service as gold prices decline.
Negative sentiment and momentum could cause gold miners to continue underperforming the gold price for a period of time; gold miners have looked cheap versus gold for a while and continue to cheapen. However, with recent management changes, early signs of capital discipline in the industry and a deep slump in mining equities, we think that an overweight position in gold mining stocks hedged by shorting the price of gold could prove to be a powerful investment combination in the near future.
Jon Ruff is lead Portfolio Manager and Director of Research for Real Asset Strategies at AllianceBernstein.