"Crossroads, will you ever let him go?
Will you hide the dead man's ghost,
Or will he lie, beneath the clay,
Or will his spirit float away?"
--Melissa, The Allman Brothers Band
Stocks have arrived at a crossroads. After appearing to not have a care for all of 2013 thus far, it seems that stocks are finally bearing some sorrow. But following the recent pullback, we have arrived at an inflection point where if stocks do not again get on the run to the upside, they may be soon rolling on swiftly to the downside.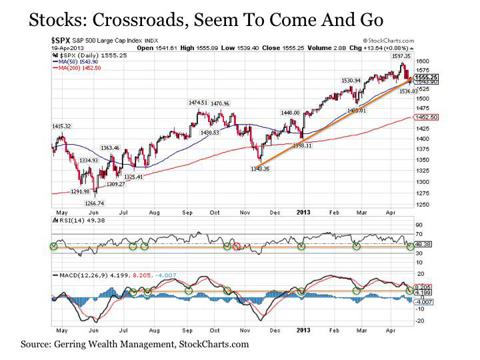 Stocks as measured by the S&P 500 Index (NYSEARCA:SPY) closed on Thursday effectively at their 50-day moving average before rallying on Friday to close out a highly volatile week. This marks only the second time all year that stocks have even made an approach toward this critical support level at the 50-day moving average, the last instance occurring only briefly in late February. From a technical perspective, it seems that stocks may once again enjoy a fair amount of support this time around, and Friday's trade is a step in support of this notion. For example, stocks were showing similar MACD momentum readings also while trading at or near its 50-day moving average six different times over the past year, and in each instance they bounced higher. In addition, the stock market stood at or near its 50-day moving average with an RSI between 40 and 50 on seven different occasions over the past year, and in six of these instances it went on to experience at least a short-term bounce higher. The only time that stocks failed to rally was in late October 2012 when stocks bounced higher but MACD momentum had broken lower. Thus, if Friday's bounce proves sustainable into the upcoming trading week, it will be particularly important to monitor the MACD to confirm the sustainability of this move. Otherwise, any rallies from here may prove fleeting.
Despite this technical optimism, stocks are facing a mounting challenge from a fundamental standpoint to keep this rally up much longer. Recent economic data in the U.S. has been mixed to weak as we enter into the heart of first quarter earnings season. While estimates have already been revised meaningfully lower so that the "beat earnings expectation" charade can continue for yet another season, corporate earnings growth is at risk of continuing its recent decline over the last few quarters if companies are unable to collectively clear the already lowered bar. And looking out over the coming year, corporate earnings growth projections ranging from +7% to +14% depending on how the number is managed remain far too optimistic in an environment where the global economic growth outlook continues to get revised downward. Moreover, it is more than dubious to expect that companies will be able to not only stop the recent trend of eroding operating margins but also widen margins by over one percentage point back to historically high levels as currently projected. It will all be very interesting to see in the coming weeks, but stocks clearly have their work cut out for them at this stage of the rally.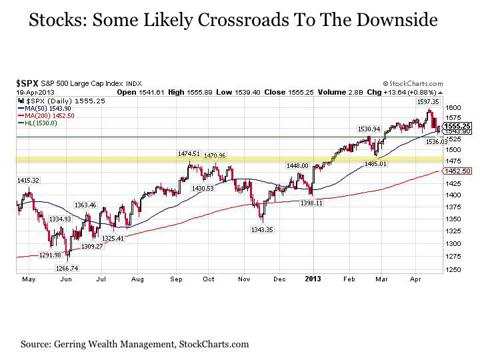 If stocks do end up breaking lower in the coming days, the move to the downside has the potential to be swift. The next likely stop for stocks is in the 1525 to 1530 range on the S&P 500. But if it breaks through this support, the next destination would most probably fall in the 1470 to 1485 range.
While such a move would represent a significant drop from a point perspective on the S&P 500, it is not that much of a correction from a percentage decline standpoint. Overall, a pullback to 1470 would be a correction of less than -8%, which is hardly a meaningful cleansing of the market for the purposes of establishing a firm bottom for the next move to the upside. But in our world of endless monetary stimulus, such a decline may be more than enough to attract the latest daily tranches of freshly printed central bank money into the stock market. As a result, investors would be well served to stand at the ready with a list of names for potential acquisition on any pullbacks. With this strategy in mind, my current stock holdings are limited to Exxon Mobil (NYSE:XOM) and McDonald's (NYSE:MCD), but I have a roster of high quality names providing attractive current income that I will be watching for acquisition at the right valuation over the coming weeks whether it is the broader market or just selected individual names that end up retreating.
With all of this being said, some current conditions along with some recent developments should induce investors to act with care as we move forward with the stock market.
First, the market continues to face a number of tail risks. These include persistent signs of strain in the European banking system, ongoing volatility in the Japanese government bond market and the o threat of another geopolitical and/or terrorist incident particularly in the wake of recent events.
Second, the threat of a liquidation event should not be discounted. While many fundamental stock investors enjoyed a victory lap at the expense of the precious metals including gold (NYSEARCA:GLD) and silver (NYSEARCA:SLV) over the last few days, it would be complacent to disregard the fact that such an outcome could just as easily befall the stock market at any point in time, particularly with stock margin debt currently at all time highs and equity valuations still holding at levels that remain well above the historical average. Moreover, such liquidation events like we saw with the precious metals often do not happen in isolation, particularly with global investment markets more interconnected than ever. As a result, stock investors should remain on watch for any lingering spillover effects in the coming days and weeks.
Lastly, the power of central bank stimulus does have its bounds. And it's not necessarily a given that the liquidity being added into the financial system will automatically continue to flow into stocks. As other investment opportunities are either ignored or discarded at the expense of stocks, and selected regions and sectors within the stock market at that, the relative appeal of these various investment alternatives continues to rise.
So if the stock market were to enter into a sustained correction, the final question remains. Will policymakers stand aside and finally let the stock market go? Will they allow stocks to lie beneath the clay and move toward their equilibrium prices that are likely considerably below where they are trading today? Or will they intervene once again with even more stimulus in an effort to send the spirit of the stock market floating away to new heights?
Knowing that the Fed and other central banks desperately wants the general public to return to the stock market, perhaps they can take away some lessons from the recent carnage in the gold and silver markets. Let's face it, many in the American public simply do not trust the stock market. This, of course, helps explain why the percentage of Americans that own stock is currently at its lowest levels in nearly two decades despite the fact that the stock market recently reached a new all time high. After all, the stock market does not at all reflect the economic realities that many Americans are seeing around them on a daily basis, and this disconnect also helps to explain why we have seen steady net outflows totaling over $600 billion from domestic equity mutual funds since the beginning of the financial crisis through today according to the Investment Company Institute. But unlike stocks, gold and silver have been struggling over the past 18 months despite a variety of market conditions that should otherwise be most favorable for these precious metals. Yet when both gold and silver were liquidated in the paper markets in recent days, instead of seeing retail investors head for the hills, they have turned out to purchase the physical metals in record numbers, as many recognize that these metals markets are not being artificially propped up by policy makers. If anything, they are being unfairly beaten down, and Americans always like an underdog, particularly when it represents a good value. Perhaps if policy makers stepped aside and allowed the stock market to behave as it should instead of endlessly trying to prop it up, the general public might begin to trust it again. This way, if the inevitable fire sale in stocks were to occur at some point down the road, the general public might also be inclined to step in and buy the way they have with gold and silver in recent days. However, as long as many Americans continue to distrust stocks as an asset class, they will instead choose to stand back and look away from the next major correction.
Stocks currently stand at a crossroads. And the upcoming trading week will be telling as to whether the stock market is ready to fly or if it tumbles further with lonely sighs. And if policy makers stop trying to hide the ghosts of the economy and its financial markets and finally allow stocks to run back home to their true equilibrium, a broad range of investors may finally be inclined to rejoin the market with a greater degree of trust that the shares they are buying reflect their actual worth. Only after such a healthy cleansing process for the global economy and its markets will we see sunbeams shining sustainability back on stocks and the beginning of a new secular bull market.
This post is for information purposes only. There are risks involved with investing including loss of principal. Gerring Wealth Management (GWM) makes no explicit or implicit guarantee with respect to performance or the outcome of any investment or projections made by GWM. There is no guarantee that the goals of the strategies discussed by GWM will be met.
Disclosure: I am long XOM, MCD. I wrote this article myself, and it expresses my own opinions. I am not receiving compensation for it (other than from Seeking Alpha). I have no business relationship with any company whose stock is mentioned in this article.
Additional disclosure: I am long the precious metals via the Central GoldTrust (NYSEMKT:GTU), the Central Fund of Canada (NYSEMKT:CEF) and the Sprott Physical Silver Trust (NYSEARCA:PSLV).