Fortune released a list of 40 companies in June 2008 that they labeled as the 40 best stocks to retire on. Although ValueExpectations.com's research is focused on long-term investing, we believe reviewing companies on a ongoing basis helps to avoid potential pitfalls with bad investments and allows one to take advantage of companies that might be mispriced. For this reason we have ranked all companies in the Fortune 40 portfolio based on Valuation Attractiveness.
Good companies don't always make good investments! If you believe this is a list of quality companies then that is a wonderful start. But understanding what you are paying for those companies is equally important. Few would argue that Mercedes Benz produces an excellent engineered vehicle and a quality product. However, if that Mercedes Benz cost $1,000,000, it may be a great vehicle, but not necessarily a good price.
As a review of the performance of this list since release, Fortune's portfolio has returned an average of -28.64% since its release which is about 6.3% spread above what the S&P 500 delivered on average during the same time period. Although this portfolio did outperform the S&P 500, had you invested in these 40 companies in equal parts on the date of release, your $100,000 retirement nest egg would now be worth somewhere around $70,000.
Fortune 40 Companies To Retire On
click to enlarge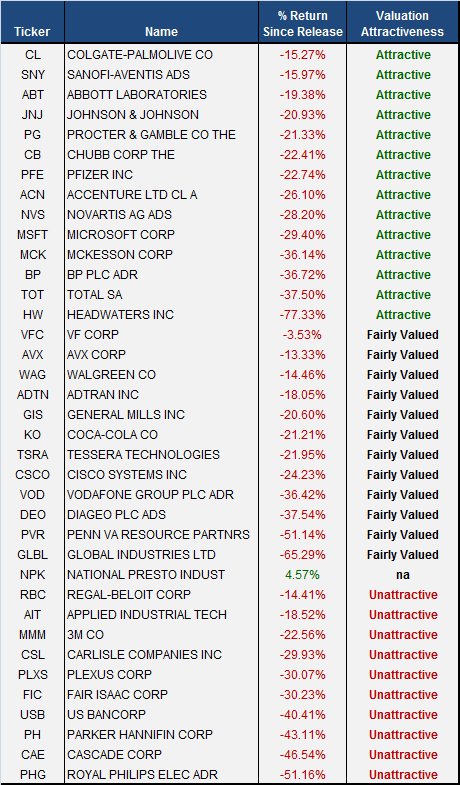 AFG's Valuation Model – Using AFG's modified discounted cash flow model to measure the intrinsic value of a firm compared to its peers.