Investors in IntercontinentalExchange, Inc. (NYSE:ICE) are celebrating after the company announced earnings for the first quarter. The data was released before the open on Tuesday and the stock began trading significantly higher prior to the open. As the trading day continued, buyers appeared in mass and an hour prior to the close the stock was up more than 13%.
According to the press release, the company actually saw revenue increase 12% to $232 million for the quarter while earnings per share were down a bit at $1.09. The company's futures division had record volume for the quarter with 63 million contracts changing hands. At the same time, the newly acquired Creditex Group, Inc. (a wholly owned credit derivatives subsidiary) is generating quite a bit of volume and appears to have been another sharp acquisition by the management team. Creditex actually contributed $36 million in revenue for the first quarter and could grow significantly as the credit market begin to thaw.
ZachStocks featured ICE just over a month ago when he price was trading near $85. Our basic argument was that the advent of Credit Derivative Swap trading, along with attractive pricing power would drive earnings growth. At the same time we mentioned that the potential for an Emissions Cap and Trade system could provide a great catalyst for additional profits. The CDS story has begun to play out and while we are still waiting for more information on Cap and Trade, there is no reason to believe this won't evolve into a profitable business division.
Intercontintental is actually a hometown company for me. Although the company operates across the US and Internationally, the headquarters has remained in Atlanta Georgia. I have had the pleasure of meeting the CEO Jeff Sprecher and have been impressed with his candid approach to shareholders, his capable approach to risk management, and his visionary leadership which has grown this small energy trading firm into a worldwide exchange for a diverse assortment of financial products.
At the end of the quarter ICE still had a very healthy balance sheet with $233 million in unrestricted cash and just $370 million in outstanding debt. This provides management with great flexibility in determining which growth opportunities it will pursue. The stock is also very strong and could easily be used as currency to purchase competitors. While ICE continues to work to integrate its recent acquisitions, there should be some great opportunities for additional bolt-on purchases as trading firms struggle to hang on in this market. ICE has proven to be opportunistic in its growth strategy so don't be surprised to see future deals announced in the coming weeks and months.
Since hitting a low of roughly $50 earlier in the year, the stock has more than doubled (not bad for just a few months time). We currently hold a position in the ZachStocks Growth Model which has yielded strong returns for subscribers. While it is tempting to take some profits off the table (and we may do so to reduce our risk), the long-term prospects for shareholders still look attractive. ICE was able to maintain an extremely profitable business even during the most difficult financial crisis of our generation. I believe that the opportunistic acquisitions should result in earnings that far surpass current analyst expectations. This means that a current PE of about 24 could prove very conservative farther down the road.
There is certainly some risk that the price will consolidate in the coming few weeks, but over the course of the next few quarters I expect continued gains. ICE is a great long-term growth position to hold as the market recovers from its current weakness. Even if the equity markets trade lower, ICE should see trading and clearing volumes remain robust as investment programs revive and new markets are created.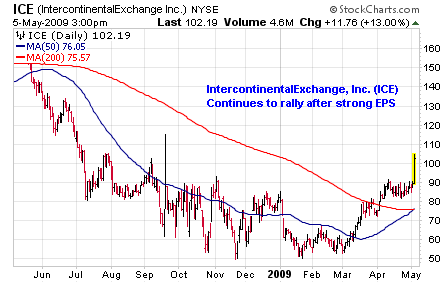 Disclosure: Author has a long options position personally and a long position in the ZachStocks Growth Model.