In stock trading, we can see countless examples of analysts' influence on individual investors. We ask, how reasonable is it that a recommendation has such gravitas, and let's be honest, how can we profit from it.
One recent example is eBay (NASDAQ:EBAY). Notice the peak on April 1st when the stock jumped 3.5% with a trading volume of 20,619,900 almost twice the average volume of eBay shares. No, it is not an April Fool's joke.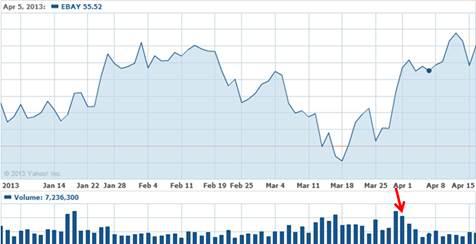 But what happened on April 1st that made eBay so attractive?
eBay held its analyst day, which immediately got them an upgrade to Buy from Hold by Canaccord Genuity's analyst Michael Graham, raising eBay's price target to $67 from $56.
For the record, R.W, Baird, Needham & Co & Cowen's also maintained their positive predictions.
Looking at analyst Michael Graham's accuracy report, we measured that out of 26 Buy/Sell recommendations, only 9 outperformed the S&P 500 (35%). Is his prediction worth 100%?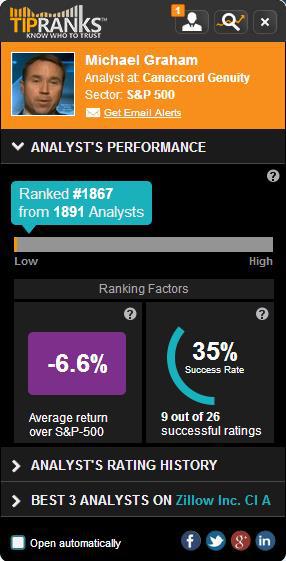 April 17th, eBay reported higher first-quarter profit, but posted a weaker-than-expected forecast, causing the stock to fall more than 5%. 35%-Michael indeed predicted growth, but eBay took a dive. Recommendations solely based on analyst days such as eBay hosted, motivate a peak, a one hit wonder, rather than providing a solid recommendation for investors which includes a thorough market analysis ahead of time.
Can an investor benefit from hitting the stock just in its peak or rather receiving recommendations prior so that investors reap the fruits of the peak itself? We think the latter.
eBay, of course, is not the only stock that was easily influenced by Michael's recommendation. The same can be seen in Michael's rating history making another overoptimistic recommendations on Zillow (NASDAQ:Z), September 2012, that eventually fell more than 30%. That is to say, an analyst recommendation history may benefit us in understanding the quality, beyond timing, of the recommendation itself.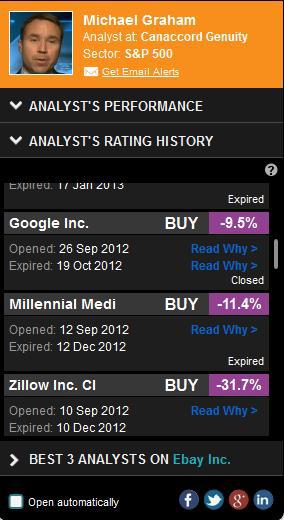 The best recommendation timing for eBay came from Evercore's analyst Ken Sena who on March 13 (only 2 weeks before Michael) reiterated an Outperform.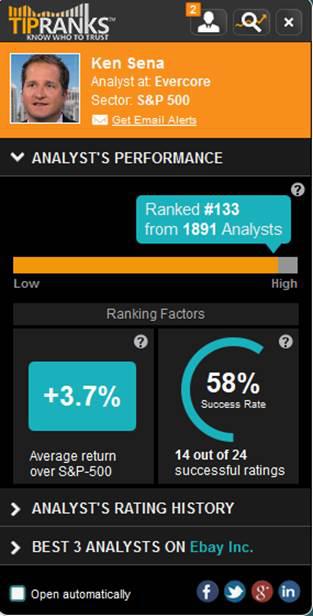 Sena maintained his rating and price target on April 18, largely because of the company's main growth drivers: Marketplaces, the main auction and retail business, and PayPal, its payment service. Provided his positive outlook, the stock outperformed the S&P 500 by 10.6%. Sena's thorough analysis provided investors with ample time and knowledge to base their investments on and actually profit from them. Ken's recommendation was based upon solid market developments, rather than company advertising to analysts. Indeed, as investors or stocks are influenced by company analysts-day, so are investors affected by sudden peak of analysts' interest in a stock. While the vicious cycle continues, the market behaves independently with some benefiting from such developments. Perhaps it is not thinking out of the box, but rather out of the cycle.
eBay will, most likely, climb to see the $60 stock price in the near future and PayPal will most probably remain eBay's main growth engine, but if you are not a very long-term investor, then catching the stock in the right timing is everything in this case.
While most individual investors might make decisions that are based on market sentiment and financial experts' outlook, the more sophisticated one might wonder how accurate is the recommendation he is listening to.
Disclosure: I have no positions in any stocks mentioned, but may initiate a long position in EBAY over the next 72 hours.
Business relationship disclosure: Contributed by TipRanks product manager.
Additional disclosure: all statistics measured here are based on TipRanks financial accountability engine.