I bought Apple (NASDAQ:AAPL) around $407.50 and Microsoft (NASDAQ:MSFT) around $28.65 on Wednesday for myself and for clients. Both stocks represent about 3% of the portfolio. Five years ago, I never would have thought these would be in my portfolio, especially not the first two positions in a new model portfolio, but I think both offer outstanding value based on their cash-dominated balance sheets and strong free cash flows.
Here are a the main reasons behind the investments. Both companies have:
Extremely strong balance sheets with huge net cash positions and little to no debt

10 years of positive and growing free cash flow

Extremely high returns on capital

Very low valuations measured using EV/Free Cash Flow (this is my favorite value ratio, as it reveals more than the P/E ratio because it accounts for cash and debt. It measures enterprise value, which takes the market cap plus long-term debt less cash, divided by free cash flow).
Here is a quick table of some of the basic valuation and quality metrics: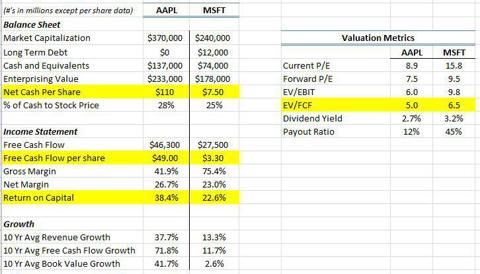 Based purely on the numbers, these stocks are incredible bargains. Single digit multiples across the board. Look at the price (enterprise value) to free cash flow… incredibly cheap. Also, extremely high returns on capital and strong margins. Both have shown up for months in Joel Greenblatt's Magic Formula screen. So why would the market offer these two businesses at such cheap prices relative to their earnings and free cash flow?
The bears' argument that basically is that these businesses won't be able to continue operating at the same level of profitability in the future as they did in the past. I would agree. A company that produces a decade of 30% returns on capital (as AAPL and MSFT both have done) will have significant odds against it achieving the same ROC in the next decade. Capitalism promotes competition, and when a business is making a lot of money, other competitors replicate (or try to replicate) their model and end up forcing down prices. This is especially true in technology. So if I don't disagree with the main argument (margin compression) against these stocks, why would I buy them?
Problems Already Discounted
My basic feeling is that in general, when the market gets worried about a specific situation (in this case the margin pressures, or potential margin pressures-we should note that it hasn't even occurred yet), the market usually overcompensates by discounting the stock too much, thus leaving an opportunity for value investors.
With AAPL and MSFT, I think that the valuations more than reflect the possibility (or probability) that margins will come down, and profitability will decrease. When I make investments, I always think about downside first, and so I always look at the balance sheet first. I take comfort in the fact that these two businesses have two of the most secure balance sheets in all of corporate America (AAPL has enough net cash to buy the entire business of 475 out of the 500 stocks in the S&P 500).
Strong balance sheets allow companies to weather any storm that might develop within their business or industry, and despite the negativity surrounding these two stocks, they have talented, experienced management combined with virtually unlimited resources to invest and adapt to changing environments.
Both companies also have products and services that are difficult to replace. I think this is especially true with Microsoft, and maybe less true with Apple. But with the cash on hand, there are plenty of options for both companies to produce value for shareholders. The huge cash positions that both companies have will allow them to buy back shares in the future while simultaneously increase dividend payments.
Dividend Growth Potential and Share Buybacks
Companies have two main methods of returning capital to shareholders: dividends and stock buybacks (both of which I love).
Apple's dividend yields 2.7% at today's and it's only paying out 12% of its earnings. It could easily double the dividend (which would be a 5.4% yield) and still only pay out 25% of last years earnings. Even if earnings decline by 25%, that potential dividend of 5.4% on today's stock price would still represent just a 33% payout. The dividend payout costs the company $10 billion per year, but the business is bringing in $40 billion+ of free cash flow. It can't begin to invest all of that money, and thus the reason for the huge cash hoard that continues to grow at close to $3 billion per month. So my assumption is that we'll see significant increases in the current dividend at AAPL.
Microsoft currently yields 3.2%, which represents about a 45% payout ratio. The company spent about $7 billion on dividends last year and $5 billion on stock buybacks. If you add those two together, shareholders effectively had a 5.0% yield (dividend plus reduced share count). The company spent $12 billion on dividends and buybacks, but had $27 billion of free cash flow, meaning it spent less than half of it on dividends and buybacks. So just like AAPL, Microsoft's cash hoard continues to grow, even after paying dividends and buying back shares.
I would actually prefer the companies to increase their buybacks more than their dividends, because I think it's a much more tax efficient way for businesses to create value for shareholders.
To Sum it Up
My investment strategy takes many positions in stocks based on valuation and quality metrics that I gather by simply analyzing the balance sheet and income statement. I use simple logic, and basic numbers. I don't try to worry too much about the businesses or their future prospects.
The point is, both of these stocks are extremely valuable because of their size (competitive advantage in the market place), their strong balance sheets with huge cash positions and little to no debt, their strong free cash flow, and their extremely low earnings and cash flow multiples.
I don't know enough about the businesses to accurately predict the future of them, but I know that based on the numbers, I have a huge margin of safety. I think the fears that margins will come down are already baked into the price, leaving the possibility that on any positive surprise, these stocks could get revalued much higher. I'm not relying on that, but that might represent some upside. I think that even if the companies don't grow at all, they are still extremely valuable at today's prices, thanks to the strong balance sheet, the cash, and the prospect of returning value to shareholders through higher dividends and stock buybacks.

Disclosure: I am long AAPL, MSFT. I wrote this article myself, and it expresses my own opinions. I am not receiving compensation for it. I have no business relationship with any company whose stock is mentioned in this article.
Disclaimer: John Huber owns AAPL and MSFT for himself and for clients. This post does not constitute a recommendation for any of the stocks mentioned. Please do your own research to determine if the investments are suitable for your own situation.