Japan has been an excellent market for Tiffany & Co. (NYSE:TIF) in the past years, due to the country's well known wide obsession with fashion. Tiffany managed to establish its brand earlier than other competitors, and enjoyed the benefits of constructing long-term relationships between vendors and clients through 55 stores in a market worth at least $5 billion. As a consequence, contribution to worldwide net sales has historically been above 20s.
But things have started to change fast. According to the press release of March 22nd, 2013:
Total sales in Japan declined 6% to $192 million in the fourth quarter, reflecting a weaker Japanese yen versus the U.S. dollar, and increased 4% to $639 million, or 17% of worldwide sales, in the full year. However, on a constant-exchange-rate basis, total sales rose 2% in the quarter and 6% in the full year; on that basis, comparable store sales rose 2% and 7% in the quarter and full year.
Furthermore, in the outlook for 2013, we find:
Opening a total of 14 (net) Company-operated stores including five in the Americas, seven in Asia-Pacific, three in Europe and closing one in Japan, as well as refurbishing a number of existing locations around the world.
Actually, Japan was the only region where GAAP reported decreased sales. And this is all about the foreign exchange and some other macroeconomic factors (inflation expectations caused by quantitative easing and a possible preparation for a consumption tax hike in the future). If there would be no foreign exchange effect here, Japanese sales would actually have increased three times faster than in the Americas, for example.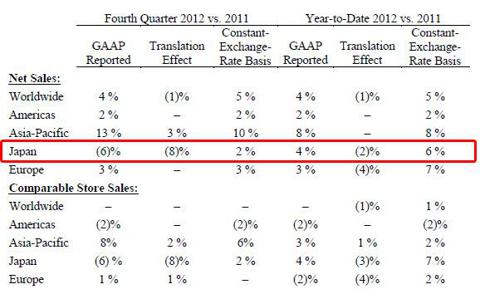 Notice that the quarter ended in January 30th, 2013. By that time, one dollar was equivalent to 90 yen. By now, one dollar is equivalent to almost 100 yen. It seems that Abenomics will not stop any time soon, and there is a high probability that by May one dollar would be equivalent to 105 yen. This additional yen depreciation will cause a deep worsening of the GAAP reported net sales for Japan, which we shall see in the next quarterly results announcement (covering February-April), expected to take place in early May.
How bad is this? Well, to begin with, Japan still represents 17% of total worldwide sales. Worldwide sales grew 4% in the last quarter, even though Japanese sales decreased 6%. This implies that if Japanese sales had actually increased 6%-8%, instead of decreasing, worldwide sales would have grown at 5 or even 6%. These proportions show how important the Japanese contribution to EBIT is.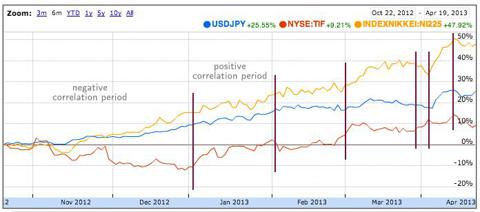 We know that Abenomics will not stop any time soon. We also know that Tiffany's will close at least one store on the island. Finally, we know that Japanese sales decreased in a period that is usually good for the fashion industry (because of Christmas, which in Japan has a romantic meaning even stronger than February 14th). This all makes me think that sales in Japan will continue decreasing between February and April. If sales decrease as much as 8% and we assume that the growth rate in the other regions remains unchanged, we can anticipate a worse than expected net global sales growth figure in the next announcement.
Assuming that Tiffany's has not entered into forward contracts to hedge against forex risk, the consequences on cash balances could be disastrous. However, I think that a more probable scenario is to assume that Tiffany's did not expect a massive yen depreciation back in September and October last year; but at some point of time between January and February they should have bought derivatives; since by then the consequences of Abenomics were obvious. Needless to say, buying derivatives in January 2013 is not the same as buying derivatives in October 2012. They must have paid a huge premium.
In this way, Japanese macro is deeply correlated with Tiffany's performance. Any investor who is considering to start a long position should check the movements of the USD/JPY carefully. Any investor with an open bullish position should consider either acquiring puts or shorting the stock before the next quarterly announcement.
Price target: $50
Investment Horizon: 2 months
Strategy: Event driven
Uncertainty: Middle
Disclosure: I have no positions in any stocks mentioned, and no plans to initiate any positions within the next 72 hours. I wrote this article myself, and it expresses my own opinions. I am not receiving compensation for it (other than from Seeking Alpha). I have no business relationship with any company whose stock is mentioned in this article.