The global rare earth industry is experiencing price deterioration which has exacerbated declines in revenues, earnings and share prices of junior minors. Molycorp (MCP), with its heavy concentration of light rare earths ("LREE"), experienced price declines of 30% quarter-over-quarter. The price deterioration does not seem to be abating anytime soon. According to the Motley Fool, it's a wonder that some junior minors are even still in business:
The price of common rare-earth minerals has been dropping since 2011, the year prices peaked, which is why revenue is slipping. It's a wonder at this point that miners without production, like Rare Element Resources (NYSEMKT:REE) and Avalon Rare Metals (NYSEMKT:AVL), are still in business at all. If Molycorp can't make money now that it's in full production, then how could there be enough demand to support all of these companies?
And with new developments such as the vast rare earth oxides found in the Pacific seaboard by Japan last week and in Jamaican mud in January, the supply/demand dynamics may drive prices lower in the future.
Below is an update of junior minors' trading multiples since our last comparable company analysis, which includes Molycorp, Lynas Corporation (OTCPK:LYSDY), Avalon, Rare Element, Arafura Resources (OTCPK:ARAFF), Quest Rare Metals (NYSEMKT:QRM), Great Western Minerals (OTCPK:GWMGF), Montero Mining & Exploration (OTC:MXTRF), Frontier Rare Earths (OTC:FREFF), Tasman (NYSEMKT:TAS), Ucore ( ) Hudson Resources (OTCQX:HUDRF), and Matamec Explorations (OTCQX:MHREF).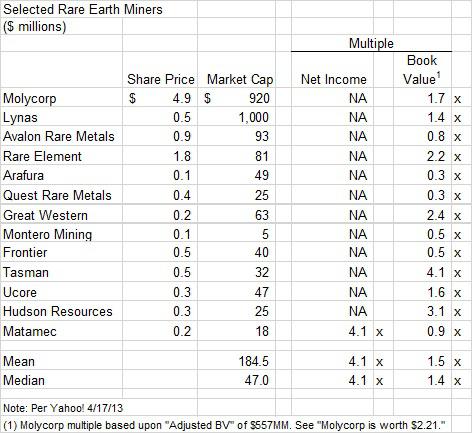 Since most of the junior minors are unprofitable, price-to-earnings multiples are all but meaningless. The mean and median market capitalizations are $185 million and $47 million, respectively. The mean and median market capitalizations from our March 15, 2013 report were $206.1 million and $59.4 million, respectively. The median market capitalization of the selected junior minors declined 20% since March. The mean and median book value multiples are 1.5x and 1.4x, respectively, as compared to a mean of 1.8x and a median of 1.3x in March. Molycorp's book value multiple of 1.7x was an increase over its 1.3x multiple in March; both were based upon the company's "adjusted book value," which included impairment charges for intangibles and inventory.
Following are a few of the junior minors "on the move."
Molycorp
Molycorp's stock has fall from $6.2 to $4.9/share since March 15th - a 21% decline. After a two week delay in its 10-K report, on March 14 the company announced net revenue of $134.3 million, a gross loss of $20.5 million and a net loss attributable to shareholders of $362.4. Its year-end inventory of $313.5 million was an alarming 57.4% of tangible GAAP book value. While revenue increased 33% from 2011 to 2012, inventory nearly doubled from $116.3 million to $313.5 million, while work-in-progress and finished goods inventory grew 176% from $61.6 million to $171.1 million. Given an estimated inventory impairment of $134 million, continued intangibles write-offs and operating losses, I currently have a $2.21 price target on the stock. Molycorp has a $920 million market cap and trades at 1.7x adjusted book value, exceeding the industry median of 1.4x.
Lynas
In September 2011 the company signed a long-term supply agreement with BASF Corporation for the supply of Lanthanum to BASF's Fluid Catalytic Cracking business. With the market waiting with bated breath, in February 2012 the company finally produced rare earth products for customers from its advanced materials plant in Malaysia. The question remains, "Will rare earth prices rebound enough for Lynas to sell at a profit?" With light rare earths 95% of its total rare earth oxides, Lynas is susceptible to the same price deterioration as Molycorp. For fiscal years ended June 2011 and June 2012, Lynas generated net losses of A$59.1 million and A$88.8 million, respectively. The company currently has a market capitalization of approximately $1.0 billion and trades at 1.4x book value, in line with the industry median.
Great Western Minerals
Great Western is an integrated rare earths processor whose specialty alloys are used in the battery, magnet and aerospace industries. The company has five rare earth exploration and development properties in North America and an equity control interest in the company that will produce REEs from Steenkampskraal in South Africa. Since it has yet to deliver commercially viable REEs, the company has generated consistent operating losses. Great Western dismissed Vincent Mora as project manager for Steenkampskraal in August 2012 for suspicions about invoicing, purchasing and contracting activities. In February 2013 the company announced that Mora was arrested over allegations of fraud and money laundering. Though the arrest did not disrupt Great Western's Steenkampskraal operations, its stock price declined from $0.31 at February 1st to $0.21 by March 12th - a 32% drop. The stock currently hovers around $0.15.
Conclusion
As REE prices have deteriorated quarter-over-quarter, junior minors' profits and ability to operate as a going concern have also suffered. Going forward, junior minors [i] may not have enough capital to continue funding exploration costs or [[ii]] may not be able to turn a profit once they bring product to market. Since they are producing commercially viable REE, Molycorp and Lynas are bellwethers of the market. However, opportunistic investors may still be able to buy into other junior minors whose shares have been mispriced.
Disclosure: I am short MCP. I wrote this article myself, and it expresses my own opinions. I am not receiving compensation for it (other than from Seeking Alpha). I have no business relationship with any company whose stock is mentioned in this article.