If you ask me, Marissa Mayer is one of the best assets acquired by Yahoo (NASDAQ:YHOO) so far. With over a decade in the online search industry, coupled with hands-on experience in the world's biggest internet search engine company, Google (NASDAQ:GOOG), Mayer probably knows everything from software engineering to product creation to market development.
Add the Mayer experience to Sunnyvale-based online search giant Yahoo and you probably get the next big change in the internet search industry. What's more is that Yahoo is already in a far stronger state than what Google was when Mayer joined it.
Although Yahoo's market share of 11.8% as of this March seems far lower compared to Google's 67.1%, it still has a solid presence in the online search market, when Yahoo's partnership with Microsoft (NASDAQ:MSFT) and Bing's market share of over 16% is considered. And with Yahoo search's market share showing a strong rise over the last few quarters, we can expect that Yahoo along with Mayer is going to create the magic once again.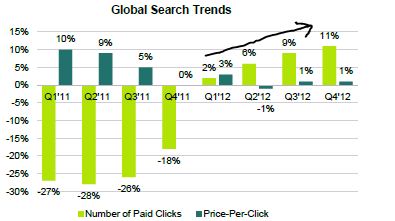 Having said that, a few factors concern me about Yahoo:
Net U.S. search revenue share for Yahoo is slated to decrease by 2015. While net U.S. search and display revenue is expected to reach over $2.8 billion, Yahoo's market share in the U.S. is estimated to tank to 5.9% in 2015 from 6.5% in 2012.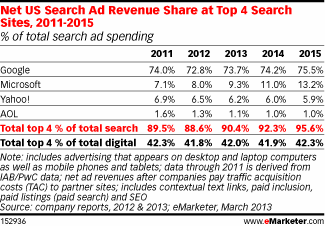 Then again, the U.S. display ad revenue market is expected to be dominated by Google and Facebook (NASDAQ:FB), with Facebook reaching over $3.85 billion in display ad revenue by 2015. That is more than two and a half times of that of Yahoo
In spite of the rising mobile internet search industry, Google, with the help of Android, is far ahead of others. Yahoo's mobile internet search share was 19% in Q4 2012, compared to the Google's total mobile search market of 50% (including iOS estimates as well). And without any smartphone of its own or collaboration with any other mobile device company, Yahoo might fall behind.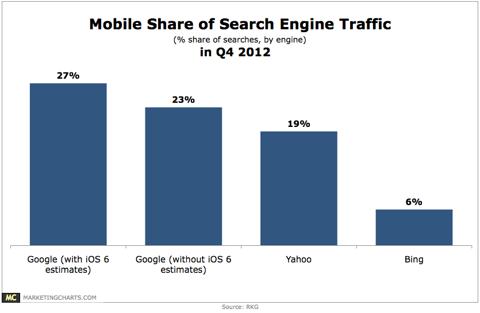 Talk about increased collaboration between Yahoo and Apple Inc. (AAPL) is in the air. With iOS possessing around 50% of mobile traffic, Yahoo's collaboration with Apple might be game-turning in nature. It must be noted though that Google's apps are quite popular on Apple's devices. The question is whether Apple would replace Google with Yahoo.
With Marissa Mayer focusing more on mobile traffic, this is without doubt that something is bound to happen in the near future.
Even with the string of acquisitions such as Stamped and Summly, Yahoo's operating income have suffered over the last few quarters under Mayer. With over $150 million in restructuring charges in 2012, acquisitions seem to be eating away at the bottom line rather than adding to it. As Laurence Capron, the Paul Desmarais Chaired professor of strategy and director of "M&As and Corporate Strategy" Executive Education Program at INSEAD, and the co-author of "Build, Borrow or Buy: Solving the Growth Dilemma" with professor Will Mitchell, says:
Firms that make too many acquisitions, too quickly, run out of integration skills and become fragmented and chaotic. They often need to pause to digest their deals or become acquisition targets themselves.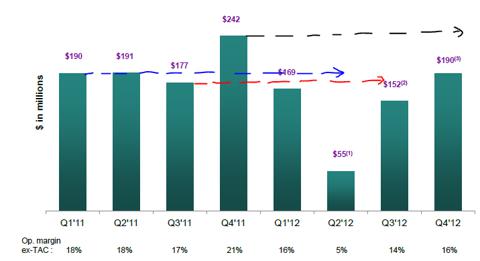 With a steady decline in research and development expenses, Yahoo will probably weaken its position as a tech giant. Just a hard focus on business development, without a strong technological back-up, is not what will propel Yahoo forward in the online industry. It is a company's products that makes it profitable at the end of the day.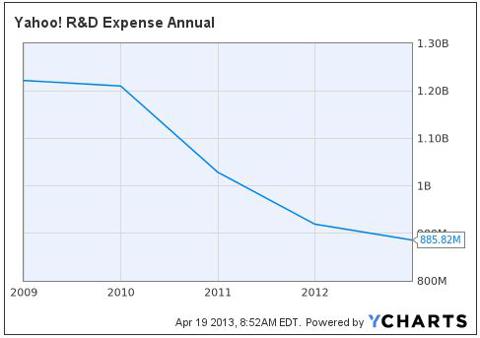 Having said that, Yahoo, with a current ratio of 4 and debt/equity ratio of 0.0086, is not financially stable, but is also far more profitable than its immediate peers, (except for Microsoft, with much higher margins).
| | | | | |
| --- | --- | --- | --- | --- |
| Companies | Gross Margin % | Operating Margin % | Return on Avg. Assets (ROAA) % | Return on Investment % |
| Yahoo Inc. | 67.5 | 11.36 | 20.54 | 22.35 |
| AOL Inc. (NYSE:AOL) | 27.38 | 54.84 | 37.27 | 45.71 |
| Microsoft Corp | 76.22 | 29.92 | 14.77 | 20.15 |
| Google Inc | 59.13 | 25.43 | 12.97 | 15.08 |
To sum it up, while Yahoo seems to be a financially strong company to me, Mayer's approach to business might not turn out too positive. With a record low PE at 6.82 and a rising PEG line, the market does not seem to have any hope about Yahoo . Even the price-to-sales ratio of 5.14 indicates that the steadily declining revenue graph is resulting in the high price-to-sales ratio. All this says that the share price is supposed to go down in the coming few weeks.
And whether Mayer can lead Yahoo to progress, that is still a controversial question to be solved in the coming few quarters. It is too soon to answer that question.
Disclosure: I have no positions in any stocks mentioned, and no plans to initiate any positions within the next 72 hours. I wrote this article myself, and it expresses my own opinions. I am not receiving compensation for it (other than from Seeking Alpha). I have no business relationship with any company whose stock is mentioned in this article.