So far in calendar year 2013, stock markets have been very strong. One very strong sector in particular has been the utility sector. Utilities have long been considered a low risk dividend paying sector. However, because of the regulated nature of most utility stocks, they are also a very low growth sector. Consequently, I feel their attractiveness and investment merit lies more with their dividends than it does for their profit potential.
Therefore, I also strongly believe that because of their low growth, investors must take great care that they do not overpay when investing in this sector. My feelings are based on the fact that because of their low growth characteristics, even modest overvaluation can greatly impact future returns. In my way of thinking, utilities make sense when they are cheap, i.e. undervalued. On the other hand, even slight overvaluation greatly expands the risk of investing in them, while simultaneously lowering their potential total return. The following illustrates the strong performance that utilities have generated so far this year.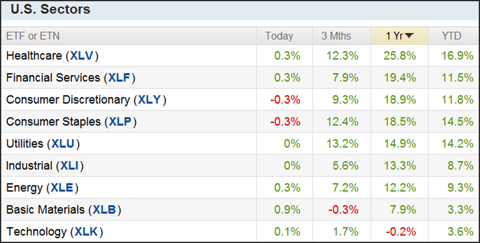 "Market Currents" reported on Seeking Alpha on Thursday, April 18, 2:59 PM ET reported that Credit Suisse felt that regulated utilities represented a low-risk high single-digit annual return even considering today's historically high valuations. The full "Market Currents" is repeated below:
"Thursday, April 18, 2:59 PM ET

Even with less valuation upside, Credit Suisse still thinks the basic investment thesis for regulated utilities holds up: 4%-5% EPS growth, 4% dividend yields, and 0.5x-0.7x beta create a high-single-digit annual return in a low-risk package. The firm's top six picks: Dominion (NYSE:D), CMS Energy (NYSE:CMS), American Electric Power (NYSE:AEP), Duke Energy (NYSE:DUK), DTE Energy (NYSE:DTE), Edison (NYSE:EIX). "
Jack Hough, a senior editor at Barron's, wrote an article called 'Why Utilities Beat Bonds for Income' that expanded on the Market Currents reported above. The following key excerpts state his and Credit Suisse's case for utilities today. Although I think they make good points, I will soon illustrate that there is no historical precedent for the sustainability of their assumptions.
"During the same stretch, however, utility stocks have also traded at prices that left their dividend yields an average of 25% below what investors could get on triple-B corporate bonds-ones issued by companies with good but not great credit ratings. Now, utilities offer close to 4% dividend yields, while a Barclays Capital index of triple-B bonds yields just 3.1%.

In other words, ultra low interest rates have left savers so few good choices that although utilities don't look cheap compared with stocks, they're a lot more attractive than bonds. Sure, the rates many charge are regulated by states, and the group typically produces yearly earnings growth of just 4% to 5%. But it also tends to be only half to three-quarters as volatile as the broad stock market. That's a welcome attribute on days like Wednesday, when the Dow Jones Industrial Average lost 138 points, or 0.9%, while the Dow Jones Utility Average lost 0.6%.

There's even a chance utility valuations could move higher. Dan Eggers at Credit Suisse has argued since December 2011 that 17 is the new 12.5--a reference to utility price-to-earnings ratios. In a Wednesday note to investors he wrote that 18 to 19 looks justifiable today. Japan's decades of ultralow interest rates saw its utilities eventually rise in price to the point where yields were just 0.5 to 1.5 percentage points higher than 10-year Japanese bonds. U.S. utility yields remain 2.1 percentage points higher than the 10-year Treasury yield."
Credit Suisse Utility Picks - Fundamentally Speaking
On the basis that a picture is worth 1000 words, the following is a graphical representation of the Credit Suisse top six picks through the lens of F.A.S.T. Graphs™, the fundamentals analyzer software tool. There are three graphs presented on each selection. The first two both look at the each company's historical record since 1999. The third graphic represents an estimate of the future potential of each company based on consensus analyst earnings estimates. I will provide a brief explanation of how to interpret each graph on the first company, and then spare the reader from repeating it on each subsequent example.
This first graph depicts earnings (the orange line) correlated with stock price (the black line), where the orange line represents fair value. An analysis of the orange line will allow the reader to possess a clear perspective of the company's operating history. The light blue shaded area represents dividends paid to shareholders. The pink line plots each year's dividend, revealing the consistency of the company's dividend record, and showing the company's payout ratio (everything below the pink lines represents the earnings that have been paid out). The dark blue line represents a trimmed average expressing the company's historical normal P/E ratio that the market has historically applied to its shares (specific information is found in the Fast Facts boxes to the right of each graph).
Dominion Resources Inc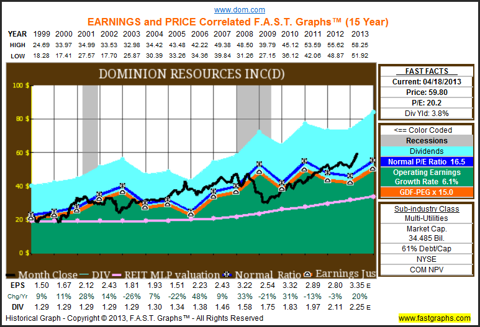 This second graphic provides the performance results associated with the earnings and price correlated graph above. The Total Annualized ROR plus Dividends Paid (not reinvested) is provided as the last line on the table. However, for a clear perspective of where returns have come from, total dividends paid and capital appreciation (Annualized ROR (w/o Div) are reported separately.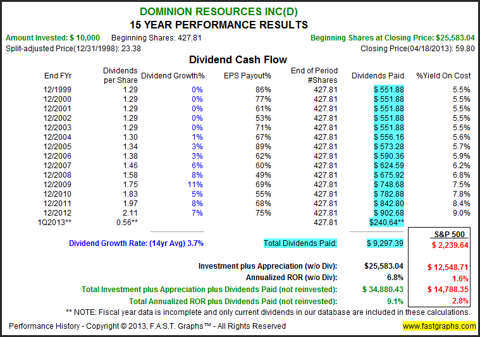 The final estimated earnings and return calculator, or forecasting graph, calculates each company's five-year estimated total return including dividends (expressed at the top right of each graph in orange ink), based on the consensus of leading analysts reporting on each company. Considering that these are estimates, the reader should compare each company's estimated future growth rate against what it has achieved historically in order to determine a perspective of feasibility. Moreover, the calculated five-year estimated total return should be thought of in the context of the Credit Suisse expectations reported above.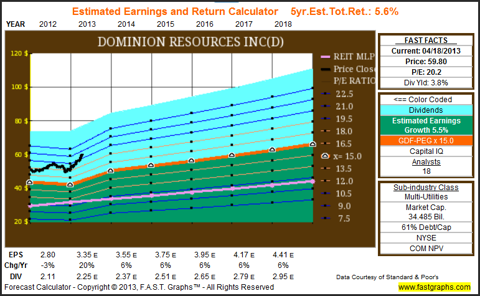 CMS Energy Corp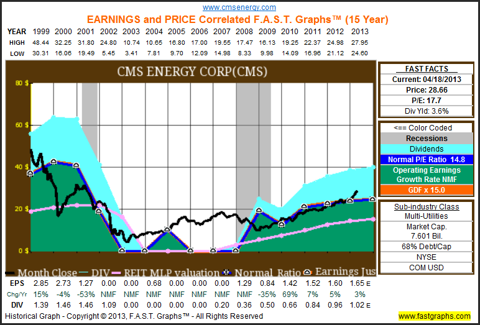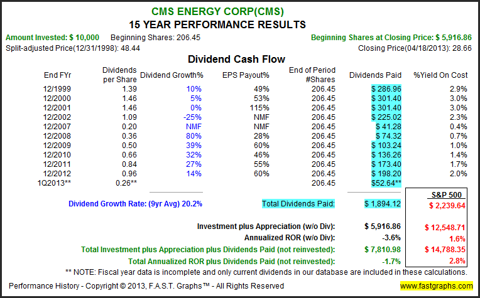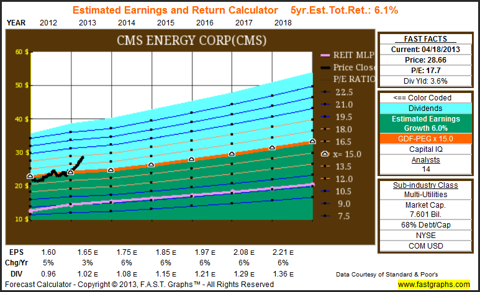 American Electric Power Co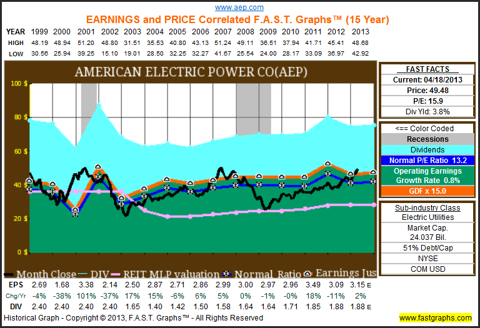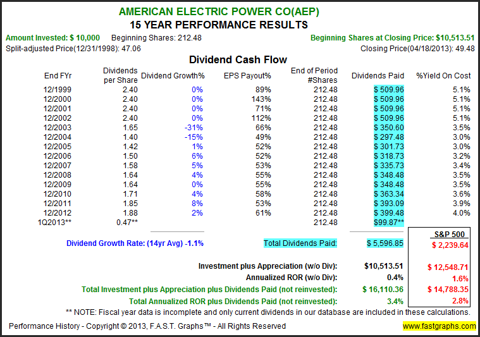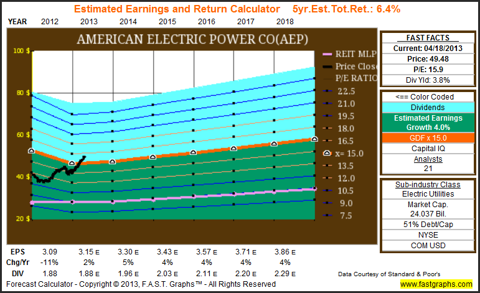 Duke Energy Corp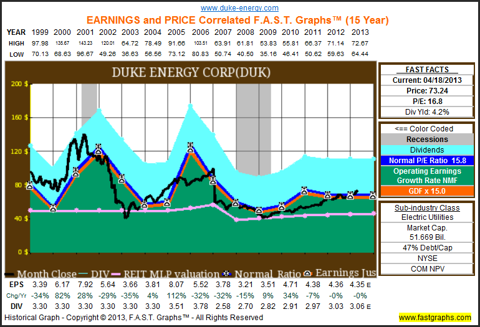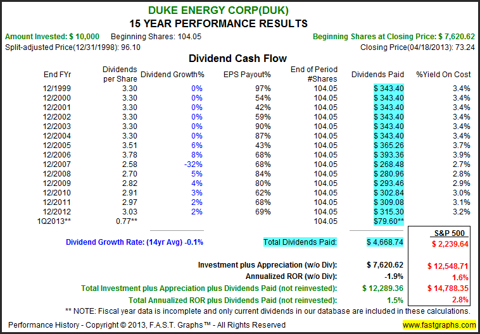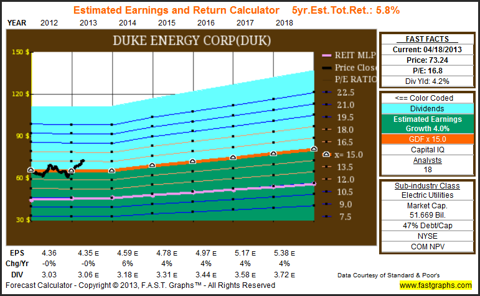 DTE Energy Co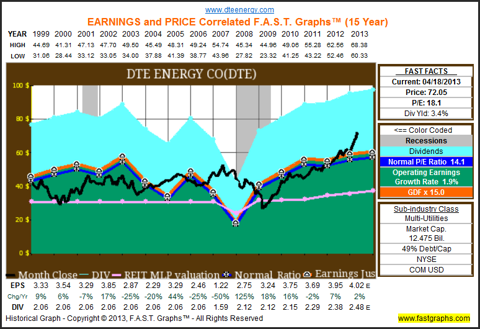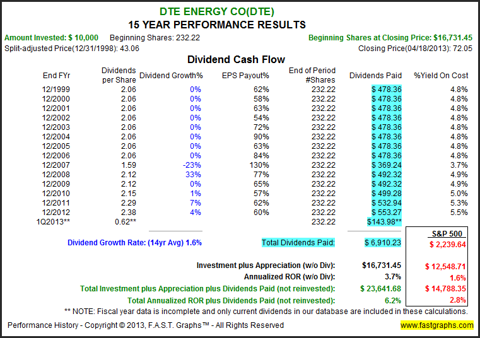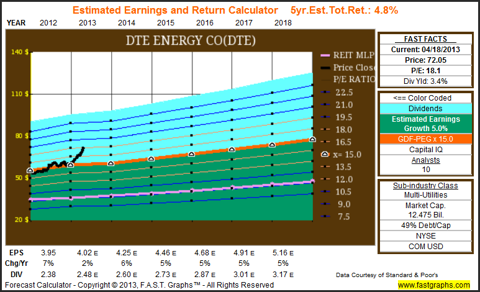 Edison International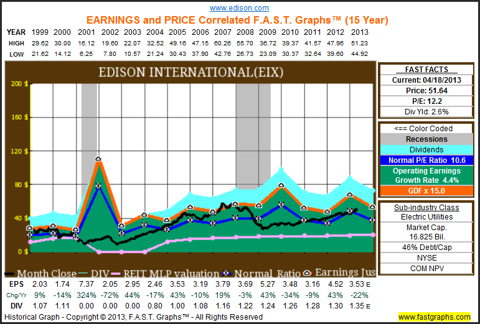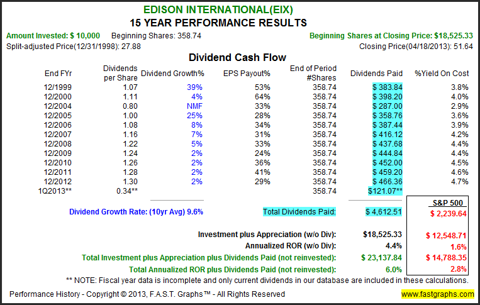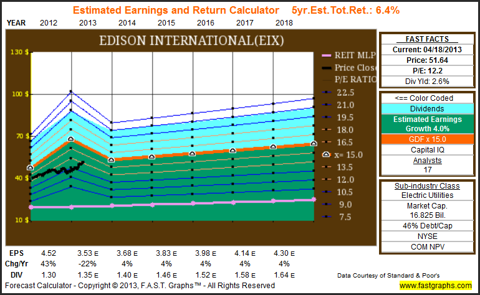 Summary and Conclusions
The above fundamental review of the six top utility picks of Credit Suisse expose many interesting characteristics of the utility sector. In the general sense, the performance results illustrate that dividends are an important, and in many cases, dominant, generator of total return. Moreover, only three of the six examples (D, DTE, EIX) outperformed the S&P 500 since 1999. This is in spite of the fact that five of the six examples are moderately overvalued, and that 1999 represented a time in history where the S&P 500 was fighting the headwinds of extreme overvaluation.
On the other hand, I feel that it's a logical conclusion that the utility sector's typically above-market dividend yield provides a strong mitigation of risk, if not a margin of safety. Yet again, a close examination of each company's historical price performance reveals more price volatility than the low betas associated with this sector would lead you to believe.
Finally, at the end of the day, it's up to each prospective investor to determine whether or not they agree with the opinions of Credit Suisse regarding investing the six top utility picks. My objective with this presentation was to present facts to go along with the Credit Suisse opinion. Therefore, armed with the specific facts associated with each respective utility stock, a more learned decision can hopefully be made.
Disclosure: I have no positions in any stocks mentioned, and no plans to initiate any positions within the next 72 hours. I wrote this article myself, and it expresses my own opinions. I am not receiving compensation for it (other than from Seeking Alpha). I have no business relationship with any company whose stock is mentioned in this article.
Disclaimer: The opinions in this document are for informational and educational purposes only and should not be construed as a recommendation to buy or sell the stocks mentioned or to solicit transactions or clients. Past performance of the companies discussed may not continue and the companies may not achieve the earnings growth as predicted. The information in this document is believed to be accurate, but under no circumstances should a person act upon the information contained within. We do not recommend that anyone act upon any investment information without first consulting an investment advisor as to the suitability of such investments for his specific situation.