Q1 2013 was a challenging quarter for Philip Morris International (NYSE:PM) due to lower cigarette volumes and unfavorable currency trends. The market did not respond kindly, and Philip Morris subsequently lost about 3.5% after reporting earnings. During the quarter, Philip Morris continued its aggressive stock repurchase program, buying back $1.5B, or 16.7M shares. Philip Morris currently offers a $0.85 quarterly dividend. At current prices, the stock yields about 3.7%.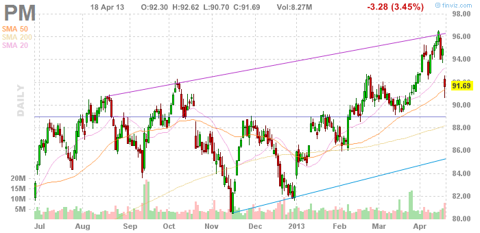 On April 18, Philip Morris reported its Q1 2013 results. Revenue for Philip Morris came in at $7.6B, a 2.8% increase from the $18.0B in revenue for Q1 2013. Adjusted OCI margin decreased 1.1%, to 45.8%, from 46.9%. Adjusted earnings per share, or EPS, increased 3.2% to $1.29, versus $1.25 in Q1 2012. During the quarter, Philip Morris experienced an unfavorable currency impact of $0.07 per share. Excluding currency, Philip Morris would have seen its adjusted EPS increase 8.8%.
Total Operating income was down 0.4%. Leading the decline was the European Union segment, which saw its operating income drop 8.9% to $938M. The Asia segment saw its operating income decline 4.6%. Philip Morris saw operating income growth in both the Eastern Europe, Middle East & Africa and Latin America & Canada segments, with increases of 15.4% and 7.2% respectively. Excluding the impact of currency, total operating income would have seen a 3.1% increase.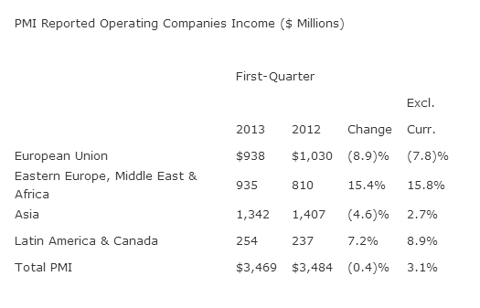 During the quarter, Philip Morris' cigarette volume was 204.9 billion units, down 6.5%, versus Q1 2012. Cigarette volume was impacted by the January 2013 excise tax increase in the Philippines, which reduced volumes in that country by 10.0 billion units or 42.5%. Excluding the Philippines, Philip Morris cigarette volume was down by 2.1%.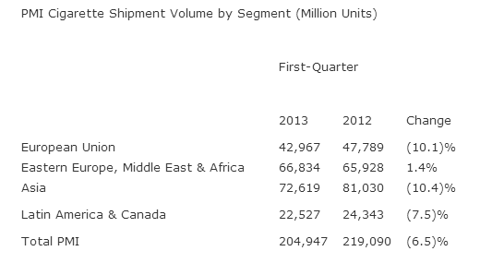 One of the bright spots for Philip Morris would have to be its share repurchase program. Philip Morris spent $1.5B to repurchase 16.7M shares during the quarter. The lower share count increased the Q1 2013 EPS by about $0.05.Since implementing its current three-year buyback program, Philip Morris has repurchased $4.35B, or 48.9M shares. Since its 2008 spin-off, Philip Morris has repurchased 24% of its shares outstanding, or 505.7M shares, for an aggregate total of $29.4B.
Along with its share repurchase program, Philip Morris has also shown strong dividend growth. Since its spin-off, Philip Morris has increased its dividend every year, by an average of 13%. The current annual dividend of $3.40 per share is over 84% higher from the initial $1.84 dividend paid in 2008.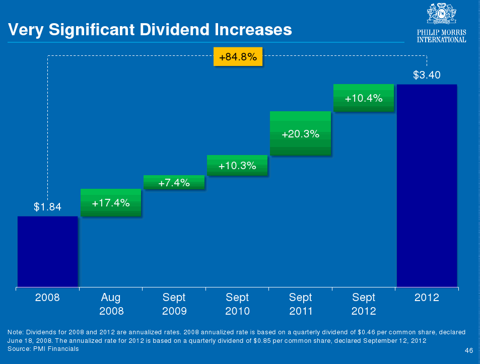 Due to the impact of currency, Philip Morris revised its 2013 FY outlook. Philip Morris lowered its FY 2013 EPS guidance to $5.55 - $5.65, down from the previously guided $5.68 - $5.78. The company now anticipates an unfavorable currency impact of about $0.19 per share rather than the $0.06 cents in the previous guidance. Even with the lower guidance, this would still lead to about a 10% - 12% increase in EPS, when compared with the $5.22 of EPS in FY 2012.
Conclusion
If Philip Morris were not buying back stock, Q1 2013 would have been much worse than it was. The weaker euro was also a major factor in the disappointing Q1 results. However, the revised EPS outlook still points towards EPS growth of over 10%. In my opinion, Philip Morris remains the 'go to' tobacco stock due to its massive share buybacks and large dividend increases. However, it does carry higher risks than its pure-play domestic tobacco rivals, as was seen by the Philippines volumes drop. At current prices, Philip Morris remains fairly valued.
Disclaimer: The opinions in this article are for informational purposes only and should not be construed as a recommendation to buy or sell the stocks mentioned. Please do your own due diligence before making any investment decision.
Disclosure: I am long PM. I wrote this article myself, and it expresses my own opinions. I am not receiving compensation for it (other than from Seeking Alpha). I have no business relationship with any company whose stock is mentioned in this article.