Verizon Communications Inc. (NYSE:VZ), with a market cap of $149.49B, provides communications, information and entertainment products and services. Verizon operates in two main segments, including Wireline and Verizon Wireless. While Verizon owns the majority share of Verizon Wireless, Vodafone Group (NASDAQ:VOD) owns 45% stake in Verizon Wireless, which is the largest wireless communications services provider in the United States. On April 18, 2013, VZ reported Q1 earnings with strong profit but light revenue.
Strong Results from Wireless
For Q1, 2013, VZ' EPS increased 15% to 68 cents per share as compared to the year-earlier period, beating analysts' expectation of 66 cents per share. However, revenue of $29.42B was below analysts' estimates of $29.55B. The highlight focuses on Verizon Wireless, which added 677,000 "postpaid" customers with service contracts, and the wireless revenue increased 6.8% to $19.5B. VZ also activated 4 million iPhones in the quarter, where the total smartphone activations were 7.2 million for the period. The earnings call transcript for Q1, 2013 result can be accessed here at Seeking Alpha.
Margins
The management does not expect much EBITDA wireline service margin expansion in 2013, but is positioned to improve the margin in 2014. For the wireless end, wireless margin has a target of 49-50 percent. Verizon Wireless was helped by lower costs and the popularity of its data share plans. On the down side, the management noted the cautious behavior from enterprise customers.
Potential Wireless Deals
For the Verizon Wireless deal, the management is extremely confident that the purchase of VOD's stake could potentially be done without major tax implications. Verizon Chief Financial Officer Fran Shammo said,
"We actually are confident that in such a transaction we've a structure that could be created in a very tax efficient manner."
On the other hand, VZ is putting in a bid to Clearwire (CLWR) for some of its wireless airwaves with undisclosed amount. As reported by Reuters,
"If Verizon did not succeed in buying the spectrum, [the company] would not be in the market for leasing airwaves from Clearwire, which is majority owned by No. 3 U.S. mobile provider Sprint Nextel Corp. (NYSE:S)."
Analysts' Calls and Estimates
On April 19, 2013, Jefferies reiterated a buy rating for VZ and increased the price target on VZ from $52 to $56 following Q1 results with record wireless margin leading to an EPS beat. Analyst Thomas Seitz said,
"We believe Verizon continues to take market share in the postpaid segment while cost management initiatives and low upgrade rate drive record wireless EBITDA margins. Share buy backs and improving wireline margins through pick up in enterprise business and accelerated copper to fiber migration could add further to our forecasted multi-year double digit EPS growth."
Analysts currently have a mean target price of $50.16, which is lower than the closing price of $52.25 on April 19, 2013. For 2013, analysts are projecting an EPS of $2.76 with revenue of $120.73B, which is 4.20% higher than 2012. For 2014, analysts are predicting an EPS of $3.16 with revenue of $125.13B, which is 3.6% higher than 2013.
Competitions
AT&T (NYSE:T) is expected to report Q1 result on April 23, 2013 and Sprint Nextel will release its Q1 earnings on April 24, 2013. Analysts, on average, are estimating an EPS of $0.64 with revenue of $31.74B for the current quarter for T. For Sprint, analysts are expecting an EPS of -$0.32 with revenue of $8.71Bfor the current quarter.
Fundamentally, Verizon's key stats will be compared to AT&T and Sprint, as well as the industry average, to see where it stands.
| | | | | |
| --- | --- | --- | --- | --- |
| | Verizon Communications | AT&T | Sprint Nextel | Industry Average |
| Cap Size | $149.49B | $210.22B | $21.59B | N/A |
| Revenue Growth (3 Year Average) | 2.4 | 1.3 | 3.1 | -2.7 |
| Operating Margin, %, ttm | 11.4% | 10.2% | -5.2% | 11.7% |
| Net Margin, %, ttm | 0.8% | 5.7% | -12.2% | 3.5% |
| ROE | 2.5 | 7.3 | -46.7 | 5.3 |
| Debt/Equity | 1.4 | 0.7 | 3.4 | 0.8 |
| P/E | 163.9 | 30.2 | -5.0 | 40.8 |
| Forward P/E | 16.9 | 14.2 | -52.9 | 14.3 (S&P 500's average) |
| Dividend Yield | 3.94 | 4.70 | N/A | N/A |
Source: Morningstar
Comparing to AT&T, VZ has higher revenue growth (3 year average) and higher operating margin, where its higher valuation is justified. AT&T continues to a higher dividend yield supported with the most solid balance sheet. Sprint, on the other hand, may be the best turnaround story for 2013 with its recent Softbank and Dish buyout offers.
Technically, VZ is on a long-term uptrend since August, 2012 and has recently broken through its long-term uptrend resistance after the Q1 report.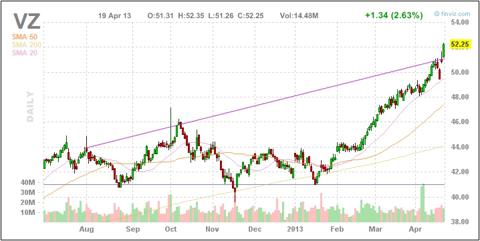 Source: Finviz.com
Bottom Line
VZ continues to be a solid holding with stable cash flow. The wireless end will continue to be the growth driver and acquiring the remaining stake in Verizon Wireless is a sounding move for the long-term, though short-term tax implication remains as a concern for analysts. Investors can also review the following ETFs to gain exposure to VZ:
Telecom ETF (NYSEARCA:VOX), 22.58% weighting
S&P Global Telecommunications Index Fund (NYSEARCA:IXP), 10.64% weighting
Dow Jones U.S. Telecommunications Index Fund (NYSEARCA:IYZ), 8.91% weighting
Disclaimer: Investors and traders are recommended to do their own due diligence and research before making any trading/investing decisions.
Disclosure: I have no positions in any stocks mentioned, but may initiate a long position in S, VOD over the next 72 hours. I wrote this article myself, and it expresses my own opinions. I am not receiving compensation for it (other than from Seeking Alpha). I have no business relationship with any company whose stock is mentioned in this article.