With the market racing upwards during the past months it gets harder and harder to find a decent low-risk investment. However there are still some opportunities out there and AT&T (NYSE:T) is one of them.
AT&T is leader in the mature telecommunications market and has many good traits that make it an attractive investment:
1) It is a growing business in a still growing market.
The following excerpts are from the company's Q4 2012 earnings call transcript:
John Stephens - CFO

One of the highlights of the quarter was our strong postpaid growth where we had our largest gains in 3 years, details are on slide 9. We added almost 800,000 postpaid subscribers in the quarter with strong gains in smartphones, tablets and mobile premise solutions. Overall we added 1.1 million new subscribers with additional gains in connected devices and reseller.

And while overall broadband subscribers remained steady in the quarter, total broadband ARPU was up more than 10% year-over-year. U-verse is now a $10 billion annualized revenue stream growing at 38% for the full year.
AT&T keeps adding wireless subscribers and the conversion of its user base from legacy broadband to its high-speed broadband is well underway, increasing its average revenue per line.
With the wireless market expanding, driven by the ever-increasing data consumption smartphones, AT&T has many years of growth ahead before its market becomes a zero-sum game between providers.
2) Massive fixed costs prevent new entrants and creates a profitable oligopoly.
However, even if the overall telecommunications market stops growing the odds are that AT&T and its competitors will be just fine. The reason is that it is almost impossible for someone to enter successfully in the market and challenge the status quo. This is because of the necessary infrastructure and licenses that a telephone company needs to operate.
Furthermore in oligopolies such as this, market participants usually have enough common sense to avoid full-blown price wars because this makes everybody happy. The companies enjoy lucrative profit margins, a stable market share and massive cash flows that they use to keep shareholders happy.
3) Massive cash flow generation
AT&T is what we call "a cash-cow". Its average free cash flow over the past five years has been $2.69 per share, 40% higher that its EPS. Furthermore management has been more than happy to return some of it to shareholders. Its 5-year average payout ratio (dividend/free cash flow) is 63%.
4) Dividend and valuation
In AT&T's case, free cash flow is all that really matters. This is because increasing cash flow means an increasing dividend and an increasing dividend leads to better returns for investors. Also keep in mind that AT&T has been increasing its dividend for more than 20 consecutive years.
Right now, AT&T is trading at just 11 times its free cash flow, below its long-term average which is around 14. This fact and its safe 4.7% dividend are more than enough reasons for rational investors to consider acquiring a position in this stock.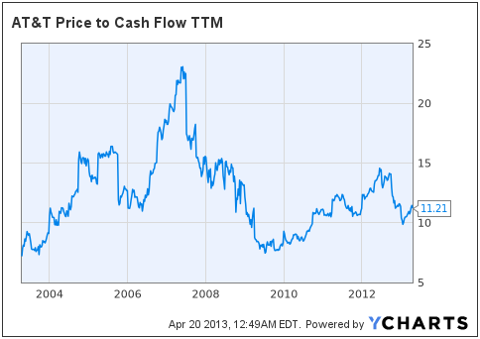 Conclusion and tactics
However, give the recent run I wouldn't put all my chips in at current price levels. I would buy 25% to 30% of my intended position here and I would add 25% to 30% for every 5% to 10% drop. The goal is to have an average cost 10% or more below the current market level. That way I would build a long-term position in the stock enjoying the benefits of its increasing cash flow and dividend.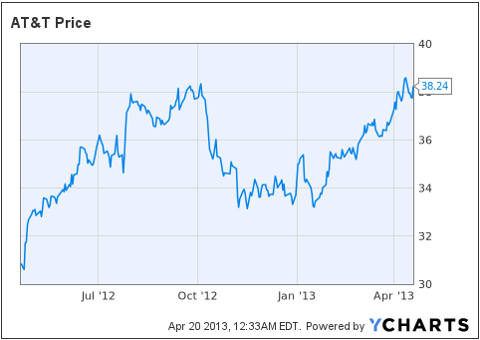 Disclosure: I have no positions in any stocks mentioned, and no plans to initiate any positions within the next 72 hours. I wrote this article myself, and it expresses my own opinions. I am not receiving compensation for it (other than from Seeking Alpha). I have no business relationship with any company whose stock is mentioned in this article.