Gold's recent fall despite all contradictory demand/supply indicators has prompted the gold council to issue the following statement:
It has become increasingly clear over the course of the past week that the fall in the gold price was triggered by speculative traders operating in the futures markets. Their short-term view of generating a trading profit is in stark contrast to the views of long term investors in gold, as evidenced by the massive wave of physical gold buying that began over the weekend and accelerated following Monday's further decline. The surge in gold purchases is spanning markets from India and China to the US, Japan and Europe. Buyers are viewing this as an opportunity to purchase gold at prices not seen in the past couple of years.

The World Gold Council is uniquely positioned in the gold market to get immediate feedback on market patterns. We are already seeing shortages for bars and coins in Dubai, while premiums in Mumbai are at $26/oz and $6 in Shanghai, indicating that buyers are willing to pay more than current spot prices for the metal.

Clearly the desire to own gold, as an investment and for adornment, has made itself felt in the physical market. Gold operates on the basic economic fundamentals of demand and supply. Our view is that demand is strong while supply remains constrained, and that this dynamic ultimately drives the long-term price of the metal.
From GoldPrice.org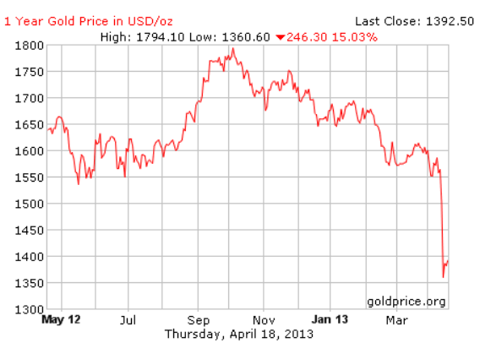 Other evidence of unprecedented demand
US Mint has already sold 153,000 American Eagle Gold Coins in April, this is approaching 3X's the amount sold in March.
Demand for jewelry in China and India has soared this month.
Central banks around the world have upped their purchases to 27-metric tons a month with Russia and South Korea emerging as the biggest buyers.

.so

far.
3 ways to play this
1) Do nothing because you either already have gold or are not buying any of this nonsense. Besides, gold as a store of value or hedge against inflation is a thing of the past. All an investment in Gold will get you is a non-profitable piece of shiny metal.
2) Sell all of your gold before it goes down any further. If Goldman Sachs says gold will reach $1270 by the end of 2014, you better get out while you can.
3) Buy gold!
This can be done by buying physical gold, jewelry, ETFs and Gold Miners.
Of these options, I believe gold miners are up for the most dramatic correction because of the fall they took even before the most recent sell-off.
My favorite miners
1. Barrick Gold Corporation (NYSE:ABX): With a market cap of $18 billion, Barrick trades for $18.16 per share, 57% below its 52 week high of $42.67. Barrick has a dividend yield of 4.45% and has a price target of $41.75.
2. NovaGold Resources (NYSEMKT:NG): This miner owns rights to one of the largest and safest reserves in the world, the Donlin Gold deposit in Alaska. NovaGold is yet to start mining at Donlin and is approximately four years away (permitting process) but, investors here are protected by the $539.97 million in equity NovaGold carries on its balance sheet (market cap of $750 million and most of which is in cash).
My favorite ETF
1. SPDR Gold Shares (NYSEARCA:GLD): down 22% from its 52 week high of 174.07. Current price of $135.43.
Bottom Line
These are highly volatile times and holding gold or investing in any of the companies above will surely test investors in the short-term. All of the macro economic factors are there but only time will tell which of the three options above prevail.
Anyone looking to make a play based on this article is encouraged to do more research, hopefully here on SeekingAlpha.com. Profit Fan is not a registered investment advisor and does not provide specific investment advice. This article is for informational purposes only.
Disclosure: I have no positions in any stocks mentioned, but may initiate a long position in NG over the next 72 hours. I wrote this article myself, and it expresses my own opinions. I am not receiving compensation for it (other than from Seeking Alpha). I have no business relationship with any company whose stock is mentioned in this article.
Additional disclosure: I also own Long Calls for shares of Barrick Gold