The immunotherapy method for treating cancer received a huge boost in 2010 after the FDA approved Dendreon's (NASDAQ:DNDN) Provenge® for the treatment of prostate cancer. Since then, biotech companies have worked feverishly to improve upon and develop their own blockbuster-potential immunotherapy products for the treatment of various cancers. With many types of mechanisms utilized, an immunotherapy approach to treating cancer or any other disease works on the same premise: help the body fight off disease on its own, whether through a modified immune system, through an immune boost, or by "teaching" the body that the cancer is foreign and to attack it accordingly. However, there are times when an immune response can go awry, giving way to a host of autoimmune diseases, cytokine storms and inflammations. With autoimmune disorders such as diabetes, lupus and rheumatoid arthritis being common and the targets of billions of dollars in government and private sector research, many investors choose to invest their funds in pharmaceutical companies at various stages of development in hopes of capitalizing on share price increases due to promising clinical data and regulatory approvals. While a great many investors are perusing through potential investment candidates in this sector of pharmaceuticals, I believe there is an unknown company that is rapidly growing, transforming and just beginning to garner investor attention in an associated but different indication. InVivo Therapeutics Holdings Corp. (NASDAQ:NVIV) is a $206 million market capitalization pharmaceutical with a unique approach to helping repair spinal cord injuries (SCI), usually occurring as a result of a traumatic acute event. Its approach, to prevent the body's own immune system from causing harm to damaged spinal cords as a result of traumatic injuries. I wish to delve more deeply into InVivo's promising technology, its management team and other significant factors that could help drive the company's share price to new highs in 2013 and beyond. The company is going through a transition this year that could not only benefit shareholders for the short and longer term, but also potentially help fill huge areas of need in the clinical setting.
Who's making the company's decisions?
Regardless of the hope a technology offers to the healthcare sector and its patients, competent persons are needed to make wise decisions along many fronts in order to maximize the chance of success and expedite the clinical process. Decisions must be made as to clinical trial design, targeted patients, funding and data analysis. If these decisions are not properly made, clinical failures, overly expensive trials, regulatory rejection and investor mistrust can all adversely affect share price. At the helm of InVivo is Frank Reynolds, current CEO, CFO, and co-founder and Chairman of the Board. He is co-inventor on 28 of InVivo's over 100 patents. He was the 2010 recipient of the Irish Life Science 50 Award by the President of Ireland and was featured in the March 2010 and October 2009 issues of Inc. magazine. Mr. Reynolds was also the former director of global business development at the now $85.70 billion market capitalization Siemens Corporation (SI) where he had global responsibility for business development. Despite his work experiences, accolades and education, I believe his life experiences are giving him the drive to push harder and keep the company's progress growing at a fast pace in the last few months. In December of 1992, Mr. Reynolds suffered a paralyzing injury after a traumatic accident. Although only a temporary paralysis, the injury motivated him to educate himself on injuries of the spine and spinal cord. While one must be equipped with the tools necessary to perform any task, effort and motivation is required to accomplish a job. Frank Reynolds seems to have much motivation, and appears to be using his life experiences and technical aptitude to help InVivo forge ahead with its promising platform.
Mr. Reynolds' team is comprised of InVivo's Chief Medical Officer, Dr. Eric J. Woodard, the past chairman of the AO Spine North America Board who also currently serves on the board of AO Spine International. A true expert in the field, Dr. Woodard has been an editorial board member for The Journal of Spinal Disorders, Spine Universe.com and is an ad hoc reviewer for the technical publications Neurosurgery, Journal of Neurosurgery and the New England Journal of Medicine. Brian Hess is the chief technology officer and former Stryker (SYK) biomaterials product development specialist where he led multiple product development teams through the FDA's regulatory process. He is described as being instrumental in developing HydroSet™, an injectable calcium phosphate based bone substitute, from concept to product launch, invaluable experience as he helps to lead InVivo forward. The company's leadership acclaims go on and on with such members listed as Sir Richard Roberts, 1993 Nobel Prize winner in Medicine and Physiology; Robert Langer, a member of the FDA's SCIENCE Board, the FDA's highest advisory board, from 1995-2002 and its chairman from 1999-2002; Dr. Jonathan Slotkin, recipient of the Apfelbaum Award for Research by the American Association of Neurological Surgeons and has expertise in the application of nanotechnology research to clinical neurosurgery and neurology; Dr. V. Reggie Edgerton is currently on the scientific advising board of the American Paralysis Association, has been the director of UCLA's Edgerton Lab since 1968 and is a professor in the Department of Physiological Sciences. These descriptions have only scraped the surface for these and other members of InVivo's management team, board of directors, and scientific advisory board. I recommend a quick scan through these biographies in order to get a better feel of the quality of leadership and technical expertise making decisions for the company.
Impressive Platform with Promising Concept
InVivo's hope for SCI patients comes in three forms: a biocompatible polymer scaffolding device, a biocompatible hydrogel used to release the steroid methylprednisolone, and a biocompatible polymer scaffolding device seeded with autologous human neural stem cells (hNSCs) to treat acute and chronic SCI. The company's website has links to multiple journals and studies pertaining to its early-stage successes in its platform. Much recent excitement in the last couple of years is due to its biocompatible polymer scaffolding device. Co-invented by the company's scientific advisory board member, Bob Langer, ScD, the David H. Koch Professor at MIT, and Joseph P. Vacanti, MD, affiliated with Massachusetts General Hospital; InVivo has the worldwide license to the device from Children's Medical Center Corporation and MIT.
InVivo's scaffolding device design concept is fairly simple, although the physiological mechanisms at work are not. The device is actually a type of plug, inserted into partially severed spinal cords (the lesions) in injured patients after their spines have been stabilized with pedicle screws. The purpose of the scaffold is multi-fold. First, the scaffold works as a type of barrier against the body's natural immune response. As noted in the opening paragraph, there are indeed times in which an immune response either goes awry with an overreaction or is simply not needed as a response to a particular stimulus. InVivo's biocompatible polymer scaffolding device serves to actually act as a barrier to prevent cytokines and other inflammatory responses from coming into contact with the injured spinal cord, often damaging/killing the cells with an immune over-reaction, often termed "secondary injuries". The device also serves as a bandage and helps to slow bleeding from the compromised spinal cord, keeping the life giving blood in the cord where it can supply nutrients to the exposed and damaged cells so regeneration can begin. Although the device is not particularly porous on the outside of the cord, longitudinally it has channels of pores that enable blood transmission and serves as a foundation by which new neurons and neurites form and create new cord tissue. Each of these mechanisms hopes to heal via prevention of additional cord neurons from dying and attempts to prevent scar tissue from forming via astrogliosis. The scar tissue is formed rapidly as a result of rapidly-multiplying astrocytes, cells whose sole function is simply to maintain the nervous system's integrity via physical barriers/patches (the scar tissue). However, this scar tissue does not serve to function as neuron cells do for electrical impulse transmission, thus the original cellular functions are lost, resulting in partial or total paralysis from that point down, depending on severity of the lesion.
Investor interest should continue to grow throughout 2013 as a result of InVivo's biocompatible polymer scaffolding device. Although the "naked" version appears to have some solid science behind it with some proven success, InVivo has taken the device one step farther. It has developed the next generation version which incorporates hNSCs. These hNSCs should help to expedite the time to healing by helping to "seed" the scaffold's interior with the stem cells, giving it a head start on the regeneration process. The quicker the healing/regeneration, the less bleeding, inflammation and scar tissue should occur, at least in theory.
Pre-clinical Proof of Concept Garners Attention
Although the device on its own showed signs of efficacy, the ones seeded with hNSCs have been garnering attention due to three preclinical trials in which primates were surgically paralyzed and then treated in order to track recovery progression. A condensed version of the three trials' data can be found on the company's newly-updated investor presentation. In the first trial in 2008, four African green monkeys (AGMs) had about half of the diameter of their spinal cords removed (clinical term is a hemisection) from a portion of their spine (specifically between T9 and T10, mid to lower back) in order to simulate a traumatic SCI. The Scaffolding device embedded with hNSCs was inserted into the section of the spinal cord that had been surgically removed in two of the AGMs, one without the hNSCs was embedded in the third, while the control AGM received no treatment. After gaining consciousness, the primates each exhibited similar symptoms: paralysis in their left legs, numbness and loss of sensory in their right, while still maintaining bladder and bowel control due to the location of the cord tissue removal. The AGMs were evaluated for 6 weeks after the traumatic injuries were induced. Results were promising and are in the chart below. Values termed "Score" are rated on a scale from 0-20 in terms of neuromotor abilities with "0" meaning no voluntary movement, "5" being slight weight bearing with occasional plantar stepping, "8" being consistent plantar stepping and partial weight supported steps with occasional FL-HL (front limb-hind limb) coordination and "20" being normal function. Remember, the left legs were originally completely paralyzed while the right ones had loss of sensory (partial function loss).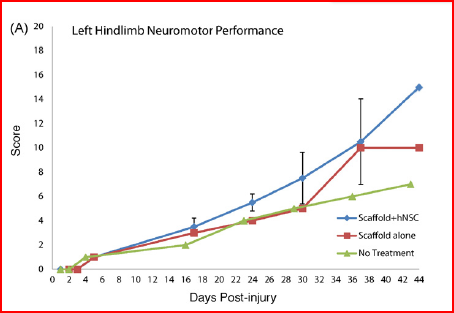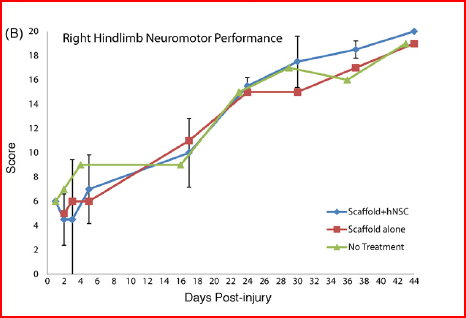 Important to note in the above results: The most dramatic responses were seen in the scaffolds utilizing the embedded hNSCs. In the left limbs which were initially completely paralyzed, 6 week results were "15" indicating occasional foot drop and/or drag, stand up HL with full weight support, phenomenal response for a once paralyzed limb due to traumatic SCI. Even the scaffold on its own (important due to the medical device designation and subsequent Humanitarian Use Device designation it achieved on April 4th 2013) indicated highly therapeutic properties with that AGM scoring a "10" indicating occasional partial weight supported steps, frequent foot drop and/or drag, run with partial weight support. Meanwhile, the AGM receiving no treatment scored a "6" at 6 weeks, indicating frequent plantar stepping, occasional weight bearing, and hops with partial weight support.
Since the 2008 primate study, InVivo has performed two additional primate trials -- in 2010 and 2011. Although with different trial designs, each trial has supported the original 2008 trial and was convincing enough that the FDA is allowing the first human trials to begin this year, as announced in an April 5th press release. According to the announcement, trial enrollment should begin shortly, with the trial lasting approximately 15 months and data to be submitted to the FDA by the end of 2014.
Keeping Investor Interest Strong
So, the biocompatible polymer scaffolding device concept has been validated in preclinicals and hope could be coming to the market in late 2014 or early 2015, but what will keep investors interested in the company with final data over a year away? Although partnerships are possible, and grants and awards to help fund the clinicals are likely, these possibilities can only be construed as conjecture. Meanwhile, the company does have a plan in place that it released to investors in its recently updated investor presentation. In it, the company lays out its plans for 2013 and 2014 with multiple catalysts listed. Although this timeframe is likely to change due to any number of reasons, it does indicate that the company is actively developing its platform with clear goals in sight. An additional catalyst not mentioned below "lies in wait", as I cannot find any journals profiling the 2010 or 2011 primate studies that apparently confirmed the 2008 study. If that data has not been released yet, it may be worth contacting the company with regard to that information with a possible timeline on release either via a company press release or a pertinent journal story.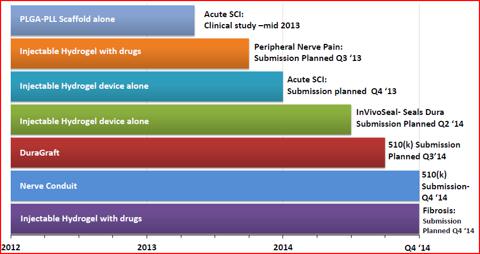 Financials
These are lofty goals for this development-stage company, but what is its current financial situation? As of December 31st, 2012, InVivo had $12.8 million in cash and equivalents with about $16.1 million in total assets. In 2012, its annual expenses totaled $12.8 million, with the number likely significantly increasing in 2013 as the company begins its first human clinicals. I do anticipate some type of offering in 2013, unless a lucrative partnership or grant is obtained. With that in mind, private placements or offering prices could certainly be affected by interim data. If funds are sufficient to initiate the clinicals, positive interim data from a couple of patients could garner better terms from investors willing to take a risk on the company's potential and their own returns on the initial investments.
My opinion
InVivo's highly-acclaimed management team, scientific advisory board and board of directors give me much hope in the company's future and its chances at developing a therapy to fill a significant void in the treatment for devastating spinal cord injuries. Frank Reynolds' own personal experience with the injury gives him unique insight into treating and evaluating patients, and likely motivates him to push even harder toward the company's goal of marketing the biocompatible polymer scaffolding device in early 2015. InVivo has an exciting platform with multiple strategies involving the scaffolding device, both with and without the hNSCs and via a biocompatible hydrogel for local controlled release of methylprednisolone to treat acute SCI. Although hydrogel is only mentioned in this article on the company's goals chart, I advise interested investors research it a bit more as the company, and partner Geisinger Health System, announced their collaboration on January of 2012 for the treatment of peripheral nerve injuries. Clinical updates from them should be forthcoming, and will likely have a positive effect on share price as I believe the scaffolding device is a huge part of InVivo's current $206 million market capitalization, while the hydrogel is still largely taking a backseat with regard to investor interest and market cap contribution.
While InVivo likely has a bright, catalyst-filled year ahead of it, investors should perform their own risk assessments before opening a position in this exciting company. This is a development phase company that is still dependent on external capital in one form or another to fund its operations. Although preclinical trials have been very promising, this is no guarantee of comparable success in upcoming human trials. I am cautiously optimistic on the upcoming human trial, but I do hope the company does diversify a bit as its goals chart indicates it will and advances the remainder of its pipeline in the event data is not positive in the biocompatible polymer scaffolding trials. While funding will be required in one form or another, positive results from the hydrogel collaboration or from the upcoming human SCI trials could have a significant effect on terms of the potential private placement, share price of the offering and likelihood of grants and awards. With a carefully chosen entry price, a close evaluation of the stock's technicals, careful scrutiny of its financials, consideration of clinical failure likelihood and risk assessment, I will open a long position in InVivo's common shares in the near future. I wish InVivo, investors and the healthcare sector that is in need of hope for these patients the best of luck in 2013 and beyond.
Disclosure: I have no positions in any stocks mentioned, but may initiate a long position in NVIV over the next 72 hours. I wrote this article myself, and it expresses my own opinions. I am not receiving compensation for it. I have no business relationship with any company whose stock is mentioned in this article.