Warren Buffett is apparently a huge fan of IBM (NYSE:IBM), with his firm Berkshire Hathaway (BRK.A, BRK.B) holding a cool 68 million shares. After the technology giant reported earnings, shares plummeted over 8%, pretty much wiping out all of the progress that it had made during 2013. With the share price now at a decent discount to its 52-week high, is it now time to get some long exposure to this giant?
EPS Guidance Still Unchanged
Despite a ~$1B miss on the top line this quarter, and a bottom line saved by a favorable tax rate, the company reaffirmed its full year EPS guidance of at least $16.70/share. This puts the shares of this name at an attractive valuation of 11.38x forward earnings - talk about the penalty box! This figure, should IBM hit it, means that earnings per share is set to see quite healthy growth from the $14.37 level seen during FY2012. This is the key to buying this dip: despite the pessimism, the company is still on-track to grow its earnings per share by 16%. Double digit EPS growth is hard to find among even the more richly valued names, let alone a safe, defensive name!
Buybacks Are A Good Thing
It's no secret that IBM is big on share buybacks - but this is a good thing! Despite protestations from investors that buybacks are meaningless, they are absolutely meaningful! See, a business is very rarely valued by enterprise value - if it were, then buybacks would really be meaningless. A business is instead based on the market's perception about its ability to grow FCF/share. If you have money in the bank sitting there doing nothing (Apple (NASDAQ:AAPL), anybody?), then does it really belong to the shareholders? No, of course not. If you own Apple, hit up headquarters and ask for your $137/share and see how much of that they'll give you - if they even let you in the building at all.
So buybacks are good. Not only are they quite literally buying shares back from investors who choose to sell them back to IBM (which is quite literally giving money to shareholders), but they are decreasing supply in a constant demand environment which further bolsters the share price. And now that investors are now willing to give up their shares at an 8% discount or so to the pre-earnings price, IBM can buy back shares and have more power to reduce the float than it did before.
But then you'll get someone saying, "EPS growth is driven by buybacks". So what? That's another great thing about buybacks - you get a bigger piece of the pie the longer you hold on! And IBM is great at reducing the share count indeed: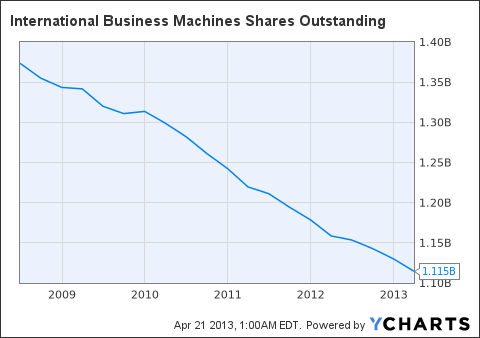 IBM Shares Outstanding data by YCharts
The Business Itself Will Be Fine
When you're trading volatile, pipsqueak small/mid cap stocks with sky-high valuations, then chinks in the proverbial business armor certainly have a longer term effect on the valuation. People buying these stocks were expecting trees to grow to the sky, and anything less than that leads to a substantial collapse. But when you are trading at less than 12x forward earnings, have one of the most widely recognized brands in the world, a sustainable and diversified business, all the while generating great cash flow, there's no need to get scared out of your shares. Sure, it might stink if you bought this at $215, but it'll come back.
Remember when McDonald's (NYSE:MCD) had some nasty same-store sales numbers a little while ago, and everyone predicted doom and gloom? Well, I was buying shares of that giant at $83 or so (regretfully I took profits on them) while the rest of the world wanted out, and I ended up making some good money. IBM is the same type of thing. Yeah, so they didn't close a few deals on time, they got hit by some unfavorable forex trends, and the economy is weak. Big deal. These are temporary headwinds that will sooner or later subside. This is the company that gets more patents than anyone else in the world, does plenty of groundbreaking experimental research, makes tons of money, and now because of a hiccup people are selling shares to you at a discount.
Conclusion - Time To Buy
Think about buying some IBM. Scale into the position, manage risk by making it an appropriate portion of your portfolio, and don't get freaked out. IBM is a world-class company trading at a bargain-bin price. Even if you don't catch the bottom, this isn't exactly a high risk speculative play, but it sure overreacted like one on Friday. Take advantage of that panic.
Disclosure: I am long IBM. I wrote this article myself, and it expresses my own opinions. I am not receiving compensation for it (other than from Seeking Alpha). I have no business relationship with any company whose stock is mentioned in this article.