I am by nature, a deep value investor. A good portion of my portfolio is allocated to high yielding equities. Both energy MLPs and niche REITs make up a substantial part of the portfolio on the income side. A significant portion of the rest of my portfolio is allocated to more traditional value stocks like Microsoft (NASDAQ:MSFT), which I recently profiled. However, I do like to put some money into fast growing small capitalization equities as well as smaller cyclicals that have taken a recent shellacking in the market but whose prospects are improving.
Here are two stocks in my portfolio that meet those criteria. Both cost around $4 a share, have solid net cash positions on their balance sheets, could have substantial upside and should be considered by more aggressive investors.
Zix Corporation (NASDAQ:ZIXI) provides email encryption solutions in software as a service model in the United States.
4 reasons ZIXI has upside from just under $4 a share:
I first profiled ZIXI in late July when it was trading at $2.50 a share. The stock is still attractively priced at 16x 2014's projected earnings.
The company is growing revenues rapidly. Analysts expect around 15% annual revenue growth over each of the next two years. The stock sports a five year projected PEG of around 1 (1.03).
Zix has a solid balance sheet with over 10% of its current market capitalization. An insider picked up 8,000 new shares in early March. It was the first insider purchase since August.
The three analysts that cover the stock have price targets ranging from $5 to $5.50 a share. It also recently settled a patent infringement lawsuit.
Power-One (NASDAQ:PWER) manufactures power supply products for the renewable energy, servers, storage and networking, telecommunications, industrials, and network power systems industries worldwide.
4 reasons PWER is undervalued at $4 a share:
The company has a fortress balance sheet with almost 60% of its market capitalization in net cash on the books.
Subtracting cash, PWER is selling at approximately 6x 2014's projected earnings.
The 11 analysts that cover the stock have a $5 median price target on the shares. Northland Capital initiated the shares as an "Outperform" in late February.
Power-One was a $10 stock less than two years ago. Prospects for the solar industry have started to turn around and an industry heavyweight First Solar (NASDAQ:FSLR) has climbed some 40% over the last month. PWER has long term technical support at around $4 a share as well (See Chart).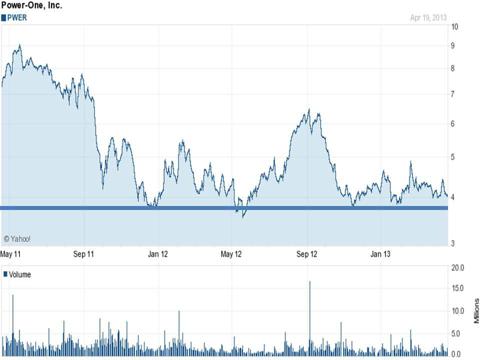 Disclosure: I am long PWER, ZIXI. I wrote this article myself, and it expresses my own opinions. I am not receiving compensation for it (other than from Seeking Alpha). I have no business relationship with any company whose stock is mentioned in this article.