Intel Corporation (NASDAQ:INTC) startled investors last quarter, with higher than expected capital spending and weak 2013 guidance. These fears were escalated by the sharp 13.9% Y/Y decline in global PC shipments. However, if the recent market reaction is any indication, Intel has alleviated some of these fears. For the week, Intel has risen 3.5%, while the broader S&P 500 has fallen 2%. Intel currently offers a $0.225 quarterly dividend. At current prices, Intel yields about 4%.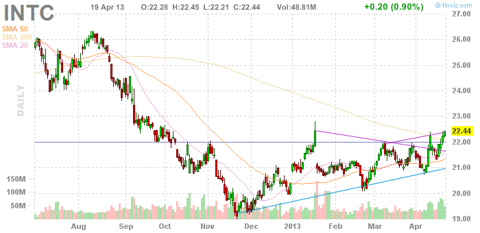 On April 17, Intel reported its Q1 2013 results. Intel reported revenues of $12.6B, a decline of 7% from the $13.5B reported in the prior quarter. Gross margin came in at 56.2%, down 1.8% from the prior quarter. Intel reported $2.5B in operating income and $2.0B in net income, down 20% and 17% respectively from the prior quarter. Earnings per share, or EPS, came in at $0.40, down 17% from the $0.48 reported last quarter. Intel's results came in at the low end of its prior guidance. Intel had previously guided for Q1 2013 revenues of $12.7B, plus or minus $500M and gross margin of 58%, plus or minus a couple percent.

Click to enlarge
Among its individual segments, Intel saw its PC Client Group revenue decline 6.6% to $8.0B, Data Center Group revenue decline 6.9% to $2.6B, and, other Intel Architecture Group revenue decline 3.9% to $1.0B. The PC Client Group unit volumes were down 6%, while the average selling prices was up 1%. Data Center Group unit volumes were down 6% and the average selling prices were down 1%. Notebook platform volumes declined 6%, desktop platform volumes declined 7%, and desktop platform average selling prices increased 5%.
Lower Than Expected Capital Spending
Intel's previous 2013 guidance had indicated anticipated full-year capital spending of $13.0B, plus or minus $500M. However, in Intel's revised guidance, full-year capital spending was lowered by $1B, to $12.0B, plus or minus $500M. I have previously written about my concerns about Intel's capital spending. This lower capex target should help Intel's free cash flow. This decrease is a result of Intel reusing and/or repurposing older equipment. Below is the relevant quote from Intel's CFO Stacy Smith from the Q1 2013 CC:
We are taking advantage of the excess capacity on older generation process technologies to take capacity offline and reuse more equipment and space for 14 nanometer and beyond. The results of these actions allow us to lower our capital spending forecast for the year by $1 billion, down to $12 billion.
During the quarter, Intel generated approximately $4B in operating cash flow. Intel paid about $1.1B in dividends and repurchased $500M in stock, or about 25M shares. I had earlier argued that Intel needed to be more aggressive with its share repurchases. However, the 25M shares purchased is much lower than the 47M shares repurchased during Q4 2012, or the 57M shares repurchased during Q1 2012. When asked about the decrease in share buybacks, Intel's CFO stated the following:
As I think you know, we don't share prospectively what we're planning to do with the buyback, just as a matter of policy. What I can share with you is that our priorities are still the priorities that we've been talking about. It's investing in our business first, it's dividends second. And I shared with you the expectation that we want a dividend that's on the order of 40% of free cash flow. And I think that's giving us a pretty good dividend yield today.

And then buybacks we use as the other way to return cash to shareholders and to modulate cash balance. And so what you can take from less buybacks is just that I'm comfortable with the cash balances.
The CFO's comments suggest that Intel may have lowered its buybacks due to the decrease in its cash balance. As of Q1 2013. Intel's cash and short-term investments was $10B, a decrease from the $12.5B in Q4 2012. I would suspect that Intel may ramp-up its repurchase program later on in 2013, especially since FCF is expected to increase later on in the year.
Intel also provided its Q2 2013 guidance. The company anticipates revenue of $12.9B, plus or minus $500M, gross margin of 58%, plus or minus a couple percentage points, R&D plus MG&A spending of approximately $4.7B, and depreciation expenses of approximately $1.7B.
If Intel's guidance is correct, Q2 2013 will prove to be slightly more profitable than Q1 2013. Notice that the Q2 58% gross margin is lower than FY gross margin of 60%. This suggests that Intel anticipates margins will improve later on in 2013. Below is the relevant quote from the CFO:
For the second quarter, we expect gross margin to increase 2 points to 58%, and the gross margin forecast for the year remains 60%, with gross margins in the second half back into the low 60s.
In addition, the CFO responded to a question about gross margins with the following:
So as the gross margin improves, we expect that Q1 is the bottom. It's up a bit in Q2, and then a back half that's back into the low 60s. You'll see the operating profit moving back into what you've historically come to expect in DCG.
Conclusion
Intel remains one of the more undervalued stocks in the market. Its current TTM P/E is under 11, while offering a 4% dividend yield. While the decrease in stock buyback during the quarter was disappointing, I suspect that Intel may be 'keeping some powder dry'. I would imagine that Intel will pick up the pace with buybacks during the second half of 2013.
Intel did not have a good quarter. However, the stock was priced as if PCs had become irrelevant and/or Intel was about to lay an egg. I really couldn't sum up Intel's quarter better than fellow SA author Ashraf Eassa when he wrote that "Q1 wasn't as bad as expected, Q2 guide wasn't as bad as expected, and the world isn't ending for Intel."
Disclaimer: The opinions in this article are for informational purposes only and should not be construed as a recommendation to buy or sell the stocks mentioned. Please do your own due diligence before making any investment decision.
Disclosure: I am long INTC. I wrote this article myself, and it expresses my own opinions. I am not receiving compensation for it (other than from Seeking Alpha). I have no business relationship with any company whose stock is mentioned in this article.