Sandstorm Gold (NYSEMKT:SAND) is a gold streaming company. They provide up-front capital to mining companies in exchange for a gold streaming agreement. This agreement gives Sandstorm the right to purchase a percentage of the life of mine gold produced, at a fixed and typically discounted price. Sandstorm Gold portrays itself as a non-operating gold miner. Alternatively, Sandstorm Gold can be viewed as a highly specialized venture capital provider for gold miners.
At $620M market capitalisation Sandstorm Gold is still a minnow compared to other companies with a comparable business model. Silver Wheaton (NYSE:SLW), who incidentally employed Nolan Watson before he went on to become CEO of Sandstorm, has a market capitalisation of $8.1B, Franco Nevada (NYSE:FNV) and Royal Gold (NASDAQ:RGLD) have market capitalizations of $5.5B and $3.5B respectively. As opposed to Sandstorm Gold, these larger competitors all pay dividends.
Sandstorm Gold is acting decidedly more aggressively than its competitors. The majority of Sandstorm's deals have been struck with development stage junior companies. This means, that Sandstorm places bets on companies bringing their first mines into operation. Finding capital to finance first mines has been exceedingly difficult for junior companies. Consequently, Sandstorm Gold has been able to buy streams from some interesting and very promising projects at very reasonable conditions. This strategy carries greater risk than assisting established mining companies in financing yet another operation which is the strategy predominantly followed by Sandstorm's competitors. If successful, Sandstorm's strategy promises greater rewards and strong growth.
While most streaming agreements are made for mines in relatively safe legislations, it should be mentioned that Sandstorm Gold has only recently placed a moderate bet on a project in Mongolia which carries considerable country risk but offers astounding long-term rewards.
We have been following Sandstorm Gold for some time now and have reported on recent deals in this article and also in this article. As much as we liked what we saw, we also stated that we considered Sandstorm Gold as overpriced and advised patience for interested investors. As a matter of fact, we gave a price target of $6.50 at a time when the share price had dropped from $15.00 in October 2012 to $9.50 in March 2013 and many others writing on Seeking Alpha were calling Sandstorm an immediate BUY. At the time the reaction to our call was somewhere between disbelieve and ridicule.
Well, here is some good news for those who have followed our advice for patience: the price target has been reached. Effective immediately, we are buyers of Sandstorm Gold.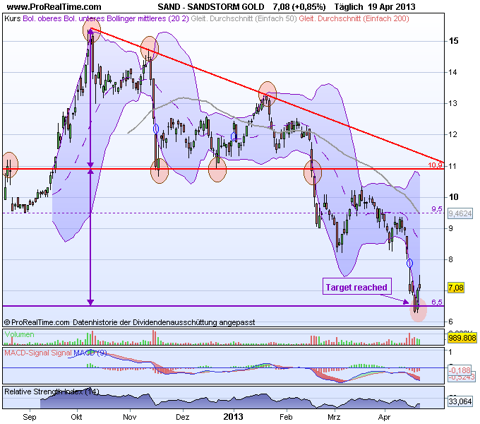 Above is a chart of the share price development since Sandstorm's listing on the NYSE in August 2012. The rapid rise from $10.00 to $15.00 was clearly overly enthusiastic as also pointed out by a fellow writer in this article at the time. The bearish pattern developing in the aftermath is drawn into our chart and our price target of $6.50 is shown as well. The reasons stated in this article led to a break of support at $11.00 in mid-February and the recent tumble in gold price led to the spot landing at our stated target price. We expect support to manifest itself around the $6.50 mark in coming weeks but predictions are still difficult after turbulent developments in the gold space in the past two weeks.
In another recent article we argued that Sandstorm's 2013 production forecast was overly conservative and that we saw a strong possibility for an upgrade in production targets later in the year. Q1 operational results will be released shortly by Sandstorm's streaming partners and we will check our assumptions against these published results.
For those interested, here is how we plan to play Sandstorm Gold in the near-term future.
At present we are buyers at prices below $7.00 for an initial position provided that Q1 results of streaming partners remain within guidance stated by these partners. We shall be keeping roughly two thirds of our Sandstorm-related budget on the sidelines for the time being.
The summer doldrums might present us with another buying opportunity below present levels for which we allocate another third of our budget.
Q2 operational results will be released towards the end of summer. If our thesis of Sandstorm Gold over-achieving production targets in 2013 is still supported by the Q2 results then we will deploy our remaining funds at the time.
Present times are turbulent in the gold space and predictions are associated with a high degree of uncertainty. We are not allocating any funds into this space that we cannot afford to lose.
Disclosure: I have no positions in any stocks mentioned, and no plans to initiate any positions within the next 72 hours. I wrote this article myself, and it expresses my own opinions. I am not receiving compensation for it (other than from Seeking Alpha). I have no business relationship with any company whose stock is mentioned in this article.