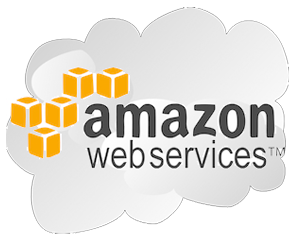 Amazon (NASDAQ:AMZN) has out-googled Google (NASDAQ:GOOG). Both companies started out in two separate businesses but convergence and circumstance are making these two companies competitors in the cloud.
Amazon Invents the Cloud
Amazon was formed in 1994 and went live in 1995 as the world's first and biggest online bookstore. This was only two years after Marc Andreesen developed Mosaic, enabling what became known as the world-wide web. Amazon continued to deliver on the goal of becoming the largest online bookstore right up until today, where by all reasonable measures, it has succeeded.
Early this century, Amazon started to consider how to build a better architecture. A couple of developers at Amazon wrote a paper, presented it to Bezos and started a cycle that resulted in both a serious evolution of the Amazon.com site and the resulting Amazon Web Services IaaS (Infrastructure as a Service) product was officially launched in 2006.
Amazon Web Services started out as a major architectural improvement. Microsoft (NASDAQ:MSFT) used to call this "eating your own dogfood". Amazon not only created a new and completely non-intuitive service offering when compared to its existing business, it used it to re-architect its own site.
Google Plays Catch-Up
Google, I think, was caught completely by surprise with the launch of AWS. Its response was a beta of a PaaS (Platform as a Service) service called Google AppEngine in 2008. The first product was built on an interesting but niche language called Python resulting in limited reception. After years of work, it finally left beta with support for Python and Java in 2011.
Google AppEngine was dramatically different than Amazon Web Services. Where Amazon decided to provide access to infrastructure elements such as storage and virtual computers, Google provided a platform to build a scalable website.
Platform as a Service [PAAS] vs Infrastructure as a Service [IaaS]
It is not difficult to understand why Google would want to deliver a Paas product. PaaS is a simpler, purer choice for a developer. You don't have worry about computers, storage and scalability. All those things are taken care of for you. It's a pretty nice way to do things.
But it was a move that automatically limited the audience for the product. If you wanted to use AppEngine, you had no way to partially migrate your site to their platform. It was all or nothing, and you had to effectively rewrite some portion of your site depending on the original language.
With AWS, you could effectively move your system as is and incrementally rewrite parts of your site to leverage some of the more elegant and scalable services, such as Simple Queuing Service [SQS] and Simple Notification Service [SNS] and the ever popular Simple Storage Service (S3).
Google finally launched an IaaS product with Google Compute Engine, but the lag allowed Amazon to build a massive but subtle moat for AWS.
Cost of Adoption
Moving to a particular platform costs a significant amount in terms of both IT and software development resources. Also, each platform is unique, meaning that if you expend the effort to convert to AWS, moving to another cloud platform effectively amounts to a rewrite. You have to spend the dollars all over again.
The period of time between 2006 and 2011 or 2012, if you want to count Google Compute Engine, allowed Amazon to accumulate customers and effectively lock them in.
Amazon took strong advantage of its lead to build an ecosystem around AWS including hosting companies that are completely based on AWS and public companies that use AWS for internet and/or intranet products. You can read more about the AWS ecosystem here.
Netflix (NASDAQ:NFLX) has taken this to an extreme and built its entire business on AWS. This is especially awkward, since they have found themselves competing with Amazon's streaming movie service using a system that is based on AWS.
Microsoft says "Wait for Me!"
I don't want to ignore Microsoft's attempt at entering the cloud, but it is hard to give it any serious consideration. While officially launched in 2010, Microsoft launched the first serious version of its Windows Azure platform in mid-2012.
While the platform is interesting, it so late to the game that when we finally get some transparency into the numbers that make up the cloud, my prediction is the market share will be single-digits.
Battle for the Clouds
There are a number of players in the battle for the next disruptive change in the technology industry. Traditional hosting companies will adapt or go out of business. A notable survivor, Rackspace (NYSE:RAX) has been delivering cloud services on the increasingly robust open-source cloud platform OpenStack. RAX has done an amazing job of adapting to the change and are arguably in second place in market share.
Finding numbers to support market share is extremely difficult. I've found analysts that have come up with reasonable estimates of Amazon's AWS revenue, but comparing the different cloud models (IaaS, PaaS and even SaaS) is tough. MacQuarie Capital's Ben Schachter estimates AWS revenue of $2.1B for 2012 and an estimate of $8.8B in 2015.
| | |
| --- | --- |
| | AWS Revenue (Billions) |
| 2012 | $2.10 |
| 2013 | $3.80 |
| 2014 | $6.20 |
| 2015 | $8.80 |
Table: AWS Estimated Revenue (source MacQuarie Capital)
Actually determining the market size and segmentation according to cloud server type, infrastructure, platform or service, is more elusive.
I can't get past the fact that this is a market Google should own and seems to have completely missed the boat because of Amazon's early and well-considered launch of AWS. As long as Amazon doesn't slip up, they own this market and will continue to reap the benefits in future years.
Disclosure: I have no positions in any stocks mentioned, and no plans to initiate any positions within the next 72 hours. I wrote this article myself, and it expresses my own opinions. I am not receiving compensation for it (other than from Seeking Alpha). I have no business relationship with any company whose stock is mentioned in this article.