B&G Foods (NYSE:BGS) makes, sells and distributes a wide array of shelf-stable food and household products. It concentrates on regionally and nationally branded shelf-stable products. You might recognize many of them: B&G, B&M, Sugar Twin, Mrs. Dash, Baker's Joy, Molly McButter, Static Guard, Ortega, Cream of Wheat, Emeril's and a number of others.
The company's goal, and the real value they bring, is from acquiring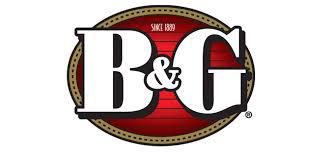 well-known but declining "orphan" brands at a bargain price and modernizing them to fit the trends of today's consumer. The long-run result has been consistently superior return metrics and modest organic growth. This article will look at the specifics of B&G's strategy and then talk about end results for investors. I believe B&G Foods represents a unique if untraditional opportunity for income and dividend growth investors.
A Unique Strategy
B&G's strategy is to acquire leading shelf-stable, often niche brands which are small but recognized either nationally or regionally. Size is important, because smaller brands tend to sell at lower earnings multiples. Brands over $100 million tend to attract bigger players and higher multiples. But for a $1.5 billion company like B&G, smaller brands which fetch a cheaper price still move the needle. Take, for example, its most recent acquisition of New York Style and Old London brands, bought between only 7 and 8 times EBITDA multiples. Small is beautiful.
The brands B&G buys tend to be well-known, but in decline, and the goal is to turn them around and make them relevant to the modern consumer. A good example is the acquisition of iconic oatmeal brand Cream of Wheat. Once a staple in the American kitchen, Cream of Wheat has become less relevant in this generation. B&G's strategy to revitalize the brand included quicker to make oatmeal in smaller packets. They also introduced special flavoring, such as chocolate and Cinnabon to bring contemporary relevance. This type of rebranding is typically done to bring the brand back from decline and eventually achieve a slow, modest growth; usually around 3 percent.
For fifteen years, B&G management has followed this value-creating strategy and has turned it into something of a repeatable science that will be very hard for competitors to replicate. The strategy of focusing on well-known, niche brands often means that it operates behind a natural "economic moat," and so there is no need for a huge advertising budget.
The results have shown on the financial side. EBITDA margins tower over their competitors, and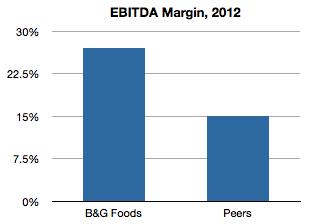 profitability metrics are excellent. To CEO Dave Wenner and company, the most important metric is Free Cash Flow to sales. At 25%, B&G beats the peer average of 12%, and also has great flexibility for dividends, debt repayment or future acquisitions.
Leveraged Financing
Here is where the prospectus gets tricky for some. Since B&G does not create its own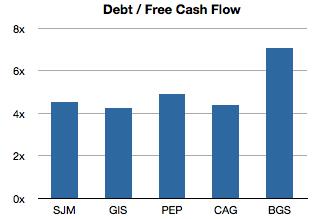 brands from scratch, acquisitions are the only way forward. The company's first source of funds for most acquisitions is the debt market. And as we can see, B&G is substantially more leveraged than its competitors. Acquiring other companies is a capital-intensive way to grow. This is the double-edge to B&G's proverbial sword.

Click to enlarge
Chart by YCharts
The second source of funds is the occasional dilutive offering. The above chart shows how share count has grown over the past five years from 36 million to over 52 million. Any investor in B&G needs to understand this dynamic.
But Here's Why It's Worth It
So we understand that B&G relies on debt and dilutive equity offerings. We know that they are more levered than competitors and will occasionally dilute their shareholder's ownership to fund acquisitions. There are two reasons why we should be willing to put up with this. First of all, B&G doesn't need to rely on debt for its day-to-day operations. Operating Cash Flow easily covers it. And the dividend is safe, too. With a 55.5% dividend / Free Cash Flow coverage ratio, Free Cash Flow would have to drop by nearly half for the dividend to be in real danger. Considering the nature of B&G's business, that would be very unlikely.
Second is the fact that Wenner and company are proven capital allocators. Think of it like this: management is acquiring household brands at multiples usually below ten. I can't do that from my brokerage account. They are welcome to use my money to buy brands at low prices because the value added by management is ultimately greater than the cost of that extra equity.
Crawling Back To Flat
The 4th quarter of 2012 was a challenging one for B&G. While numbers were up across the board due to the recent acquisition of New York Style and Old London, the company reported a year on year volume decline of 2%. The revenue loss was offset by pricing, which was actually the result of continued savings from operations. Still, volume has been declining for five straight quarters, which spooked investors into a selloff on the day earnings were announced.
This decline is a result of a general, industry wide "pullback," from a slowdown in 2012. Hurricane Sandy, which impacted B&G's traditional markets on the east coast, also hurt sales. During the latest Q&A session, Wenner stated that he expects volumes to increase modestly in 2013 and that this downward trend has been steadily improving.
Dividend
Because B&G generates an impressive Free Cash Flow, it also pays a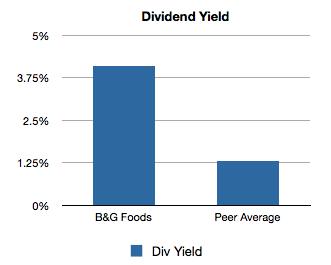 dividend well above the rate of its peers. In recent years, they have added to the dividend and will continue to do so on the back of low single-digit organic revenue growth and continued acquisitions. Last year, they raised the dividend by over 7%. We should expect a rate of 4-6% in the long-term. Smart acquisitions in the future coupled with a coverage ratio of under 56% gives the dividend plenty of room to run despite a low growth rate.
Valuation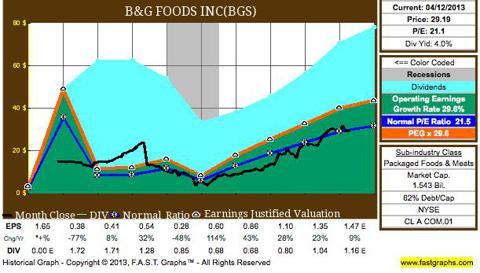 Click to enlarge
B&G has traded closely with its historic Price to Earnings Ratio (P/E), illustrated as a dark blue line in the above chart by FAST Graphs. Therefore, historic P/E is the best way to view the company from a valuation perspective. Right now, it is right about on that line, which means the company is fairly valued. However, as of the day I am writing this, B&G reported a strong quarter and after-hours action is very bullish. It may bounce right back above the historical P/E Ratio very soon.
Conclusion
Income investors should get behind the economic moat of B&G Foods and let this value-creating machine do the work for them. Yes, the company is highly levered and has had a challenging 2012, but it is the ample cash flow that will keep investors safe and their dividends sound. Finally, their ability to acquire brands at bargain prices and turn them around into growth is a core value proposition which will be very hard for competitors to replicate.
Sources:
"EBITDA Margin" chart by author, data by B&G presentation at ICR XChange Conference.
"Debt / FCF" chart by author, data by Morningstar.
"Dividend Yield" chart by author.
Disclosure: I am long BGS. I wrote this article myself, and it expresses my own opinions. I am not receiving compensation for it (other than from Seeking Alpha). I have no business relationship with any company whose stock is mentioned in this article.